Name Ideas
300+ Basketball Tournament Names Ideas (Catchy and Clever)
Planning a basketball tournament and looking for some creative ideas to name it? Consider this guide your ultimate resource.
Organizing a basketball tournament takes a lot of thought and effort, so why not make it stand out even more with an amazing name? Names are important as it helps draw in participants and spectators, especially if the name is memorable and creative.
Basketball tournaments need to have memorable names that will stick in the minds of the players, coaches, and parents involved. It should be simple yet creative; something catchy that quickly conveys the nature of play but also serves as an eye-catching advertisement when creating promotional materials.
With these tips in mind, we've compiled some unique basketball tournament names to make sure everyone has one to go off of when organizing their own tournament.
Let's take a look at some awesome basketball tournament name ideas you can use.
Catchy Basketball Tournament Names
Hoops of Fire
The Hoopla Tournament
Hoops Heaven Showcase
Net Results Tournament
National GearUp Tournament
The Final Four Battle Royale
B-Ball Bonanza
Storm Summer Slam
The Great Game of Hoops
The Ultimate Showdown Championship
March Mayhem
Block Party
Dunkin' for Dollars
Ice Age Tournament
Mountenna
The Big Ballers Bash
Swingers Of Games
Unicorn Killers
Super Saturday Showcase
Ice Masters Tourney
EliteMove Tournaments
Road to the Championship
Swish City Showdown
Rebound Rumble
The Playground Throwdown
The B-Ball Brawl
Kings & Queens of the Court
Big Event Summer Preview
The Shootaround Showdown
Ballers Battle Royale
Run N' Gun Tournament
The Ultimate Showdown
The Final Foursome
Slippery Rock Summer Slam
SportSpirit
Lady Loads
Tark the Shark Week
Hoops of Glory
Not In Kansas Anymore
Slam Dunk Dynasty
Ballers Unite!
Shoot for the Moon
3-Point Shootout Showdown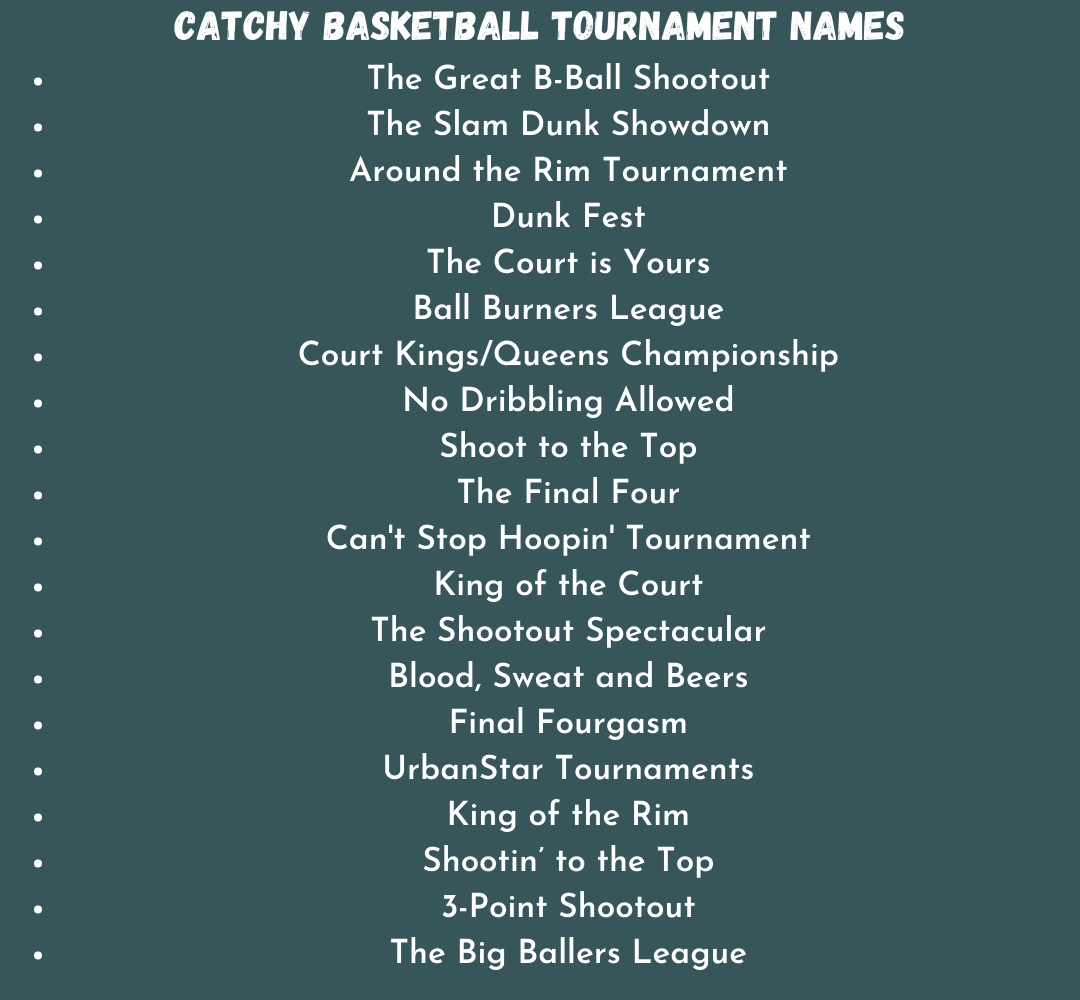 Funny Basketball Tournament Names
Shoot Your Shot Showdown
Rebound Rumble 2K20
Hookshot Heroes Challenge
Sla Dunk Central
The Great Rebound
High Flyers
Layup Legends
Crossover Challenge
Three-Point Shootout
Foul Line Faceoff
Net Ninjas
Full Court Foes
Bounce N' Shoot
Court Kings and Queens
Crossover Chaos
Swish and Dish Invitational
The Great BasketBrawl
The Half-Court Heroes
The Dunk Tank
The Hoop-la Classic
The Swish and Dash
Fast Break Frenzy
Kings of the Court
Fast Break Fiasco
Bounce Back Battle
Nothing But Net
Tip-Off Tournament
Court Jesters Challenge
Buzzer Beaters
The Jump Ball Jam
Alley Oop Attack
Layup Legends 2K20
Shootout Spectacular
Slam Dunk Central
The Three-Point Circus
The Court Warriors
The Hoop Starz
Hoop Dreams
The Alley-Oop Challenge
Half-Court Hustle
The Buzzer Beater Bash
Dunkin' Donuts Showdown
Three Point Shootout Supreme
Jump Ball Jamboree
Dunk Dynasty
Air Ball All-Stars
All-Star Alley
Go Hard or Go Home Cup
Block Party Bash
Buzzer Beatdown
Backcourt Battle
March Madness Mayhem
Slam Dunk Showdown
BasketBrawl Bash
Alley-Oop Extravaganza
Slam Dunk Superstars
Full Court Frenzy
Dunkin' Donuts
Shootout Showdown
Swish Shooters
Swish and Score
Ballers Bonanza
Rebound Rumble
Rebound Ruble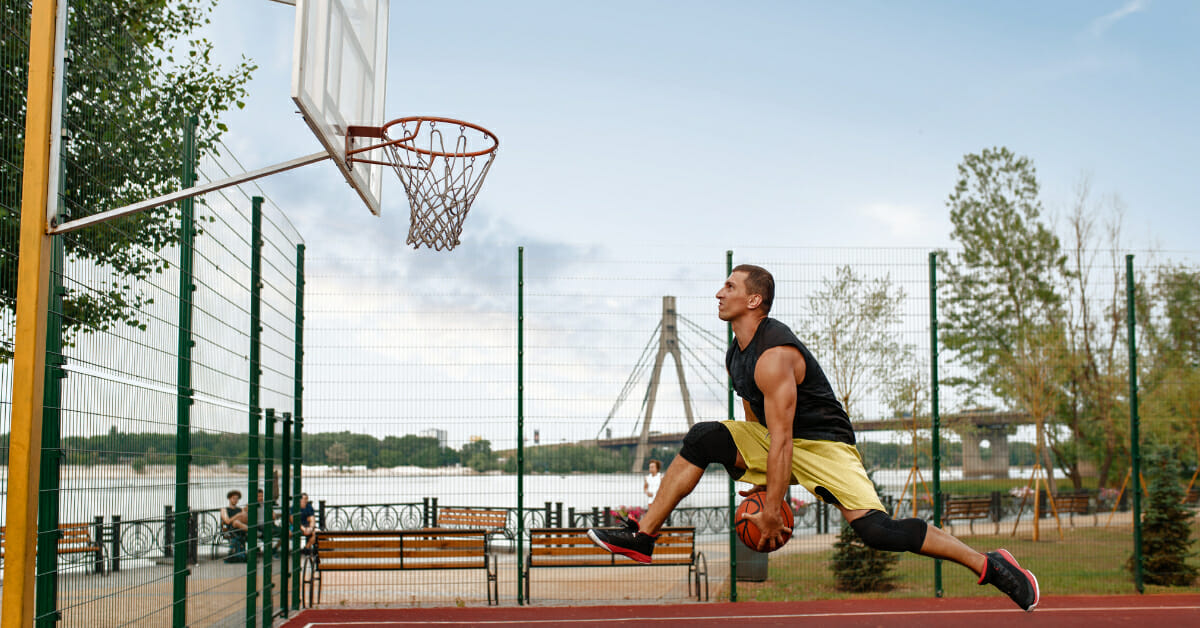 How to Create a Good Basketball Tournament Name
Here are some useful tips for choosing a good name for your basketball tournament:
Start with Your Theme
Brainstorming a creative name for your basketball tournament can start with the theme of the tournament. Consider what type of tournament it is, such as a local or regional event, or something more unique like an international competition. This should be your starting point when coming up with ideas for your name.
Examples:
The Great Midwest Hoopathon
The Pacific Coast Dunkfest
The Southern Slam Jam
The International 3-on-3 Showdown
The European Elite Invitational
Get Inspired by Locations
If you're hosting the tournament in a specific city or region, consider using the name of that location or something related to it. This can give your tournament an extra sense of place and make it more memorable.
Examples:
Chicago Court Kings
San Diego Swoosh Shootout
Boston Ballers Tournament
New York City Hoops Challenge
Denver Dunks Showdown
Incorporate Keywords
When coming up with a name for your basketball tournament, try to incorporate keywords related to basketball, such as "hoop", "court", "net", or "basket".
Examples:
Net Masters Tournament
Basket Battle Royale
Court Kings Classic
Slam Dunk Showdown
Hoop Heroes Cup
Use Alliteration
Alliteration is a great way to make your tournament name stand out and be memorable. Consider using words that start with the same letter or sound to create an interesting name.
Examples:
Perfectly Popping
PhenomenalHoops
MarvellousMoves
FantasticFouls
SuperiorSwishes
Be Creative with Wordplay
Wordplay can add an extra layer of fun to your tournament name. Consider using puns, rhymes, or other creative word combinations to make your name stand out.
Examples:
NetGainsTournament
HooplaMania
CourtCapersCompetition
BasketeersBattle
Dunk Dynasty Duel
Add a Slogan
A slogan can be the perfect complement to your tournament name and add an extra layer of meaning to it. Consider adding a slogan that reflects the spirit of your tournament or conveys what kind of event it is.
Example:
"Where Legends Are Made" Tournament
"The Ultimate Showdown" Championship
"Rise to the Top" Cup
"Take It All" Invitational
"Dream Big, Play Bigger" Classic
Make It Unique
You want your tournament name to be unique and stand out from the crowd. Avoid using generic words or phrases that are overused in other sports tournaments.
Ace of Aces Showdown
Gotta Dunk 'Em All Cup
Can't Stop Hoopin' Tournament
Nothing But Net Challenge
The Great B-Ball Brawl
Consider Your Audience
When coming up with a name for your basketball tournament, think about who your audience is and what kind of names they might respond to. If you're targeting a younger audience, consider using words or references that they might relate to.
Examples:
"Let's Get Swishin'" Shootout
"High Flyin'" Exhibition
"Go Hard or Go Home" Tournament
"Game On!" Competition
"We Got Next" Cup
Keep It Short and Sweet
Your tournament name should be short and sweet, no more than three or four words. Keep it simple so that it's easy to remember and understand.
Examples:
SwishFest
Slam Jam
HoopFest
DunkFest
B-Ball Mania
Test the Name Out
Before finalizing your tournament name, test it out on a few people to get their feedback. See if they like the name and if it conveys the right message.
Cool Basketball Tournament Names
Hard Hitters League
FrankFill's Sports
March Madness Mania
Powerhouse Playoffs
The Big Ballers Tournament
Balls of Fury
Summer Swishfest
The Championship Series
Ballers of the Future
The Ballers' Brawl
BasketBrawl
Summer Havoc
Ballin' on the Bluff
Buzzer Beaters
Shootin' for Gold
All-Star Challenge
Throwing Balls
All-Star Extravaganza
Crossover Championship
Happy Dugouts Tournament
Triple Threat Throwdown
Three Point Challenge
Twin Cities Classic
SportValley Tournaments
RapidVibe Sports
Battle of the Baskets
Summer Tip Off Classic
Roundball Rumble
NetGainsTournament
Annual Gym Rats Shootout
Unique Names for Basketball Tournament
Hoop Dreams!
SpiritChill Tournaments
Blue Marlins Tournament
King of the Court Challenge
Tip Off Tourney
Shootaround Showdown
Full Court Press
Battle in the Burg
The Great Game
Teammate Super Regional
Alley-Oop Attack
Blue Chip Classic
Shootout Spectacular
Willows Scoring
The Shoot Around Showdown
State Showdown
The Swish-Off Spectacular
Basket Brawlers
Tip-Off Tournament
Shoot for the Stars Invitational
3-on-3 Summer Slam
Hoops on the Hardwood
Hoop Dreams
Jammers Classic
Metro Showdown
3-Point Showdown
Tip Off Tournament
Rim Rockers Cup
Arctic Aesthe
Hot Shots on the Hardwood
Clever Basketball Tournament Names
Royal Tyrants
Summer Shootout Series
Mid-Summer Classic Cup
The Basket Brawl Bash
The Great Game of Basketball
Dunkin' Donuts Classic
The Elite Eight
Court Kings and Queens
Full Court Frenzy
Shootout on the Hardwood
The Big Bounce
Star Struck Shooters
Musketeers League
Boundary Aimers
The Hoop-It-Up Showdown
Slam Dunk Showdown
Showcase of the Stars
B-Ball Battle Royale
Fast Break Frenzy
Lights Out Shootout
Alley-Oops and Air Balls
Swishfest Challenge
Slam Dunk Slamdown Tournament
Annual Magic City Invitational
Ball Girls
Net Masters Tournament
The Court Kings Classic
Mud Giants Tournament
March Madness
Showcase of Champions
Good Basketball Tournament Name Ideas
Hoop Dreams Come True
Jump Ball Jamboree
Vicious and Delicious
High Flyers
The Great B-Ball Brawl
Brave Warriors League
Playmakers Invitational
Shoot for the Stars
MightyMing Gaming
Net Gainers
Air Force Tournament
March Madness Showcase
The Big Dance
Hot Shots on the Hardwood Challenge
The Court Crusaders
Fast Break Invitational
Court Kings/Queens Showdown
Super 4's Tournament
Buzzer Beaters and Baskets
Swish-A-Thon
Above the Rim Shootout
Dunk Fest
Royal Stars League
The Net-Wizards Cup
Church of Bracketology
Dunk-a-thon
Dunk Dynasty Rumble
Slammin' Slams!
We hope you found this blog post helpful in choosing a clever and unique name for your new basketball tournament. Good Luck!
Related Posts:
Cool Fantasy Football Team Names