Team Names
Sports Team Names: 450+ Cool Esports Team Names
The name of a sports team is something that is supposed to inspire its players and fans. It's supposed to be something that reflects the aspirations of the team, and it's also supposed to be something that can be easily remembered.
Sports teams have a long history of giving themselves crazy names to strike fear in the hearts of the opposing team.
For instance, the NFL team the Green Bay Packers actually refers to the color of their uniforms, and the Chicago Bears are named after a ferocious animal.
If you are one who is searching for some good sport team names to get inspiration, then you have landed at the right place.
In this article, I have listed some cool, funny, and professional sports team names to help you choose the best name for your team.
Let's get started.
Sports Team Names
Here are some creative and good sports team names to inspire your ideas:
Golden Eagles
The Warriors
Pride of Lions
Black Antelopes
Crass Interference
Soul Takers
Optic Sports
We Don't Lose
Wings Gaming
The Crystal Angels
Absolute Legends
Yoe Flash Wolves
Team Allegiance
Eyes on Fire
Lords of Absurd
Prank Masters
Defending Champs
Spiffy Rebels
Donkey Kong Killers
Awesome Blossoms
The "B" Squad
Revenging Angels
Sole Survivors
Evil Wiggle
Death Squad
Funny Sports Team Names
These are the funny names for sports team you can use:
Calm Outlaws
The Hitmen
Purple Stomp
Wipeout Sports
Death Immunity
Spell Wizards
Dreadwork Mirage
Silent FinisH
Soul Road
Droid Encounters
Bliss Rebels
Haunt Barrage
Skull Crushers
Dreamforce Frenzy
Trigger Brain Tribe
Splinter Synergy
Death Molecules
Ballistic Preachers
Peaceful Hooligans
Blue Death Cadets
Wipeout Punks
Pill Brain Demons
Cool Sports Team Names
Below is the list of cool and catchy sports team name ideas for you:
Jokers Wild
Calm Outlaws
Happy Bunnies
Knockout Kings
That Better Team
Eye of the Storm
Pride of Lions
Head Hunters
The Happy Dolphins
Venture Capitalists
Real Slim Shadies
Rising Stars
Mission Planners
The Crystal Angels
Hungry Hunters
The Wise Eagles
Fallen Angels
The Proud Cardinals
Dangerous Divas
Quick Dreams
The Fantastic Cats
The Happy Wings
Team Names For Competition
These are some good team names for competition you can consider using:
The Tough Cats
The Storm Apes
Freedom Crusaders
Creative Crows
Purple Mafia Competitions
The Silent Aliens
Peak Performers
The Spirit Dreams
The Big Angels
Delightful Vandals
The Happy Sliders
Daring Lions
Powerful Vultures
The Magic Wings
Hidden Claws
Fearless Elephants
Angry Ostriches
Dominators
Ringmasters
Legal Eliminators
Divine Angels
Remarkable Falcons
Dynamic Energy
Esports Team Names
These are the best esports team names for you inspiration:
Careless Sparrows
Ancient Moons
Team Dignitas
Bridge Connect
The Entertainers
Pro Gaming
Power House Gaming
Rustic Passion
High Voltage
Collective Fools
Freedom Pirates
Awesome Knights
White Tigers
Masters of Power
Stock Holders
Theory of Perfection
Raider Squad
Snake Eyes
Simple Minds
Win Hurricane
Deadshot
Fun Games
Gaming Team Names
The following are the powerful gaming team names for you:
Spawn Camp
Flash Jukes
Click to Win
Clearly Hacking
Wonderful Wonders
Game of Throw
The Defectors
Terrible Tycoons
Black Buffalos
Lovable and Lazy
Furious George
Fighting Scots
Pique Blinders
Drilling Me Softly
Dukes of Hazard
Kroos Control
Lord of the Rims
Mudder Runners
Elite Mankillers
Homerun Hitters
Sky's the Limit
Snack Attack
Spoiler Season
Team Gurus
Professional Gaming Team Names
These are some professional gaming team name ideas:
Gladiators
Hawk Eyes
Ice Angels
Killer Whales
Panthers
Pro Gaming
Clippers
Ghost Riders
Speed Demons
Land SharkS
Bat Attitudes
Fielder of Dreams
Pique Blinders
Mountain Lions
Rainbow Warriors
Red Raiders
Screaming Eagles
Shooting Stars
Thunderbears
The Sluggers
Twisted Blisters
Viking Raiders
Golden Eagles
No Rules
Innovation Skyline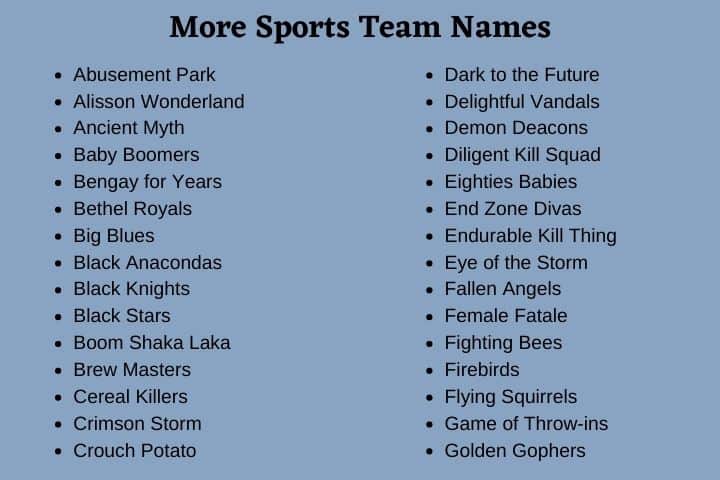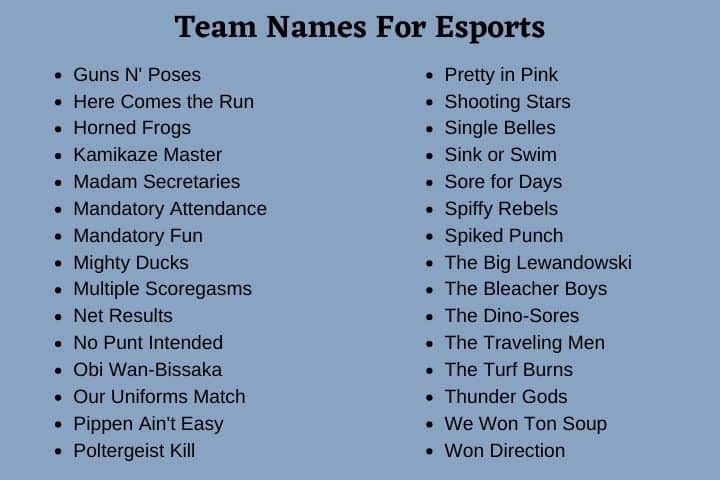 How to Generate Good Sports Team Names
There are two major factors in naming a sports team. The first is that a team name has to be easily understood by people, not in the area, it also has to be easy to say, in multiple languages. The second is that it has to be catchy, but not in an awkward way.
Below are a few suggestions for generating unique sports team names:
What is the purpose of team names?
The purpose of a team name is to represent the group of people playing the sport, by creating a bond between the team and the audience, and also to give the team a sense of identity.
Decide on the type of name you want.
The first thing when creating a name for your sports team is to decide on the type of name. Such as, there are different types of names, like funny, clever, cool, creative, or something unique.
Another important thing is your name should represent your team. It's one of the important things you have to keep in mind to catch the audience's attention.
Sit with your team members and brainstorm some name ideas.
After deciding on your team name type, give every team member a task to create some sports team names.
Once your team members come up with name ideas, make a list of all the names.
Shortlist some favorite names.
After brainstorming a list of sports team names, keep the below things in mind and shortlist some favorite names.
The name should be short and simple.
It should be memorable.
It should be easy to pronounce and spell.
Use puns and rhymes.
Another great idea is to use puns and rhymes to come up with a fun name for your sports team. However, you have to be creative in this process.
Such names are difficult to create because you will do a search for the same sound words and rhymes to make your team name.
Use animal names.
The names of many sports teams are inspired by animals, and as such have a variety of origins. The Miami Dolphins, for example, are named after the Miami Dolphins fish, while the Philadelphia Eagles are named after a bird of prey.
You can also use this strategy for creating unique sports team names.
Convey a message.
Avoid choosing a name that doesn't convey anything about your sports team. Your name should be like, that motivates and inspire your team to work hard.
Make sure you and your team members are happy with the name.
Before deciding on a name for your sports team, it's important to make sure that your team is happy with the name you are going to finalize.
Related Posts:
Creative Group Names for Family, Friends, and Cousins
Best Clan Names for Pubg Mobile
Best Military Group Name Ideas