Team Names
500+ Good & Funny Fantasy Football Team Names (2022)
In this article, we are going to show exactly how to choose a good name for your fantasy football team.
Also, we have listed hundreds of original, funny, and rude fantasy football team names that will inspire you to create your own team name.
Let's get started.
Fantasy Football Team Names
Here are some cool and creative fantasy football team names to inspire you:
A Night in Lascelles
Red Hawks
Golden Tate Warriors
Aaron Wan-Bissaka Nil
Afflalo Creed
See The Goal
Goal of Duty
Beasley Boys
Alice in Hangeland
All or Knighton
Goals Aloud
All the Smallings
Amigos
Austin-tatious
Bad JuJu
Barnes & Noble
Bed Bath and Beyonce
Bend it Like Beckham Jr.
Bilbao Baggins
Biz Markieff
Black Pack
Bolton Squanders
Book of Ezekiel
Boston Massacre
Brady Gaga
Rude Fantasy Football Team Names
These are some rude fantasy football team names for you:
Game of Throw-Ins
Game Set and Snatch
Turbo Power
Gangster's Allardyce
The Juniors
Geno 911!
Little Giants
Get your Mixon her Tate
The Fighting Bees
Get Your Tyreek On
Gone Gurley
Gurley Fries
Gurleys Just Want To Have Fun
Hakuna Juan Mata
Hanging By a Fred
Happy Golladays
Hitchens a Ride
Hooligans FC
Hoosier Daddy
Hot Chubb Time Machine
Hot Larods
Howard's End
Huth the Ball
I Ain't Lion
I' Just a Biermann
Funny Fantasy Football Names
Below are the clever and funny names for fantasy football team:
Lady Cougars
The Frogs
Only Grass Kickers
Ladybugs United
Lamb of God
Let's Gettis On
Goal Diggers
Dream Team
Le'Veon a Prayer
License to Lillard
The Cadets
Lingardium Leviosa
Lion Low
Lloris the hounds
Lockett Up
Locking Good
Lone Granger
Los Angeles Riot
Loul & Order
Maxiell Overdrive
Meet the Folkers
Melo My Mind
Met Yo Batch
Michel, My Belle
Michu at De Gea Ba
Mile High Club
Dirty Fantasy Football Names
These are the dirty fantasy football team names for you:
Elemonators
Enter Shaqiri
Even Stevens
Excuse me, Eiferted
Faried Falling
Fitzmagic
Flirts
Flying Without Ings
Foye Ever Man
Fred Up Already
Freedom Fighters
Fried Curdz
Full Chubb
Game of Jones
Game of Stones
Inter Real Hustlers FC
It Ertz when Eifert
Kawhi So Serious
Keen & Egan
Kemba Berries
Killin' With Dillon
Lace Em Up
Mirror Signal Malouda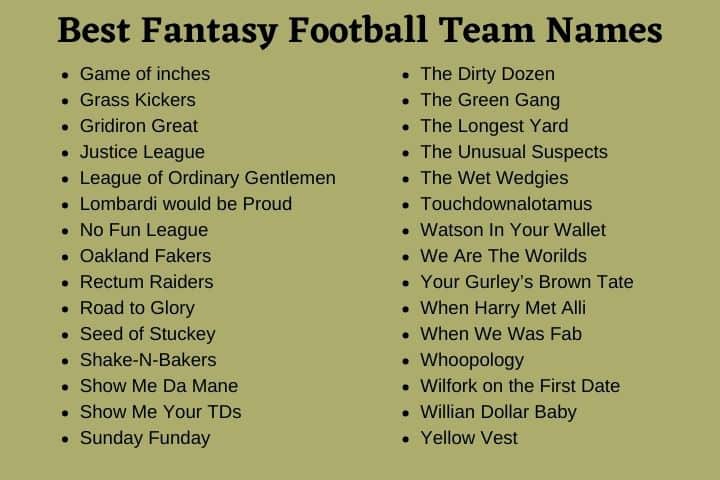 Funny Fantasy Football League Names
Below is the list of funny league names for fantasy football:
Dukes of Hazard
Dynamo Chicken Kiev
Dyslexia Untied
Dzeko and the Bunnymen
Mo Bamba Blues
More than a Thielen
Moves Like Agger
Murray Up and Wait
My Name Is Guru
No Kane, No gain
No Name Squad
No Romo
Noel Diggity
Nonbeleaguers
Not Racist Redskins
Obi Wan – Kenobi Nil
Obi Wan Bissaka
Obi Wan-Bissaka
Saved by Le'Bell
Scouting For Goals
Scrapman Jackson
Scrote Squad
Good Fantasy Football League Names
These are some good fantasy football league names you can use:
Country Gronk
Crouch Potato
Cry Me a Rivers
Crystal Phallus
Cunning Stunts
Dak and Yellow
Dalton Abbey
Dalvin and Hobbs
Danilo Ice
De Bruyne Ultimatum
Deeney in a Bottle
Delph & Safety
Designated Drinkers
Dez Nuts
Diehl Breakers
Dirty Wroten Scoundrels
Djibouti Call
Dreessen to Believe
Mahomes in Alabama
Marlon Mack n Cheese
Mask Up If You're Coughlin
Drop it like Diop
Cool Football Team Names
The following are the cool football team names you can consider using:
The Gurley Gates
UnReal Madrid
Urine Trouble
Victorious Secret
The Heat is On
The High Five
The Holdouts
The Mighty Schmucks
The Red Devils
The Shockers
The Silence of The Lamb
The Skrine Door Slams
Things can only get Becker
Three Blind Guice
Three Little Boyds
Thunder
To Leach His Own
Todd Gurley
Too Kittle Too Late
Toulouse Cannons
Tricky Grosicki
Triple Threats
Twin Rivers
Fifa Team Names
Here are the best Fifa team names to help you get inspiration:
Occasionally United
Okudah Matata
Old Foles
Olympique Mayonnaise
Password is Tua
Pique and De Bruyne
Porta Iupatis
Practice Makes Burfict
Productive Struggle
Puff Puff Pass
Rapid Vienetta
RazzMaTazz
Real So So Bad
Rex and the City
Robben You Blind
Rugg and Tug
Ruggs Forrest Ruggs
Rush Hour
Sarcastaball Warriors
Saucy Goodness
Funny Fifa Names
These are the funny fifa names ideas to help you pick a good name:
Shved's Dead Baby
Sink or Swaim
Sirens
Smells Like Team Spirit
So Solid Carew
Sound of the Lloris
Spider Pigs
Stafford Infection
Strange Dragic
Suicide Squad
Sutton Death
Sutton makes me Hardman
TAA Very Much
Tea & Busquets
Team Avengers
Team Awesome
Teasing Te'o
The Big Lewandowski
The Cesc Pistols
The Denver Mint
View From Lamar
Vowel Movement
What Makes a Good Fantasy Football Team Name?
Below are the qualities of a good team name to keep in mind while naming your fantasy football team:
Keep it short and simple.
Your team name will be easily stuck in your audience's mind if it will be short and simple. Otherwise, they will feel difficulty in finding your team online by typing your team name.
So, never go for a long and boring name that does not make sense. Some good examples of simple names are Soccer Rockers, Blunderland, The Red Devils, Pro Angles, etc.
Memorable.
How to make your team name memorable?
In order to make your name memorable, choose a name that is easy to pronounce and spell. Because, if your name will be easy to pronounce and write it will automatically stick in people's minds.
Use correct spellings.
Another important thing is to use the correct spellings. You will have seen many people use misspelling to make their name cute. But, professionals said that don't be cute with your spelling.
Especially in team names, your name should look professional, not something nonsense.
Puns and rhymes.
If you want to come up with a funny name for your fantasy football team, using puns and rhymes is a great idea. Such as look at these examples to get inspiration.
Dream Team, Silent Souls, They have a lot of spirits, Clever Let Me Go, Demons Never Die, Jangle Angles, etc.
You can also use the pun generator to generate some good puns for your fantasy football team name.
Adjectives and animal names.
To create a strong name for your team another great idea is to use creative adjectives and animal names. You may have noticed that most of the teams have used this strategy.
These are some good examples, Gentle Boys, Bad Hombres, Da Bears, Fly Eagles Fly, Brave Lions, Strong Souls, etc.
How to Choose a Name for your Fantasy Football Team?
Below are a few steps for choosing unique fantasy football team names:
Create possible fantasy football name ideas.
The creative way to start your naming process is the brainstorming step. Come up with a list of catchy words and phrases related to your team.
Use a thesaurus to find related words. And then, combines these related words to create some good name ideas. Try to create name ideas as more as you can.
Pick some favorite names for your list.
After brainstorming a list of name ideas, give it some time and pick some favorite names by getting feedback. Come up with at least five favorite names.
When shortlist your favorite names don't forget to keep the above steps in mind.
Get other opinions.
Once you have shortlisted your favorite names, shared them with your friends, family member, and especially with the other common people. Get their opinions on selecting the best name.
Is your name unique?
When deciding on a name for your fantasy football team, do research to make sure your selected name is not already used by another team.
Finalize your name.
Your and your team's personal happiness is very important when finalizing your team name. So, the best idea is to sit with your team and discuss it thoroughly.
Related Posts:
Best Engineering Team Name Ideas