Slogan Ideas
300 Restaurant Slogans and Taglines (Catchy, Unique & Funny)
Restaurant marketing isn't always easy. You might be struggling to come up with the perfect slogan for your restaurant, or maybe you're just looking to refresh things. Whatever the case, in this blog post we've collected some great restaurant slogans to help you spark your creativity.
Also, below you'll find some tips to create a unique slogan for your restaurant. So, let's dive in!
Catchy Restaurant Slogans
These are some catchy restaurant slogans and taglines you can use in your restaurant business:
Only the best gets on the menu.
Gourmet! Fast! Fresh!
We're not a restaurant, We're family!
Sooo good.
The breakfast of champions.
A slice of pizza paradise.
A beautiful place to eat.
Come and enjoy a delicious meal.
Freshly prepared and delightfully served.
Life is short, eat dessert first.
Delicious food.
Try our fantastic food.
Not the place for vegetarians, but good place to eat.
Food is what brings us all together.
Fresh, flavorful, healthy and delicious.
This is not just any steak. This is an exceptional steak.
Eat what you like. Don't worry about the consequences.
A wide variety of food.
Great selection of great dishes.
We serve fresh, hot, and greasy food.
We serve great food, and you can count on it!
We serve the best Mexican food this side of the Pacific!
Grab a plate and dig in.
Fill your cup.
Restaurant of the future.
You never know when you're gonna need a good burger.
Quality food, our pleasure.
Chicken, Potatoes, and Onions.
Always Fresh, Always Hot.
Come to McDonald's and eat at your own table.
You're hungry for a good meal!
The food dudes.
Adding a joy of delicious taste.
Our food can change your mood.
Burgers! Salad doesn't start any great stories.
Delish and nutritious.
Food that tastes good.
Delicious and yummy.
There's no mercy for the chicken.
Living the green life.
Funny Slogans for Restaurants
Here are some funny slogans for restaurants that you'll love to use:
Eat here, not there.
Love at first bite.
What's yours is mine, what's mine is mine.
What do you want to eat? The chef's choice!
Chicken and waffles, two birds with one stone!
The large chicken is out of stock!
No waiter – No food!
Shrimp, you're my weakness.
A pie is like a kiss, except cheaper.
Don't worry, it's just the cow licking the pie.
The food we serve makes us famous.
Your stomach knows best.
Sit like royalty. Drink like a pig
Eat three times and pay for once.
Everything good begins with BEEF.
I want to eat you.
Don't ask for ketchup, we got catsup.
You wont get many calories from this.
Come hungry, you'll leave happy.
Food with attitude.
Quality but expensive.
Don't eat anything you don't want to eat
Eat here. Eat healthy.
The taste you'll always remember.
The best ingredients, just cooked.
Fall in love with delicious pizza again!
Where the food is the main attraction.
Something you'll remember.
Recipes for bringing joy.
Fast and tasty. Good for your stomach.
When you're crazy for chicken.
Family, friends, Italian food, and a good book.
Delicious food falling into the mouth.
You're going to get some meat.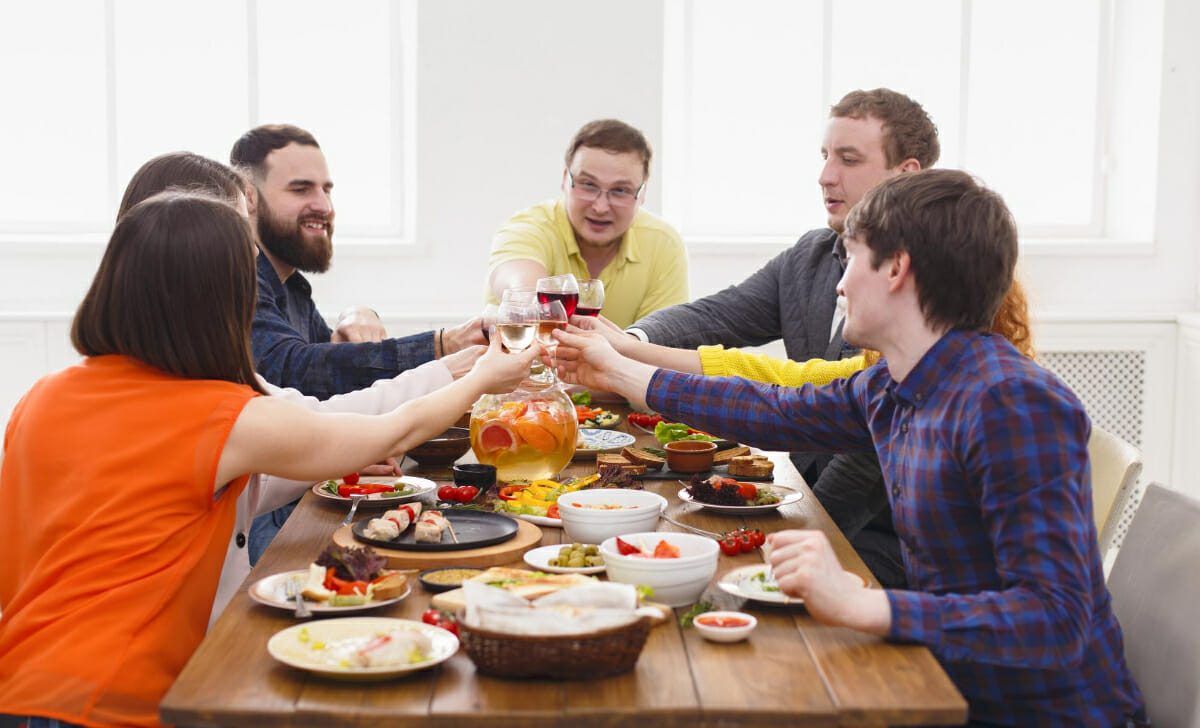 Restaurant Slogans Ideas
These are some cool restaurant slogan ideas that you may like for your new restaurant:
Salads are the way of the birds.
We are known for tasty food.
Don't just drink; eat!
Eat fresh, not frozen.
No worries, no frills!
Fresh, fashionable and fabulous.
You can't take the chef out of the kitchen.
The restaurant is in (city), not on it.
We're only serious about good food.
It's so good that you might want to lick your fingers after eating it.
Fast foods for busy people.
The pizza makers.
Santa, all I want for Christmas is pizza.
From the sea to your plate.
There's only one thing on the menu: deliciousness.
Real food, not bunny food.
Health is wealth. Eat good.
Focus on the food you eat.
Your destination for your special day.
Each day, a different tasting experience.
Every meal is a good meal.
Eat the foods you love.
Food that melts your heart.
Foods to put you in a better mood.
We're best when you expect us to be.
It's so creamy and dreamy.
Fresh is the taste.
Indian Restaurant Slogans
Below is the list of some Indian restaurant slogans you can consider using:
We serve. You order.
Happy hour every day, 3 – 6pm.
You asked for it, you got it
The food here is just yummy
Good food, served daily.
The best restaurant in town.
Everything on the menu, guaranteed.
Fresh food is a lot of healthy.
Food, fun and entertainment.
Eat with the champs.
The good side of eating healthy.
The restaurant with the biggest buzz of the year!
Like the original taste.
Make sure you wake up your taste buds.
It's hard for me to stop eating food.
Taste the joy of mouthwateringly delicious food.
A unique experience you won't forget.
We love pasta.
Feed your belly with some delicious food today!
We're fresher! We're better tasting!
We put the right tastes.
Can I get a chicken burger?
Everyone gets free coffee.
Our chef is an excellent cook.
Comfortable and Great!
Refined taste and unique atmosphere.
Rich variety of dishes available.
Food on your table!
Real taste of food.
Clever Restaurant Slogans
These are some clever restaurant slogans to inspire you:
The hungry cat.
The cheesy burger restaurant.
The catch of the day.
Best food recipes ideas.
The grill is on fire.
Penguin point. People-pleasing place.
We're so in love with our sushi!
Don't worry, take time off, and relax.
Don't stop until you've got enough.
A new way of thinking about food.
The home of the omelet.
The crazy chicken.
The view from the top.
Unleash the omelet.
Infinite possibility
4 square meals.
A simple breakfast.
Just like mom's house
You need a chicken meal.
The good life is right here.
Not just another sandwich restaurant.
We love you more than anything else.
Come for relaxation and stay for a meal.
Foods that are good for your heart.
Best Restaurant Taglines
These are some best restaurant taglines for you:
Come on in, we are open 24/7.
We will take care of you.
Eat so good, you've never left.
Sunday Brunch, the finest in town.
Home of the largest omelet.
The food is great, the atmosphere's cooler.
Just cook us something.
You haven't tried eating here until you've tried eating here!
We're serving breakfast all day, every day.
We're sure you won't find better burgers than ours.
Finger licking food here.
Tailored to your taste.
Satisfy your comfort food cravings
Tasty food is fuel for your life.
Let's you eat better.
Enjoy your food.
We can take any challenge.
Masterpieces from the world's best chefs.
Our best dishes from our chef.
Our chef has prepared five delicious courses for us.
Home of fine dining.
Bringing old recipes back to life.
Delicious lunch menu.
For true pizza lovers everywhere.
We'll take care of your hunger.
Where to go for a good meal.
Best result in the shortest time.
Michelin chef.
A diet for a fast pace of life.
VIP food for VIP visitors.
Unique Dinner Slogans
These are some unique dinner slogans for your inspiration:
We're not fine dining, we're fast casual.
You can eat here!
We miss you when you're not here.
Overstuffed sandwiches.
Best place to have dinner.
A taste of paradise.
Great food. Great people. Great times.
The best dinner is the one eaten at home.
A diner's life begins when he enters a restaurant and ends with a satisfied sigh.
A great experience.
Dinner time!
The fine dining restaurant.
We know secret tricks.
We drive hunger away by making people feel full.
We sell Swiss cheese.
Quality is the most important thing.
Only natural ingredients.
Italian chef from Italy.
Real fast results are real.
We're known for our hospitality.
Better than any cookbook.
Best meal ever.
Delivery in 40 minutes.
Online reservations for your convenience.
Best coffee in town.
We cook just like your mother.
Great place for get-togethers.
Elegance in every detail.
Good Slogans for Italian Restaurants
These are some good slogans for Italian restaurant you can use right now:
We serve only the freshest Italian food.
Come try our Italian food.
We only serve the best Italian food.
La terra ha il sapore.
Welcome to Ristorante Galileo.
Tutto il mondo in un caffè.
Buon appetite.
The best Italian food around.
The Best Italian food & service.
You won't find a better meal.
Where you can taste the best of Italy.
Italy's best loved cuisine.
We serve the best Italian food this side of the Atlantic!
You're part of our family.
Choose healthy. Be strong. Live long.
Fresh food and good feelings.
What can we do for you?
Try something new.
Rain or shine, it's time to dine.
Try it out for yourself.
Taste the flavor in each bite.
Let's create memories that will last forever.
Where the flavor intoxicates you.
An intimate, welcoming space where you can enjoy an unforgettable meal.
Let's eat again.
It's a bit silly, but it's a lot of sushi.
Quick and delicious!
Filipino Restaurant Slogans
These are some Filipino restaurant slogans you can use:
You're all invited, come dine with us.
Cooking Filipino food is a class of its own.
The original Filipino restaurant.
Authentic Filipino food.
Old-fashioned Filipino cooking.
..mouth-watering!
When eating out becomes a habit.
If you have a problem, We can help.
Only healthy food.
Refined taste and unique atmosphere.
A lovely cup of tea for every guest.
Delicious food. Homey atmosphere.
Stop the time. Enjoy the taste.
Cooking as good as grandma.
Individual Pilates Classes
A free fresh pastry.
Best place for a first date.
Come and join us for tea!
Coffee and newspapers.
International Cuisine Masterpieces.
Delicious food and romantic surroundings.
We care about our customers.
We don't want you to gain weight eating our food.
Seafood Restaurant Slogans
These are some seafood restaurant slogans for you:
Crazy street of seafood.
We cook the big fish.
The best seafood around.
Great seafood, good service, great value!
Seafood straight from the ocean.
Fresh seafood, friendly servers, we'll make you feel right at home!
Local seafood, freshly prepared, served with smiles!
Fine seafood, friendly staff, clean environment!
Serving seafood since 1885.
We're your neighborhood seafood place.
Locally sourced seafood, family style dining.
I'm in the mood for seafood.
The catch of the day.
The freshest seafood.
A quick bite to eat before you head out!
We provide healthy seafood
Old Fashioned Hospitality.
Seafood, Always Fresh.
Love the food.
Food that makes you feel good.
A restaurant where people go to eat.
A taste and health in one plate!
Passion in every dish.
Breakfast is the most important meal of the week.
Nourish your passion for food and living.
Walk around, get some treats.
Spicy tastes are good.
Go to chow town.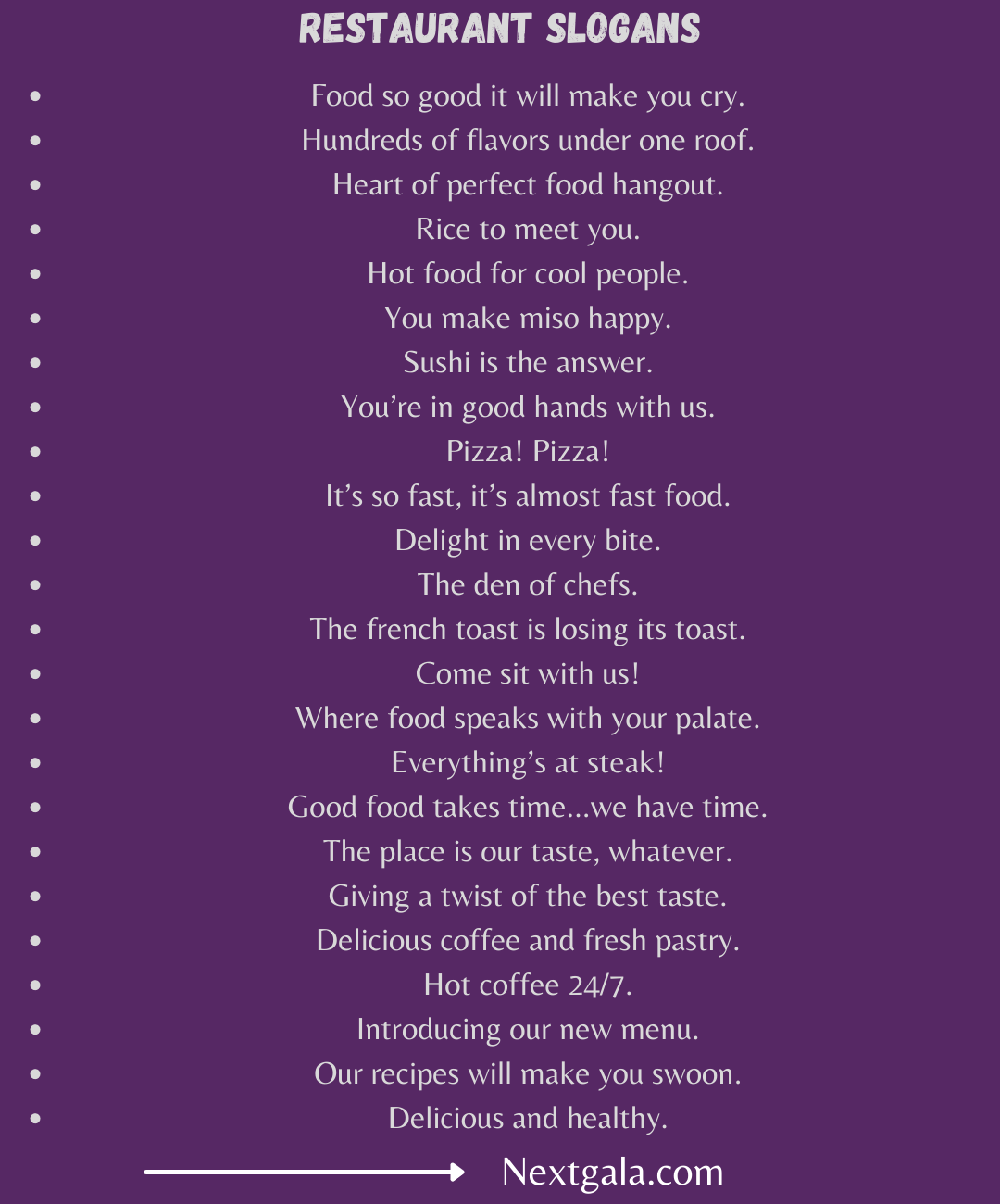 How to Create a Catchy Restaurant Slogan
Creating a catchy restaurant slogan is one of the most effective ways to get your message across in a short space of time. It's a powerful tool that can help you to stand out from the crowd and attract new customers.
When creating a slogan, think about how you want to communicate with your audience. Is it going to be funny, serious, or both? Do you want to use words that they might recognize? Or maybe you want to use a metaphor to really grab attention. Whatever you decide, keep it simple and memorable.
Brainstorming is a fun way to generate new ideas. These are the best tips for making a great slogan for your restaurant:
1. Think about the audience.
When creating a slogan for your restaurant, think about the target audience first. What does your audience want? How can you help them? If you don't know, then ask them. You may find out that they already have a solution to their problem. This is why it's important to listen to your customers and potential customers.
You should always try to keep in mind that your audience is unique, and you shouldn't try to force fit yourself into their shoes. It's better to come up with a marketing slogan that fits your brand than one that doesn't fit at all.
2. Do some research on the topic.
Most of us have heard the phrase "marketing is all about research". It's true, but how do we go about doing it? How do we find out what our competitors are up to? What kind of research should we conduct? And how do we use it to help us come up with a winning slogan?
There are lots of ways to research your competition. You can look at what they're saying on social media, check out their websites and blogs, read their press releases, etc. But one of the best ways to get a good idea of what your competitors are doing is to ask them directly.
3. Choose something simple and short.
Your restaurant slogan should be short and simple. It should be catchy and memorable. If it's not, then it won't get often used enough to become part of your brand identity.
A good slogan should be easy to remember and convey your message in a single sentence. It should be memorable and easily understood by your audience. A good slogan should be short but still, convey your message clearly.
4. Make sure that the slogan includes keywords.
When writing a slogan, you should always include keywords in your text. This helps people understand your business easily. You want to use the right keywords, but don't go overboard with them. If you try to stuff too many keywords into one sentence, it may look like spam.
5. Don't use too many words.
Slogans are one of the most important parts of any marketing campaign. They should be short, catchy and memorable. If you want to get noticed, then you need to make sure your slogan stands out. It needs to be unique and memorable.
You can always add more words later. However, adding too many words might make your slogan sound complicated. Keep it simple.
6. Avoid using symbols.
It's more important to communicate effectively than to be clever. Use simple words instead of emojis, arrows, and other icons. They won't look good on your tagline. The font size should be proportional to the length of the phrase. Ensure that it is large enough for people to be able to see it clearly without having to strain their eyes.
7. Make sure it has a positive connotation.
When writing your restaurant slogan, try to think of a word that means good in your niche. For example, if you are selling weight-loss products, then the words 'weight loss' might not work well. Instead, you could use the phrase 'get fit'. This phrase has a positive connotation and therefore works better than 'weight loss.
8. Keep it clean and professional.
A good slogan should be clean, catchy, memorable, and easy to remember. It should also be short and concise. A good slogan should be used in every aspect of your marketing campaign.
You should avoid using slogans that are too long or complicated. They may confuse your audience, and they may even turn them off. If you want to keep it simple, try keeping your slogan under 10 words.
9. Include A call-to-action
Marketing slogans are one of the most important parts of any business. They should be attention-getting, interesting, and memorable. If they don't grab attention then no one will read them. You want to get noticed, but you don't want to annoy your audience either.
You need to include a call to action in your slogan. This means that when someone reads your slogan, they should immediately think about doing something about it. For example, if you were writing a slogan for a restaurant, you might say "Taste Our Fresh Food Now" or "Eat Today, Come Again Tomorrow". These slogans are very effective because they tell people exactly what to do.
10. Get inspiration from famous brands.
Slogans are used by companies all around the world to promote their brand and attract new customers. They are often short, catchy phrases that convey a clear message.
These are some of the famous brands marketing slogans to help you get inspiration and create your own unique tagline:
"The customer is always right" – Apple
"It doesn't have to be perfect, just better than the competition" – Nike
"If you build it, they will come" – Disney
"We don't make products; we make a difference" – Microsoft
"We don't just make cameras; we create memories." – Kodak
"The World's First Smartwatch." – Motorola
"It's not just a phone, it's an extension of yourself." – Samsung
"We're not just another bank, we're your friend." – Ally Bank, US
"The world is a better place because you're in it." – Patagonia, US
"The standard of the world" – Cadillac
"Let's go places" – Toyota
"Finger Lickin' Good" – KFC
"The taste of home" – Knorr
"I'm lovin' it" – McDonald's
"Intel inside" – Intel
"Make the most of now" – O2
"Power to you" – Vodafone
"Where do you want to go today?" – Microsoft
"The Best a man can get" – Old Spice
"Just do it" – Nike
"We try harder" – Avis
"Keep it simple, stupid" – Lexus
"In loving memory" – Marlboro
"If you've got it, flaunt it" – Max Factor
"The fun begins" – FedEx
"Vorsprung durch Technik" – Volkswagen
"Impossible is nothing" – Adidas
"I am what I am" – Reebok
"Intel inside" – Intel
"Connecting People" – Nokia
"Don't leave home without it" – American Express
"Pan Am Clipper" – Pan Am
"First time the moment" – Nespresso
"Open happiness" – Coca cola
"The power of dreams" – Honda
"Beyond refreshment" – Pepsi
"All the way" – Starbucks
"The ultimate driving machine" – BMW
Conclusion:
Now that you know how to write a good slogan, you're ready to start creating your own! Use these tips as a guide to creating a great slogan for your new restaurant. The more creative you are with your slogan, the greater chance you'll have of getting noticed.
We hope you liked this article and have found a catchy slogan for your restaurant. Thanks for reading and Good Luck!
More Related Posts:
Catchy Bakery Slogans and Taglines You Can Use 
Creative Food Slogans and Tagline Ideas 
Funny Pizza Slogans and Sayings