Name Ideas
400 Really Cool Psychic Business Names To Inspire You
So, if you're thinking about opening a psychic reading business and looking for good psychic names to get inspiration then you are at the right place.
In this article, I have listed hundreds of good and funny psychic business names to help you get started. Let's dive in!
Psychic Business Names
Here are some cool and catchy psychic business names to inspire your ideas:
Prophetic Sunrise
Tarot Readings with Psychic
Ask The Psychic
Psychic Light and Soul
Psychic For Love
Crystal & Zodiac Shop
Advice And Spiritual Guidance
Organic Mind
Light As A Feather
Psychic Adalynn
Truly Medium
Best Love Psychic
Astrological Services
The Astrology Store
The Psychic Cafe
Spirit Of Life Sanctuary
Psychic Victoria
White Flame Company
Psychic Reader and Advisor
Faces of the Butterfly
Sacred Journey
Gifted and Blessed
Medium Works
Spiritual Connections
Psychic Readings
Psychic Medium Green
Psychic & Spiritual Centre
Psychic Spiritual Readings
The Tarot Touch
Spirit Guided
Neon Lights Psychs
Moon Master
Future Divinity
Billboard Psychic
Willful Connection
Spirit World Oracles
Life Snap
Seek And Find
Stock Life
A Look Inside
The Celestial Solutions
Spur Spiritual
Third Eye Sentient
Feel And Believe
Futurelife Psychic
Psychic Knowledge
Bridging Messages
See Your Selfie
Augur Renowned
Trusted Teller
24 Hour Psychics
Mind Soul
Spiritual Blast
Psychic Name Ideas
These are the good psychic name ideas for you:
Spiritual Psychic Center
Shining Light
Psychic Light
Soul Ascendency Psychic
The Psychic Wolf
Ancient Psychic
Amazing Northern Psychic
Association of Psychics
Bliss Meditation Labs
Hand In Hand Spiritual Guidance
Psychic Love therapist
Psychic Reach
Ascension Healing
Haven Consultations
Mystical Nights
Second Sight
Best Psychic
Psychic Love Solutions
Purple sage insights
The Happy Psychic
Tarot Card Reading
Serenity Psychics
Little High Street
Psychic Love Healing
Goodyear Psychic and Healer
Psychic Love Spells
Spiritual Medium
Psychics Connect
Psychic life coach
Peace And Love Psychics
Overnight Psychic
Leap Of Faith Tarot
Mind Calm and Tarot Reader
Psychics And Other Mystical Beings
Psychics Tarot Reading
Limitless Soul
Love+Light Psychics
Psychics For You
Elegant Life
Blade Life
Speaking Peak Psychic
Spirits N Stuff
Psychicsrus
Raven House
Go Mystical
Crystalled Clear
Mental Life
Inner Self Readings
Acute Clairvoyance
Raven Palace
Read The Aura
Funny Psychic Names
Below are some funny psychic names you can use right away:
House of Healing
Angel Of Light
Psychic Insights
Astrology Charts
Star Spiritual Concepts
Psychic Angel Healing
Psychic Thoughts
Foothills Psychic
Just Ask Tarot
Inner Heights
Soothing Psychic Readings
Psychic Solutions
Call Psychic Now
Psychic Tilly
Psychic senses
Visions Today Future Tomorrow
Psychic Mother Grace
Psychic Medium & Tarot
Vision Quest Psychic
Psychic on Greenway
Psychic Healing Energy
Love Spells That Work
Psychic in the heights
Pentacles Psychic Adventures
Psychic Palmistry & Tarot Readings
Female Psychic Names
These are some good female psychic names:
The Truth Cause
Future Sight Tarot
Psychic Women
The Light Path
Feather Divinations
Psychic Angle
Crispy Soul
Beyond Hope
The Open Minded
Bliss Chakras
Mental Super
Empire Soul
Life Falcon
Raven Palace
An Inside Look
Empathetic Light
Shaman Advice
Witchy Psychics
Witchyy Woo
The Arcana Guru
Treasure Psychic
Axel Life
Healing Message
Enviable Mental
Productive Psychic
Truth Teller
The Spiritual Palmist
The Philly Psychics
Fortune Teller Names
The following are the good and funny fortune teller names for your inspiration:
Psychic Reading Lounge
7th Ave Psychic
Perfect Psychic Readings
Mindset Psychic
Intuitive Tarot
Guiding Enlightenment
Predicted Purpose
Your Card Therapy
Magnetically Engaged
Isabelle Psychic
Psychic Valentino Studio
Psychic Love reader advisor
Destiny Readers
Crystal Therapies
Inspired by Spirit
Chicks With Spiritual Gifts
Psychic and Tarot Master Reader
Clairvoyants & Medium
Starlight Health & Wellness
Design Your Life Spiritual Studio
Psychic White Magic
Simply Psychics
Healing Truths
Mystical Vision Psychics
Spiritual Enlightenment
Serenity Psychic Center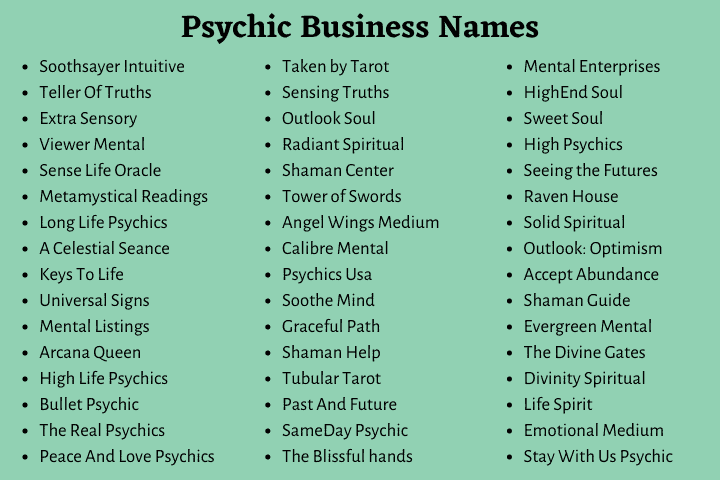 How to Name Your Psychic Business
Naming your business is an exciting decision. It could be your life's work, but it also has the potential to be your life's biggest regret.
Deciding on an appropriate name means choosing a brand that will define your business to customers and competitors for years to come.
And, it's not always easy to do. But, how do you decide?
Below are a few more things to keep in mind when choosing a name for your psychic business:
Think of a name that will stand out and be remembered
Having the right name can make or break a business. It can easily be ignored if it doesn't stand out and be remembered.
A name must be distinctive, easy to remember, and appropriate. The name should help the public know what the business does and who it's for.
The name should have a positive feeling
You want your business name to have a positive feeling to it so that when people hear the name they can feel the good things the name brings to them.
When they hear the name they want to be a customer.
Try not to choose a name that is too long and difficult to pronounce
As a business owner, there are a number of factors to consider when choosing a name for your business. However, the most important thing to consider is how easy it is for customers and clients to pronounce your name.
Sure, it may be a cool-sounding name that rolls off the tongue, but people won't remember it or be able to spell it if it's too long or difficult to pronounce.
A good business name is short, memorable, and doesn't confuse people, it tells them exactly what they are getting. A bad name is long, difficult to say, and doesn't give people any idea what your business is about.
Choose a name that is unique
When you come up with a name, you need to make sure that no one else is using that name for a business. You can go to a search engine such as Google and do a search to see if the name is in use.
The name you pick for your business is an important one, as it lets customers know what you do and who you are. The actual business name should be short, simple, and unique.
Research the competitors psychic business names to get inspiration
When naming your business, you should conduct some primary research. First, analyze your competitors, and then do the same thing for your service.
Once you have a good understanding of what your competitors are doing with their business names, you'll be better able to create an effective brand name for your own business.
Choose a name that is available as a domain name
A domain name is the web address for a website that makes it easy for your customers to find you online.
Once you have your name, you can search for it on the Internet (or ask a friend to do it for you) to see if it is available as a domain name. If you find that someone else already owns your name, you can always choose a different name instead.
Register your name as a trademark and make it your brand
Once you come up with a brand name, you should get the trademark registration in your state to strengthen your brand. It is the strongest form of protection.
But before registering, make sure your business name is available. You can search it on U.S. Patent and Trademark Office database to see if your business name is available for trademark registration.
More Related Posts: