Name Ideas
320+ Great Team Name Ideas for Tough Mudder and Mud Runs
In the past, people have used run names such as "Lucky 13" or "Blue Collars" for their mud run teams. But those names are too serious and not creative enough for today's participants.
Now whether you're forming a mud run team or have an existing group, choosing a catchy team name can be a significant part of forming a strong bond and generating enthusiasm.
So, what should you name your mud run team? Or How to choose a catchy name for your team?
To help you choose a perfect name for your mud team, in this article we have listed some fun, creative, and memorable mud run team names, ideas, and suggestions that you can use to make your team stand out. Let's get started!
Mud Run Team Names
Here are some cool and powerful run mud team names you can ever find:
Trail of Terror
Mud Monsters
The Fabulous Dumpster Fire
Mystery Road
Goofball
Team Powers
Bears in the Mud
The Dude Runners
The Mud Runners Squad
The Beast Squad
Awesome Ninja Warriors
Mud & Mustard
The Red Muddinghoods
Dirty Naughty Babes
Primus Tough
Mudder Lover
Lager Ladies
Medleys of Mud
Curvy Muddstaches
Mudslides
The Dugout
Mud, Sweat and Beers
Muddy Mamas
Trifecta Tribe
Get Dirty
Run Like the Winded
Muddy Mousse
I Hate Burpees
Better Wetter
Burpee'd Off
Band of Mudders
Earth Huggers
We'd Rather Be Streaking
Pretty Lil' Mudders
Hello Mudders
Team Mudslide
Achilles Heals
Mud Up Wit' Dat?
The Filthy Femmes
Dreamy Mudders
Femme Muddlers
Mudholes
Mud-Wise-errs
Mudwisers
Body By Shake Weight
Not Giving Up
Champions United
Utter Mudders
Mudd Sharks
50 Shades of Mud
Rugged Race Patrol
Mudd Slingers
Happy Feet
Exceed & Excel
Dirty Girls Gone Dirtier
Original Roads Scholars
Chafing the Dream
Muddy Waters
Make Mud Not War
I Made a Mistake
In Need of Showers
Mudd Militia
Team Power
Dirty Dozen
Cadence Counters
Tough Mudder Fudders
Dirt Digglers
The Muddy Ducks
No Limit Warriors
Muddying the Waters
Law & Odor
Brothers from Another Mudder
Tough Mudder Team Names
These are the tough mudder team names you can use for your group:
Tough Enough Mudder
The Polar Bears
Heavy Duty Heroes
Read My Drips
Tough Pubbers
Tough Loving
Muddy Moonshine Mamas
Dead On Arrival
Pretty Muddy
The Muddley Crew
Filthy & Fierce
Muddy Buddies
In Triumph
Saucy Delights
They Said There'd Be Beer
I am Spartacus
Mud Makers
Delta Farce
Fighting Like Girls
Dirty Mudder Funkers
Rub Some Dirt on It
No Excuses
I Lost my Shoe
The Muddy Ducklings
Full Muddy Jacket
Girls Gone Muddy
Your Pace or Mine?
Dirty Dozen
Mud Buds
Burpee'd Out
Rocky's Challenge
Let's Talk Dirty
Team Dingo – ate my baby
Mudagascar Penguins
Made for Mud
Baby's First Mud Run
Mountain Matrix
Poopy Pants
The Sprinter Team
Mud on the Tires
Muddy Treats
Obstacrushers
Mud Up or Shut Up
Bootcamp Brothers
The Eh Team
Sargent Sinister
Achilles Heels
Dirt Diggers
Fartin Spartans
Down and Dirty
Leonidas' Lions
Sole Train
Challenge Tacklers
Muddy Fun Runners
Mudd Flaps
The Muddy Virgins
In-Femme-ous Liars
Coastbusters
Mud Bloods
Where's the Beer?
Trail Heat Tribe
The Mudventurers
Overcomers
Mud Flaps
Muscles to the Max
Straight off the Couch
Funny Mud Run Team Names
Below is the list of some funny mud run team names that you may find interesting:
Team Swayze
Marathon Legion
Never Broken
Dirty Divas
Mud Crushers
The Muddy Idiots
Resistant Coalition
Mudpie Mamas
We Got the Runs
Running Scared
Call Me a Cab
Muderella Slippers
Jersey "Girls"
Not That Drunk
Twisted Blisters
It's a Mudderful World
Bad Brother Muckers
Run for Your Life
Dusty Divas
Muddy Mermaids
Happy as Pigs
Happy Go Mudders
Baptized in Muddy Water
Dirty Damsels
Storming Raiders
Word to Your Mudder!
Mudder Tuckers
Mud Pies
All or Mudding
Mud, Sweat & Beers
Ex Military
Sprinters Society
Dusty Dolls
Hello, Mudders
How I Met Your Mudder
The Soiled Girls
Purty Mudder Fudders
No Surrender
I Paid To Do This?
Pimp My Stride
Dashing Divas
Mammary Laps
Mudaholics
5 Veterans and a Virgin
Dirty Martinis
Mud Kings
Crushing It
Queens of the Mud
Mountain Slayers
Weekend Mud
Muddy Fragrances
We Prevail
Girls Gone Muddy!
Pigs Flying
Brudders From Other Mudders
Dirty Laundry
Moody Muddies
Yummy Mudcakes
Muddy Minions
Law and Odor
Mudders and Dunkers
Beer Thirty Mud Runner's
Mind Over Mudder
Sloppy Mud Run
Femme Mudder
Granny Mudder's
Band of Brudders
Naptime at the Finish Line
Spartan Race Team Names
The following are some best Spartan race team names you use:
Spartans Forever
Recovery Forest Race
Race Riders Squad
The Spartan Warriors
Mud Sharks
Fifty Shades of Awesome
Sex Panthers
Playing in the Dirt
Old Soles
Best Shot Legacy
Staggered Swagger
Dingy Ladies
Run to Get Dirty
Rapid Thigh Movement
Run Amuckers
Mudder Fockers
Our Absolute Best
Sponge Bob Fat pants
Mud Sistas
Muddstache Rides
Squat Sisters
Down With the Brown
Shatterproof
Conquerors
The Mudder Ship
Finish Line Force
Mud Slingers
Ready for Anything
Run for Fun
Muddy Mary's
Dude… Where's My Vans
Dirty Dancers
Mud-WISE-Ers
Muddy Fun Runner's
Buns on the Run
Transcend
Team Geriatric
Mudder, May I?
How the West Was Run
Workout Nation
No Nonsense
Mud Run Team Names for Ladies
These are some cute and best mud run team names for ladies:
Queens of the Mud
Muddies First
Hormonal Hotties
Fight like a dirty girl
Brownie's Angels
The Sordid Ladies
Dirty Old Ladies
Dirty Dolls
Eat Our Dust
Dirty Fashionistas
Dingy Dames
The Frozen Weasels
Dirty Girls Just Wanna Have Fun
Team Endure
Bad Mudders
Cleveland Steamers
Mudders Milk
leave it to cleavage
Wicked Mudders
Dirt Skirts
Through the Wall
Muddstaches
Mud Slinging Mamas
Running for Pride
Leonidas' Lions
A La Mudd
I Lost My Shoe!
Mud Splashers
Mudder Brudders
Keep Calm and Mudder on
Course of Confidence
Pass the Buck
Dream Team
Mud-Donnas
Wreckless Runners
Squad Surpass
From the Mudderland
The Mudbugs
Team Beer Gut
Obstacle Course Name Ideas
Here are the catchy obstacle course name ideas to help you choose a good name:
Mudderella Slippers
Spartan Tough Course
Fortitude Force
Peacekeeper Obstacle Course
Beast Mode Obstacle Course
Happy Go
Lucky Charms
Trained and Ready
From the Mudderland
Lowered Expectations
Agony of De Feet
Mud Bathers
Running the Distance
Beer Me
The Filthy Clams
Dude… Where's My Vans?
Shrinkage
The Mudditarians
Wellness Warriors
The Mudderland
The Diggers
Mudley Crew
This Won't Dirt
Here's Mud in Your Eye
Dirty Half Dozen
Nap Time at the Finish Line
The Douche Bags
Shark Attack
Warrior Princesses
Team Powers
The Meddling Muddlers
Damsels in Mudrest
Mudd Crushers
Mud Bugs
Brother from a Different Mudder
Golden "Girls"
Confidence & Capabilities
Scrambled Legs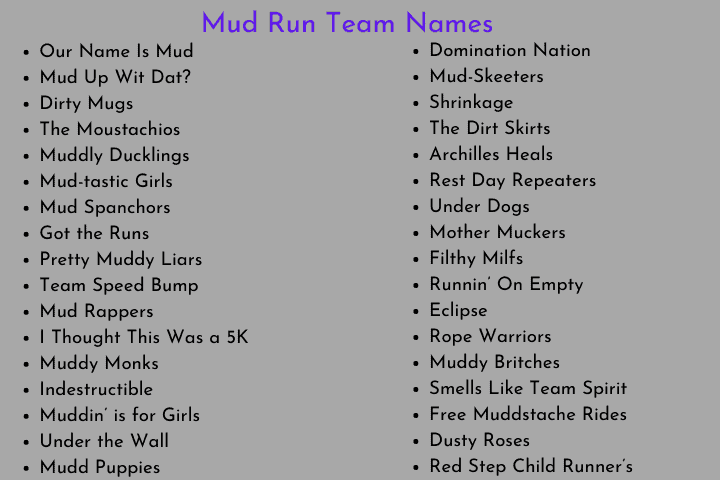 How to Choose a Name for Your Mud Run Team
Choosing a name for your mud run team can be a tough decision. There are many factors to consider, and you may not know what exactly you are looking for until you get started.
Do you want a name that is short and easy to remember, or do you want a cool name you won't have to explain to the rest of the team?
Well, below are a few important things for choosing a creative name for your mud run team or group:
Keep it short and powerful
Try to keep your team name short, one or two words are generally the most effective. You want to make sure that your team name is simple and memorable too. You want to be able to think of it quickly and not forget it later.
Choose a memorable name
You can't just pick a name that fits the theme of the team, you need to pick a name that will be easy for people to remember. A good name will also help in branding your team so that people will remember you at races.
It should not be offensive
Remember, your team name is something that will be used on a regular basis, so it needs to be something people will enjoy and remember.
Also, you want your team name to have a positive impact on the people who will be working together for your team, whether they are new team members or long-term teammates and friends.
Your team name should be different from others
Pick a short name that's easy to spell and pronounce for yourself and your team, and avoid names that are too similar to other teams or races. For example, if you have a running team, you don't want the race name to be too similar to another one.
A bit of research before you decide on your name will help you be sure to pick one that is unique and appropriate, and one that will make you stand out from the crowd.
It should reflect your team's personality or attitude
The name you choose is important and it will affect the tone of your team. You should choose a name that reflects your personality, style, or something you find funny!
Choosing a name that is meaningful to your group helps to build a strong sense of unity and camaraderie.
Stay away from curse words, negative words, and vulgar words
Using curse words, negative words, and vulgar words, coupled with a lack of creativity, is the worst way to name a Mud Run team.
Name your team after your favorite animal
Another great idea is to use your favorite animal name to come up with a catchy name for your mud run team. For example, these are two good examples "Gorilla's in the jungle" and "Panda's in the mud."
Hope you have found a perfect name for your mud run team. Good Luck!
More Related Posts:
Catchy Tag and Wrestling Team Names