Team Names
Running Team Names: 300+ Funny Race Team Names
Team names are a great way of identifying your team, bringing your team together, and building a sense of community. In the same way that naming a business gives it a personality, naming a running team gives it character.
It becomes something more than just a collection of people; it becomes a living, breathing entity that is part of something bigger than any one person.
For a runner, giving their team a name is a great way to help them have more fun and enjoy the sport even more while building a sense of community.
If you are looking for some good running and race team names you are at the right place. In this article, you will find some cool and funny running team names you can use right away. Let's get started
Running Team Names
Here are some cool running team names you can use for your group:
Uber For What?
Steady Tigers
Run Like Glitter
The Tired Team
We Think We Ran
Snow White Running Group
It Hurts So Good
Time To Run Away
Quadz of Fury
Run For Being Healthy
Record Breakers
Dreadmill Trainers
Wicked Speed
The Running Joke
Follow the Run-bow
Pass the Kool-Aid
Hitting The Road
Kiss my Asphalt
Speed Bumps
We Heart To Run
Cheaper Than Therapy
Run Don't Kuwait
Because Uber Was Busy
Low-Key Joggers
Better at Runnin' Up a Tab
All For Speed
Leg Whippers.
Commotion Army
Run From Shame
Non-Stop Marathon
Baby got Track
Feet Be Killin'
Pavement Pounders
Running Like We're Crazy
Sweet Soles
Run For Place
Funny Running Team Names
These are the funny running team names to inspire you:
Distance Matters
Laziness Be Gone
Running From Responsibility
No Stop in Team
Running from Commitment
Full Throttle
Cadence Counters
Simultaneous
Fly & Fiesty
Runs Like A Girl
Stormin' Like Norman
Reeky Comrades
Scared To Run
Busy Bustlers
Raise The Bar
Baton Rogues
Off the Ground
Jello Legs
Ceaseless
We're Too Old For This
Graceful Gunners
Smokin' Laces
Non-Walking Warriors
Rapid Sprinters
Speedilicious
Been there, Run That
Captain rum
Run It To Win It
Rapid Runners
Fire Strides
Not So Easy Runners
Dash Like The Wind
Pimp My Stride
Between Walk and a Hard Pace
The Religion Of Racing
Race Team Names
Below is the list of catchy race team names you can consider using:
Loaded Legs Racing
Training Wheels
Sweaty Sprinters
The Run Arounds
Tireless
Ice Cream Truck Chasers
Worst Pace Scenario
Humorous Racemakers
Running Scared
Quads of Fury
Lactic Acid Trip
Relay The Energy
Run & Burn
Legs Be Aching
Mama Run Faster
The Fats and The Furious
Busy Feets
Mad Men
Overdosed
Yay For Fast Walkers
Quickened Up
The Slow and the Curious
Intermittent Exercisers
Rascally Ramblers
Stormy Waves
The Passing Grades
Be Like Sonic
Running For The 'Gram
Run Fasta, Eat Pasta
Cool Race Team Names
These are some cool race team names for your inspiration:
Fueled By Coffee
Matching T-Shirts
Race Like Outlaws
New York State of Grind
Slow Motion Ninjas
The Flash Mob
Furious Feet
Girls On The Run
Flying Sparks
Holy Fit
Outracing Laziness
Sprinting Soldiers
The Relay-Ables
Logistical Nightmares
Love at First Run
Just Keeping Runnin'
Prospectors
Stinky Behavior
Fo Shoe
Hell on Heels
Wickedly Fast
Sprainspotters
Speedy Sprinters
Sole Sistas
Pain For Gain
Final Call
Late Night Runs
Ready To Go
Notorious Punks
Run For Fun
Dominators
Need for Speed
The Running Dead
Funny Race Team Names
Here are the funny race team names for you:
Awkward Legs For Race
A Few Good Runners
2 Legit 2 Quit
Flushed Out
Road Quest
Feet Be Kickin'
Stretch Ya Self
Painful Thrills
Fat Fighters
We Overslept
Runaway Brides
Supersonic Thunder
Run-de-Dudes
Restless Runners
Move Thy Butt
Dashing Divas
Wishful Thinkers
We Don't Swerve
The Big Fat Pandas
Killa Speed
Cosmic Connection
2 Beasts and a Beauty
Cheerleader Rejects
Blister Sisterhood
Rest Day Repeaters
Mischievous Mermaidens
Happy Feet
She Devils
The Rubber Duckies
Mind Over Miles
Cheetah Girls
Lightening Relay-ers
Running Club Names
The following are the best running club names you can use:
Marathon Maidens
Thirsty To Win
Driven To Run Club
Run Like A Baby
De-Winning Feet
A Running Joke
Shadow Sprinters
Speedies
Not Fast, Just Furious
Gals Get Moving
Quicker Than Who?
Chasing Clouds
Pace Makers
Miles To Go
Can't Feel Our Legs
Sole Survivors
Charity Runners
Feet-al Racers
Seven Deadly Shins
What the Hill?
We'd Rather Be Streaking
Where's The Towel?
Game On
Better Together Team
Drowned In Sweat
Pushing Limits
Hustle Heroes
The Joggernauts
Lactic Acid Flashback
Pressured Into Running
Running Nicknames
These are the cool and catchy running nicknames for you:
Fast feets
Roll The Dice
Anti-See-Patrons
Pride Over Pain
Zoom Off!
Out Chasing Booty
Slimy Running
Faster Than Your Internet
Wii Not Fit
The Rumble Bees
Get-er-Run
Springy Legs
Muddy Run
Across The City
Easier Said Than Run
Running In Heels
Motley Shoes
Wonder Women
Twisted Blister
Tired Toes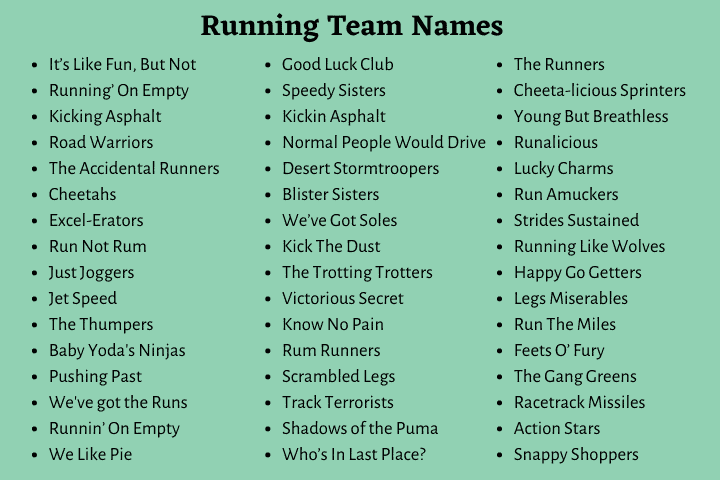 How to Name Your Race or Running Team
As a runner, you probably have a number of team members, each with a different role. If you're a serious runner, you may even feel like you're part of an actual team.
Whether you're on a track team, high school team, or just a group of friends who run together, there are plenty of ways to name your running group.
A number of factors go into deciding on a name, including the longevity of the team, and your team's energy and image.
Below are a few important steps for naming your running team:
Keep it simple
The key to creating a great running team name is to keep it short and simple. You want it to be easy to pronounce and spell.
But most importantly you want it to stand out from all the rest.
Don't use rude, offensive, or insensitive names
The best running team names are the ones that make you laugh, but even when they are funny, they can be too much for the people around you.
Running team names that are rude, offensive, or insensitive can be upsetting and offensive to both players and spectators.
Make sure the name reflects the team personality
You've got a running team, and it's time to pick a name. The most important thing you should do is have a clear idea of your team's personality. Are you going to be "the running team" or the "running club"?
The name you choose should reflect what you are all about. Decide whether you want your name to be a playful compliment to your area, or something more creative.
Make it unique, don't try to copy anyone
If your team name is the same as everyone else's, you're going to give off the impression that you copied them, which isn't great for your team's reputation.
Don't make the mistake of trying to copy one of the popular ones. Remember that you'll be stuck with your choice for the next six months and that you'll likely have to explain it to many people over that time.
So, when choosing a name check to make sure the name is not already taken by someone else.
Consider your target audience
Of course, you should also make sure the name is appropriate for your audience. If you're running with a group of elderly people, for example, it would be in poor taste to choose a name that makes fun of how short they are.
If you're a group of runners with an innuendo-laden name, you may want to tread lightly if you're planning on entering a 5K race.
Make sure the name is easy to remember
The name of your running team is one of the things that will be remembered about your team, as a name is a big part of what makes a team.
It needs to be something that will stick in peoples' heads. The problem is that some people think that they can just pick any old name and it will stick. This is simply not true. If the name is not memorable, then it won't stick.
Check out the existing running team names
Another great idea to come up with a name for your running team is to search for the existing team names for getting inspiration.
Make a list of some famous team names, and look at the types of words they have used in their name. It will give you some more ideas about what to name your running team.
You can use a team name generator to come up with some cool running team names
There are many online team name generators you can use for creating some unique and creative names.
The below are some of the best you can use:
Fantasy Name Generators
Wordlab Team Name Generator
The Story Shack
More Related Posts:
Catchy Fitness Team Name Ideas