Name Ideas
Youth Group Names: 400+ Best Christian Group Names
If you are searching for good youth group names, you can get some inspiration here.
In this article, we have listed hundreds of best Christian group names and cool youth group names ideas to help you find your dream name.
Let's get started.
Youth Group Names
Here are some best youth group names you can use:
The Adventure
TACO
Earth Tourists
Living Way
Safe Rest
Bible Behemoths
Springwater
Ends of the Earth
Eagle Wings
My Strength
The Inseparable
Seal of Love
New Compassions
Root Love
Day By Day
Firm Stance
Pure Fire
Patient Love
Iron-Sharp
Kings Way
Chat Corner
Choir of Angels
Chosen Generation
Just Do It
Just do it Always
Christian Group Names
Below is the list of cool Christian group names to inspire you:
Nu Creations
On The Move
Once Blind
Royalty Youth
Rugged
Save More
Seeking His Kingdom
Servants of Salvation
Shaping Clay
Shield of Power
Silent killers
Soul Fields
Soul Fuel
Soul Harvest
Souled Out
Spare Change Supply
Springs of Life
Star Busts
Staunch Ladies
Stench of Lazarus
Straight Cash Homie
Team Dis
Tee Lovers Group
The Base
Youth Group
LightHouse
Like Glue
Living Waters
Mad Monkey
Mad Ninjas
Creative Youth Group Names
Refresh
Soul Fuel
Storm Chasers
Task Force
Youth Momentum
The Solution
Victory
War Room
God's Protocol
Crazy world Group
Cross Roads
Cross Way
Crossroads
CrossTrain
Dangerous Dynamos
Dear ones
Desire Truth
Destiny Youth
Disciple This
Disciples Union
The Beachhead
Kids Connection
Kingdom Youth
Launch Pad
Legacy
Cool Youth Group Names
Abide in Truth
Above & Beyond
Across Borders
Acute Awareness
Adorn Messiah
Adventurer
All for Jesus
All in the Mind
All Things Possible
All Us Single Ladies
All-Time Love
ALTARed
Ancient of Days
Attitude Group
Axis
Baby Got Track
Bathroom of the Ark
Battle Ready
Be Still
Because of His Love
The Pursuit
The Silly Squids
The Summit
The Unknowns People
To Christ's Love
Inspirational Names for Youth Groups
Forever His FollowerS
Teens of the Lord
Forgot to Warm UP
Holiness is Calling
Holy Wisdom
Ground Breakers
Forgot to Warm-up.
Freedom in Chirst
Freedom Thirst
Game Changers
Game of Drones
Gift for Gab
Good for God
Good Samaritans
Gracious Givers
Honoring Our Savior
Hopes Answer
Hot Shots
The Compass
Lord's Legion
The Desert
The Desert Roses
The Folks Youth
Christian Team Names
Christ Addicts
Christ's Crusaders
Clay Symbol
Clever Cats
Coffee lovers
Colony of Weirdos
Combustion
Conditioned
Faith in Following
Family Matters
Finding Comfort
Impact your world for Christ
Imprint
It's Ladies Group
It's Reality
Journey
Just Chill
Tower of Hope
Transit Youth
Trash
Tree of Life
Trolls of disgust
Unbreakable
Christian Youth Group Names
Conquers in Chirst
Consumed
Consumed by his Glory
Cornerstone Cristians
Dolls With Balls
Don't Peek
Eden Fish
Egyptian Frog Casserole
Element
Empowered
End Zone
Endless Battle
Ends of the Earth
Energize
Enfuego
Eternal Thirst
Everpresence
Exalted Beings
Faith Factor
Strengthened Nerves
Open Gates
Opening Belief
Our Uniforms Match
Out of the Desert
Outburst
Church Group Names for Adults
Connected in Christ
Disciples of Truth
Collective Devotion
Group of Grace
Peace is Ours
Together in Church
Hearts Overflowing
Faithful and True
Delivering Hope
A Faith Revelation
Gathered In Mercy
Super Soul Sessions
Christ is Our Comfort
Glory Bound
One Eighty
One God
One Purpose
Open Book
Open Door
Overcome
Overcoming Battles
Overflow
Oxygen
Pathfinders
Church Small Group Names
The Bunker
The Camp
Unfired
Unity
Unto Others
Valet Minds
Victory in Jesus
Virtual Reality
Walkie Talkies
Waste Brains
We Are Friends
We Run the World
Well Raised
White Beginnings
Willing Soul
Wine Lovers
With All Your Heart
With You
Worthy Wellness
Xplosion
Pavement Princesses
Peace Refuge
Pipeline
RockStars
Rooted
Bible Study Group Names
Being God's Beloved
Bet on Better
Bethel Hearts
Better Bets
Bible Believers
Bible Buddies
Biblical Proportions
Big House
Blessed Souls
Block Heads
Bold Spirit
Breaking Point
Bringing Life
Brothers From Another Mother
Buffalo Wings
Building on the Rock
Lifted Up
Mighty Youth
Miracle of You
Mountain Movers
Mountain Talk
Mountaineers
Movers & Seekers
We Surrender
Cool Ministry Group Names
Pivot Upper Stone
Positive Charge
Power House
Power Walk
Prepare Aware
Prophet Life
Public Square
Radical
Raise Reason
Raise Retention
RazzMaTazz
Redemption
Relevant
Renew
Resilient
Revolutionary
Righteous Kingdom
Risen Life
Rock
Cast Your Cares
Casting Away Burdens
Cereal Killers
Chamber of Secrets
Just Talk
Murder of Crows
Navigators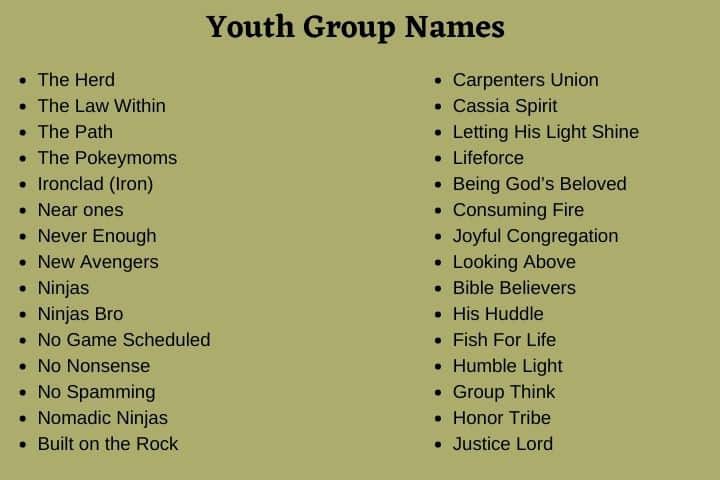 How to Create a Good Name for Youth Group
When it comes to naming your youth group, picking a catchy and unique name is very crucial.
It's not a difficult thing, but you have to be creative when picking a good name.
Below are a few suggestions to keep in mind when creating youth team names:
Your name should define the purpose of your group.
Come up with a name that conveys something about your youth ministry. It will help people easily understand the purpose of your group.
On the other hand, a meaningless name can create confusion in people's minds.
Make it easy to understand.
A name will be easy to understand if it will be short, simple, and memorable. So, try to choose a simple and catchy name that is easy to pronounce, remember, and spell.
Get ideas from your group members.
The interesting step is to sit with your group members and get their ideas. Make a list of all the ideas and then pick the one that is perfect for your youth group.
Get feedback before finalizing your favorite youth team name.
Another great idea is to get feedback before deciding on a name. Gather some random students and ask for feedback on your youth group name.
You can also ask them for new youth group name ideas. Maybe they can have some good ideas.
Quick Checklist of Naming Your Youth Group.
The following are a few steps:
Brainstorm a list of youth group name ideas, with your team members.
Narrow it down some favorite names.
Choose a meaningful name.
Don't choose a too specific name.
Get some other opinions.
Make sure you are personally happy with your group name.
Finalize your name.
More Name Ideas: