Name Ideas
Funny Wifi Names: 500+ Cool and Good WiFi Network Names
Looking for some funny and good wifi names? Great!
In this post, I have listed some of the funniest and best wifi network names you can use for your wifi router and hotspot. Also, below are a few steps for choosing the best name for your wifi network. Let's get started!
Funny Wifi Names
Here are the most fascinating and funny wifi names that will make you lough:
Leave Me Alone
Your device is Heating Up!
Loading… Please Wait
This Wifi has no Internet to Access!
I am Feeling Pressurized
Don't Touch Me
Can I Connect, Big Noooooo
Slow Wifi Like Turtle
Click Here To Ge Free Virus
Searching for a Network
Only For Girls
Boys Stay Away
For Pubg Lovers Only
Do not even try it
Boring Internet
Get the hell out of my WiFi
Only for poor people
Sent Birth Certificate for WiFi Key
Please Connect for Identity Theft
The password is you are a cheater
Don't touch my Daughter!
My Own Damn Internet
My Neighbors S#ck
You're All Noobs
I feel naughty
I am Under Your Bed
I will Send You to Jail
Password is Your name
McDonald's Free Wi-Fi
Yes I love you
GET YOUR OWN!!!!
You cannot catch me!
I me myself and I
WillUmarryMe?
Dontlookatporn
Error in connection
Pepper Princess
I Slept With Your WiFi
Cobra Killer
Daniel Sutherland
Don't ask, NO!
Unsecured Wi-Fi
Bill Clinternet
Go Home Tourists
Tq to come in my life
I sniff WIFI
No pass only Mouse
Fourth Floor Wifi
Rahul Gandhi Youth Network
Happy Guessing!
VirusFree
Pretty Fly for a Wi-Fi
Gossip girls
You've been Infected
Wi believe I can Fi
Log in here!
Get your Own Wi-Fi Fuck Head
This not Local
Bring Bear and Women
Let them use it
Do not Use WiFi
Babby I'm back
Good Wifi Names
These are some good names for your wifi you can use:
You are Eating my Food
Swiss Cheese
NoWiFi4you
StayOFFmy router
You are my crush
Why do you want everything for free
Out Of Order Try Later
No More Mister Wi-Fi
For Porn Use Only
Network access denied
Franklin Delano Routervelt
I love you too
NSA Surveillance Station 4
Anyone Have A Wifi?
Two Girls One Router
DEA Surveillance
insert coin to continue
This is My Number
TheInternetIsAssur
My mom's wifi
Use your mobile data
Don't mess with me
Live together
I miss you
Louie Duck
Go to Hell
Teri Meri Kahani
It Hurts When IP
Feel it or have it
Dunder-Mifflin
The Secret Chamber
Next time lock your router
You click, I pay
Bob's Unsecured House of Wifi
Nacho WiFi
Don't Waste Your Time
Cut your lawn
Umbrella Corporation
99 problems but WiFi ain't one
Sigmund Eldridge
Now you see me…
Not a Public hotspot
BatLAN and Robin
You are hacked!
Best Wifi Names
Below is the list of best wifi names you have ever seen:
Touch me, I'm horny
Wireless GangBang
HideYoWi-Fi
Shadow Sweep
Tell Her I Love Her
Wi-Fry Chicken
You're music is annoying.
Whose WiFi is it Anyway?
Wi FiLecia
Justin Bieber trivia questions
Free wifi coming soon!
It Burns When IP
Bazooka Jester
Where the Wild Pings Are
Martin Router King
The Next Door
Zombieland
Prometheus Science
404 Wifi Unavailable
Error: Please Contact Your ISP
Need Antivirus Software
Click this
Skull Blinder
Shut your Fucking Dog Up
Mom, Click Here for Internet
WORLD tour
The Connection Failed
Come and clean up my house
Wi-Fi, do you love me?
Cut the Wire
Sent Pizza for Wifi
Spam Connection
TryAndHackMe
House LANister
WI-FIght the inevitable?
Wifi is invisible
This world is mine
DEA Surveillance #4188A87
Titanic Syncing
Your data is stolen
Router, I Hardly know Her
You Will Regret This
RFID Tag Reader
Clever Wifi Name Ideas
These are some clever wifi name ideas you can use:
Wireless router
Virus Infected WiFi
You are WiFizoned
God Save The Wi-Fi
Does This Look Infected?
Please no more grindcore at 3am
Minnie Mouse Wifi zone
hey its me ur wifi
Rebel wifi
Troy and Abed in the Modem
Drop It Like Its Hotspot
Neither I do
You Pay Now
Good morning my love
Love you Jaan
You are testing my patience
You can't connect to this
Shut Your Mouth
I love pink
Chasm Commando
E. Pennypacker
Only For Zombies
Linksys Lohan
Don't break the chain
Your phone will be hacked
Try again
The Tree Of Wifi
Click here to win
You Lost Your Connection
Best WiFi for All Time
Cool Wifi Names
The following are some epic and coolest wifi names for you:
The Password is Blank
Wi-Fi Network? Why Not Zoidberg?
Amazing Speedy WiFi
Mack Etherington
Satan Rocks My Socks
Avengers Networks
Hey! You senseless
Girls are the best
Untrusted Network
Super Thanks For Asking
Together forever
And Don't You Come Back
You're funny
it's Office, not Home
Insert key here –>
I love my hair, Don't you?
Use Your Own Wifi
12C is the Loneliest Number
Open network
what's your problem
Vomit Comit
Test Wi-Fi Please Ignore
Call Me Darling
Once See Back
This is Cafe Not Copy
Couples wifi
Abraham Linksys
Talk less and Work more
My WiFI is sleeping
Click Here for Viruses
My Crown My Kingdom
Immigration Authorities
Router? I hardly knew her!
Why Are You Here
Covet not thy neighbor's WiFi
Time to time wifi
do something pretective
Great thing never ends
Network forgotten
Get Your Own WiFi
Winternet Is Coming
I don't like your Music
Get off My LAN!
Cute Wifi Name Ideas
These are the sweet, delightful, and cute wifi name ideas for you:
You have been blocked
Why so Serious
Feel like Flying
Broadband Connection
Bazooka Nemesis
Wi-fi is Coming
No Woman No Cry
Porque-Fi
The Wi-Fi Next Door
Okay! not today
Get the hell out of my WiFi
Connection Lost
For Sale Inquire Within
Friendly Neighborhood Spider-LAN
Get a Damn Wi-Fi for you
Free Ka Maal
Connect I dare U
Pink Ladies
Mom – Click Here for Internet
Turbo Encabulator
Cup of sugar
Access denied
Join my bandwidth
Reserved for Guests I Hate
Look Ma, No Wires!
Ernest Reed
Formerly Known as Prints
I'm only urs baby
Your Wifi is in another Castle
Chubby Dragon
Unique Wifi Name Ideas
These are some unusual and unique name ideas for your wifi network:
Wifi Full Of Virus
Call Me Maybe
TellMyWifiLoveHer
New Clam Router
Wifi Art Thou Romeo
Life on the Lin
Silence of the LANs
Mom Use This One
Under Maintenance
Mentally disturb
Free Public Wifi
No LAN for the Wicked
Dialup Internet
Wifi is secured
Tom & Jerry
Karen's Network
Wild People live inside
Blue M&Ms
1 GB is Never Enough
No Wifi Found
Virus alert
Your music is annoying
Hidden Network
Life in the Fast LAN
Ex-Wifi
Insert coin [] to access WiFi
Routers of Rohan
Slow internet so leave
I'm not Single
Funny Wifi Network Names
The following are some funny wifi network names that you might find interesting:
Network Unavailable
Cheaper than you think
Pay for WiFi
Can'tHackThis
Vladimir Routin
May I Have You?
Reboot to connect WiFi
Fever Knights
Slow Internet
Big Busty Asians
Only for me
2 body 1 soul
Lag Out Loud
Downloading virus
Spying On You
No Free Wifi for you
Poor connection
Get your Own Wi-Fi FuckHead
You're Wi-Fied
Wifi for paid
Net Speed is Limited
Hogwarts Great Hall WiFi
I Need kiss
Never Gonna Give You Up
RIP Net Neutrality
Must love dogs
Wireless gang bang
This is not Free
Sam Mackay
IveSeenYouNaked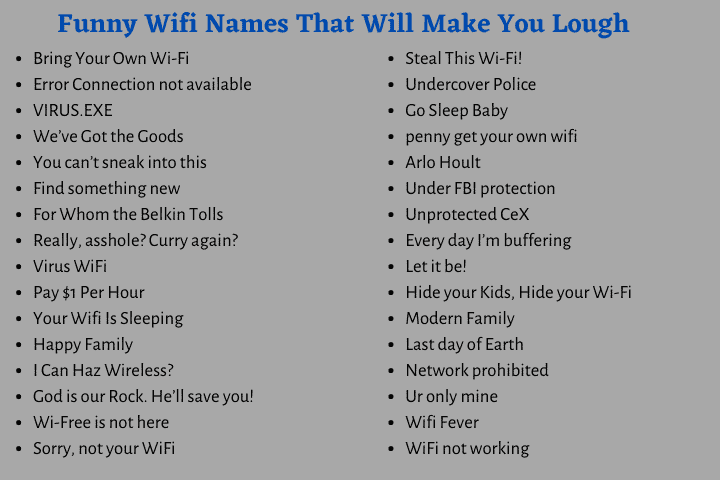 Best Wifi Network Name Ideas
These are the best names for wifi network you can use to make your own:
Buy bitcoins soon
Waiting for the connection
We Like When You Watch
Dot' Use My Wifi
YouarenotAllowed2Use
The Poor Network
I hate my neighbor
The Net starring Sandra Bullock
Love paradise
Swift Bunny
Cunnilinksys
Use this, and You are Dead
Stealing Wi-Fi Is A Crime
Don't Snoop
Challenge Expected
The Ping in the North
GetOffMyLawn
Cats vs Dogs
Wifi Army Camp
Not Your Wifi
Connect and Die
Infected
Ture lovers
Revenge of the Wi-Fi
Kelvin's Network
Darude LANstorm
Password Is Password
This is my place
Don't need your suggestions
Funny Wifi Passwords
These are the funny wifi passwords and codes for your internet:
Blind Sight
Hey, You are Trying to Connect
Sorry You can't connect
No Network Found
Wi-Finance
No better job
Drive-By Wi-Fi
Enter Password
The password is me
DarkKnight
Bandwidth Together
Midnight Moon
Tum & hum
Hide Yo Kids, Hide Yo Wi-Fi
LAN of Milk and Honey
Use your on wifi
Vladimir Computin
My mom is home
Don't even try it
Caitlin stop using our internet!
No Wi-Fi for u
GotAnyMoreOfThatWi-Fi
Free Virus
Love ajj kal
Cutlass Scavenger
Yummy
Open Sesame
Go Go Gadget Internet
Wi Don't you get a Wifi
Siege Blade
Quit Using My Wi-Fi
Wi-Fight the Feeling
Funny Hotspot Names
These are some funny hotspot name that will make you lough:
Drop It Like It's Hotspot
Hotspot for Hot Girls
Sweet Victory
Double Click to Connect
Tethering or hotspot active
NoFreeINternetHereKeepLooking
Everyday I'm buffering
Happy Hotspot Happy Life
Does God Know u steal the internet?
Fairy tale
Malware Repository
My Own Damn Internet
Not In Use
Fast Girl
Occam's Router
Flamingos for Sale
My LAN My Rule
All Your Bandwidth Belong to Us
Benjamin FrankLAN
WiFi is coming
John Wilkes Bluetooth
Bill Wi the Science Fi
Try at least
Dwarf people only
Don't Irritate me
Kill the Queen it'll yours
Silence of the LAN
Guess Where We Live
Joker wins always
My Neighbors Suck!
Private Attack
Harry Potter Wifi Names
The following are some magnificent harry potter wifi names for you:
Go Away You Mugglee
Magicians Network
Magical me connection
Hermione Gringer
The Triwizard Internet
Harry Potter Internet Zone
The Whomping Wifi
The Restricted Section
Deathly Hall0ws
Hurry I'm Wifi
Use at your own risk
Kindness is my Jam !!
NSA Listening Post
Your grammar is more annoying
Blackhole2
Rick Rolled
Best Wireless Network Connection
Stop Being A Mooch
The Promised LAN
zombies_ate_my_neighbor
Look who's asking
Homeland Security
Cheeses Take the Wheel
FreeWifi
Mustard Dragon
Carabiner
Network_Error_410
Alexander Graham Belkin
Enter the Dragon's Network
Top secret network
LAN Solo
Hum & tum
Let's Go
Only for Dogs
Best WiFi ROuter
Ping's Landing

Important Things to Keep In Mind
These are the important things to keep in mind when choosing a name for your wifi:
Create a name for a wifi network that is easy to remember and not too complicated
Choose a name that is easy to pronounce and spell
Keep your name short and simple
Use funny words or phrases
Don't use your phone number, Gmail ID, or any personal information
Try to come up with a unique name
Steps for Choosing a Wifi Name
These are some general steps for choosing a name for your internet wifi or hotspot:
Brainstorm and make a list of some good wifi names
Sit with your friends and think of some good names for wifi. Give everyone a task to come up with at least one name.
For example, if you have 10 friends, it means your list should contain 10 wifi names. Or you can simply simple get some good names from the above list if you don't want to make your brainstorming session lengthy.
Shortlist some of your favorite names
Once you brainstorm a list of names, then the next step is to select some of your favorite names. Remove the names that you think are not attractive, funny, or memorable.
Get some feedback and decide on one that is perfect
After selecting some of your favorite names, again sit with your friends and ask for feedback on your selected names.
It will be a fun and exciting process and you will also get feedback on which name is best for your wifi. Hope you will find a good name for your wifi.
But if you still need some more funny wifi names you can visit Namesbee.com for more ideas.
More Related Posts:
Best Group Names for Family, Friends, and Cousins