Name Ideas
500 Best Sandwich Shop Names You Have Ever Seen
The first rule of any startup is to pick a great business name. This is the first and hardest step to setting up a business and it can be really hard to come up with a name that is catchy, memorable, and unique.
If you are starting a sandwich shop business and looking for a catchy name to decorate your shop front, then this little piece of content is for you.
In this blog post, we have generated some best sandwich shop names, ideas, and suggestions to inspire and help you come up with an interesting name for your new sandwich shop. Let's get started!
Catchy Sandwich Shop Names
The name of a sandwich shop is one of the most important elements in its success, making it crucial to choose wisely. A name should be memorable, catchy, and meaningful, regardless of the type of food the shop sells.
If your sandwich restaurant name is catchy, then it's much easier for customers to recall it, and that makes it more likely that they will dine there again.
For example, these are some catchiest sandwich shop names that you can use to attract more hungry traffic:
Spicy Sub Shop
Oven Fresh Sandwich Shop
Simple Homemade Sandwiches
The Submarine Joint
Ranch Hand Sandwiches
Subs R Us
Harry's Homestyle Hoagies
Breakfast Sub Station
Cheesy Point
Sugar Me Subs
Tasty Sandwich Shop
Guiltless Sandwich Shop
Sandwich Calls
The Sub Life
Belly Grinders
Substenance
Grilled cheese Sandwich
Shake Sandwich
Sandwich Avenue
Daring Grind
Sandwich Creations
Mamma Pops
Subs N Such
Zooko's Sandwiches
Delishy's Sandwiches
Deli's Delight
The Spicy Bull
My Sandwich Guy
Kings Toast Chill
The Del Frisco
Burro Cheese Kitchen
Bubba's Fresh Fries
A Plus Subs
Hail To The Hoagie
A Cold Cut Above
City Sandwich Shop
Trimmed Crusts
The Sandwich Bros
A brilliant Sandwich
The Meaty Bite
Sesame's Sandwiches
My Sandwich Parlour
Slices On Mission
Game of Subs
Stacked Waffles
Bilia Eatery & Coffee
Lip & Tasty
Chronic Sandwich
Philly Sandwiches
Pile High Sandwiches
The Grinders Hero
Butterbox Express
Surf City Sandwich
Sudbury Sandwiches
Swiss Meats & Mayo
Bobby Q Subs
Swinging Sandwiches
Jersey Mike's Subs
Load it Up Subs
The Lonely Leopard
Taste of Tasty
Bite Me Sub
For Heaven's Steaks
Lettuce And Burgers
The Sweet Spot
Sandwich Delight
Solo Sandwich Bar
Murray's Sandwich Shop
Curry N Roll
Moe's Sandwich Shop
Provolone n' Pickles
Sapino Sandwich
Sandwich Street
Port of Subs
Veggie Meaty
Serious About Sandwiches
Food Art
London Roast Sandwich
The Sandwich Den
Toasty's Sandwiches
Just Sandwiches
Build-a-Sandwich
Little Sandwiches
Munch Toasty's
Heros for Home
Cheezy Day Warps
Famous Toastery
Zoes Sandwiches
Unique Sandwich Shop Names
In the food world, a name has power, if you can come up with a unique title for your sandwich shop, it can help you stand out from the competition.
Your shop name is your brand identity, and you want it to be unique and different from existing sandwiches shops. To do this, brainstorm words that describe your brand, and then think about how to improve them by adding a few adjectives and nouns.
Here are a few examples of unique sandwich shop names to inspire you:
Friedman's Food
The Sandwich Zone
Souper Sandwich Shop
The Fat Sandwich
Kool Oven
Full Stop Burgers
Sandwich Mama
Sin City Sandwiches
Darling Sandwiches
Sub Zero
Boston Market Grill
Just Like Philly
St-Jean Sandwich
Gourmet Mama
Every Sandwich
A-1 Sandwiches
Steamy Buns
Big Mouth Cafe
Which Superior Sandwiches
The Money Subs
Special Sandwiches
Sandwich Chefs
Sunset Sandwiches
We Heart Meat
The Sandwich Man
The Cheesesteak Hut
Sweet Meow Shawarma
Ketchup Grillers
Dare To Deli
Mozzarella Madness
The Mad Italian
Submarine Shoppe
Savory Sandwiches
Hole in the Wall
Eat Right Out
Slice City Kitchen
Stonecrest Sandwich
Potbelly Sandwich Shop
Souper Foodie
Cherize Sandwiches
Next Level Sandwiches
French Sandwiches
Slime Queen Cafe
Chaparral Express
Moxies Eatery
Breakfast Sandwiches
Barbeque Subs
Savory Hoagie Hut
The Atomic Sandwich
Phills Flour Lab
Big Dog's Deli
The Little Bite
Sandwich Groupie
Sub-Wich Sandwiches
Crazy Toaster
Cha And Bread
Albany Sandwich Bar Café
Nostradamus Sandwich
Sandwich Mints
La Mexicana Express
Fresco Fresh Foods
Chopped Genius
Wild Sandwich
The Sandwich Guy
Toast Delight
Hot Crossed Buns
Tasty S'mores
Sandwich Kings
The Sandwich Gallery
East Metro Deli
Slime & More
Tasty On 7th Street
The Submarine Shack
Waffle Sandwich
Pilates at Yoga
On a Roll Hoagies
Skinny Mini Sliders
Sandwich Bakers
Creative Names for Sandwich Shop
Choosing a creative sandwich shop name is another great idea to drive more customers to your shop. But how do you find a creative name for your sandwich shop?
First, you need to think about what types of sandwiches your shop offers. You can take a look at your industry to see if there are any common themes, and then go with a name that's easy to remember and easy to spell.
Such as, below are some creative names for sandwiches that may like for your new startup:
Lilys Sandwich
Quartz Sandwiches Shop
Snacks N Glaze
Big Belly Bella Subs
Finger Grills
Sandwich Calling
Grills & Grace
Fun Time Sandwiches
Something' Broken
A-OK Sandwiches
Substantial Hoagies
Roast Deli
Couch Potato
The Stacked Sandwich
It's Mary's Sandwich
Cravings Sandwiches
The Snack Box
Radical Rolls
The Goodwich
The Yellow Deli
Madman Sandwiches
The Sandwich Scope
Sandwichology
The Toasty Roll
Stacks and Choppers
Buck's Subs And More
Bunny Brothers
Egg Sandwich
Shawarma House
The Hoagie Place
Lil Pickled Bread
Sandwich Valley
Kosher Sandwich Co
Sub Station Z
Bread Tasting
Northside Sandwich Shop
I Am Sandwicherie
Succulent Sandwiches
Floyd's Subs Plus
West Philly Kitchen
Bold Subs + Burgers
Naked Sandwich
Vienna Sandwiches
Veggie Spices
Montys Sandwich Shop
Mystery Sandwiches
Suburban Grind
Saaz Sandwich
Sub-Zero
Sandwich On The Go
Meat 'n Chix
Sand Not Witch
Biz Bite
Homemade Sandwiches
Sliced With Care
Home of the Hero
Crispin's Sandwiches
City Edge Cafe
A Sandwich To Heaven
Fresno Sandwiches
Funny Names for Sandwiches Shop
These days, choosing a funny name for your sandwich shop name is a perfect idea. It's a chance to have a laugh, and a little bit of fun, without breaking the bank.
From a one-off joke to a name for a business, a funny shop name can be a great way to really set your business apart from the crowd. Here are some of the hilarious names for sandwiches shop that you can use to put a smile on your customer's faces:
One Sandwich Please
Friendship with Sandwiches
All Out Sandwiches
Winner Winner Sandwich Dinner
Bob's Bacon Buns
Sub Cutie
No Fear Bite
The Original Unwich
Big Daddy's
Sub Boss
Meatball Spot
Blimpie Fine Eatery
Adorable Delights
The Sandwich Nest
Deli Delight
Rustic Sandwiches
Chagrin Sandwich
Tastebuds Delight
Sandwich King
Spicy Sandwiches
Sal'S Sandwiches
Neatwich With Style
Happy Hoagie
Sandwich Nation
The Sweetest Taste
King Sandwiches
Firehouse Subs Babcock
Your Sub Choice
Morning Glory Food
Frankfort Cafe
Tasty By Nature
Chip N Subs
Butter Dipping
Chiefly East
Metro Sandwich
Sandwich Dreams
Grilled Carnegie Sandwich
Lord Of The Subs
Lennys Grill & Subs
Sandwich's Favourite
One Bite Pure Delight
Westside Q Subs
Zingerman's
Lunchtime Sanwich Shop
Chicken Sandwich
MadTown Sandwiches
Pressed Sandwiches
Sliced Bread
B.T. Sandwiches
Piled High Subs
Thats My Sub
Saltty and Spicy
The Egg Nosh
The Fine Food
Big Fat Sandwich Guy
Sandwich Chops
The Brown Bag Sandwich Shop
Lobster Sandwich Co
Super Sandwich
Straight Up Subs
Grind It Up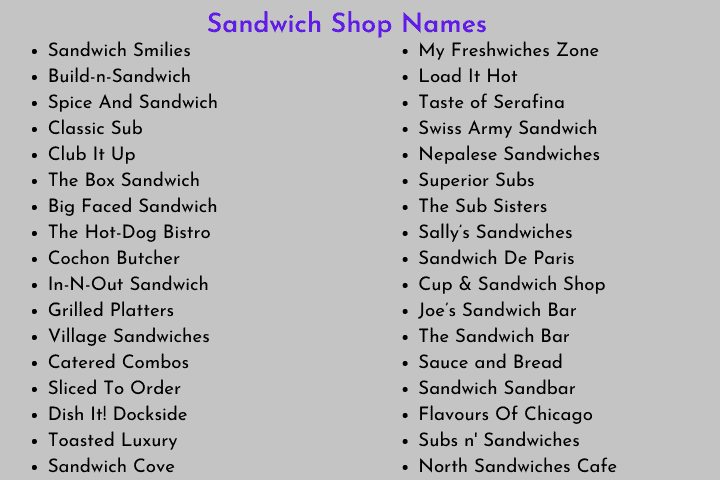 Italian Sandwich Shop Names
If you are looking for an Italian name for your sandwich shop, these are some Italian sandwich shop name ideas that you can use right away:
Er Buchetto
I' Girone De' Ghiotti
Antica Panineria SMN
Semel Street Food
Baguetteria del Fico
Pino's Sandwiches
Salumeria Il Cencio
Da' Vinattieri
Panini Toscani
Vinaino Fiorenza
Da Nerbone
Ciacco&Bacco
Prosciutteria Cantina dei Papi
Zia Rosetta
Panino Divino
SaSa – Sandwich and Salad
Antico Noè
Pane e Salame
Gusta Trippa
Opulentia
La Sandwicheria
Pizza & Sandwich Da Pasquale
I Fratellini
Lo Schiacciavino
La Pagnottella Gourmet
Bakery House – Ponte Milvio
Fattoria Rossi Firenze
L'Ostellino
Fuorinorma
Mangiapepe
Saloon del Panino – Portuense
PO Bistrot
Panepiú Bistrot
Lost Food Factory
La Prosciutteria Firenze
Da Pepèn
Sfiziami Italian Bistrot
Panini De Santis
I'Tosto
Brioche Dorée
MyAle craft beer
La Fettunta
Porchetta da Lele
All'Antico Vinaio
Sergio Pollini Lampredotto
Il Panino Ingegnoso
Mescolando
SandwiChic
Pane & Vino
Caseificio Borderi
Famous Sandwich Shop Names in USA
The following are the famous sandwich shop names in USA that will inspire you to create your own amazing name:
Katz's Delicatessen
Lokal Sandwich Shop
La Sandwicherie brickell
Eisenberg's Sandwich Shop
Central Grocery and Deli
Deli Board
Deli Towne USA
Zingerman's Delicatessen
Potbelly Sandwich Shop
Meat Cheese Bread
The Goodwich Downtown
Xe May Sandwich Shop
Woodrow's Sandwich Shop
The Best Sandwich Shop and Deli
Publican Quality Meats
Capriotti's Sandwich Shop
Stacked Sandwich Shop
Houston's Famous Deli
Mitchell Delicatessen
Ike's Love & Sandwiches
Lucky's Sandwich Co.
Sal, Kris & Charlie's Deli
Enriqueta's Sandwich Shop
Turkey and the Wolf
Defonte's Sandwich Shop
Freddie's Sandwiches
Jersey Mike's Subs
Domilise's Po-Boy & Bar
Manny's Cafeteria & Delicatessen
TBSP The Best Sandwich Place
Lil Pickle
John's Roast Pork
Best Sub Shop
Best Sandwich Shop Names in UK
These are the best sandwich shop names in UK for your inspiration:
The Panini Shop
Piggy's Salads & Sandwiches
Monty's Deli
Sandwich Corner
Woodys Sandwich Bar
Country Crust Sandwich Shop
Bite
Shambles Kitchen
Lettuce Eat Sandwich Shop
Spoilt For Choice
Kingstons Deli
Goodfillas
Just Tasty
Loafers Sandwich Bar
Sam Sandwiches
Mangetout Sandwich
Paul Rothe & Son
Jan's Lakeland Sandwich Shop
Peppers Cafe & Sandwich Bar
Sons + Daughters
Bread & Butter
Which Wich Superior Sandwiches
PAULdbg0pd
Poole Sandwich Shop
Sandwiched Inn Cafe And Snack Bar
Made Deli
Super Tasty
Chunkys Sandwich Bar
Take-A-Break
Buttys Folkestone
Intermezzo Express
Dolly's Pantry
Simply Sandwich Bar
Sandwich Sandwich
Appetite Deli
Max's Sandwich Shop
Rations sandwich bar
Brunel Sandwich Shop
Elevenses Sandwich Shop
Montys Deli Sandwich Bar
Cheese & Pickle Sandwich Bar
The Bread Bin
Julie's Sandwich Place
Frankie & Tony's Sandwich Bar
Serious Sandwich People
Out to Lunch
The Fat Sandwich Company
Food 4 Thought
West Gourmet Sandwiches
Butties Sandwich Shop
How to Name Your Sandwich Shop
What makes a great name for a sandwich shop? There are so many factors that go into the decision, but there are some simple considerations to keep in mind.
Customers want to be able to easily find the shop's location, to be able to recall it easily, and for it to be memorable. A catchy name that reflects the tastes of the owner is another important factor.
Here are some tips to help you find the perfect name for your new sandwich shop.
In order for your business to succeed, you need to create a name that's memorable, catchy, and easy to pronounce.
The name you choose should reflect the kind of sandwiches you sell.
You need to make sure that your name isn't offensive when deciding on a name for your sandwich shop.
Making a name stick in people's minds is important.
You can name your shop after a region, a city, a street, or a brand.
Have a look at other sandwich shop names to see what works and what doesn't.
Your name should excite people about the food you serve.
There are many name generators that you can use to create one.
Try to stay away from names that are already in use.
Before deciding on a name, don't forget to check the domain name availability and social media usernames. They are the main tools for advertising and marketing your business online.
We hope you have enjoyed the post and have found a catchy name for your sandwich shop. Good Luck!
More Related Posts:
Catchy Burger Restaurant Names and Ideas 
Healthy Salad Restaurant Name Ideas 
Catchy Food Business Name Ideas You can Use