Slogan Ideas
Sales Slogans: 400+ Catchy Sales Phrases and Taglines
If you're in a profession that requires aggressive salesmanship, then you know how important it is to have a good sales slogan.
Sales slogans are a great way to introduce your company and make them memorable with a succinct and catchy element. However, it is important to make them work for you, and not against you!
In this article, we have created catchy sales slogans, phrases, and taglines that you can use to increase your sales. Let's get started!
Catchy Sales Slogans
Here are some most attractive and catchy sales slogans ever:
Sell yourself before you sell your product
Sale is on
The mother of all sales is here
We are out to make good deals, not good price
Trust is everything in sales
If you need it, we will find it
Sell before you talk, speak before you write
Find your niche, go to market, nail it, own it
The joy of getting your best
The best sale you will find
Don't let these get away
Incredible sale for incredible people
The joy of doing your best
These deals won't last
We have sale that brings joy
Great discounts for all
Don't miss out on
People do business with people they know, like, and trust
You don't have to be a hero, just do your part
You don't sell the steak, you sell the sizzle
Everybody loves a bargain
Don't be penny wise and pound foolish
You can have it all
Treat yourself
You deserve a break today
Let's make a deal
You'll love our prices
Save money
We have everything you need
Amazing deals
You can always find what you are looking for
If you can't explain it simply, you don't understand it well enough
When the world's on fire you bake bread
If you can't get a wakeup call, make your own
You have to get better or get worse
If you can't change your circumstances, change your thinking about them
If you don't like how things are, change it
We create solutions
A world of opportunity, where everyone can live better
We want to make the whole world happy
Our experts are there for you
Show us what you got
Ready to make a difference
We are here to serve you with a smile
Everybody loves to buy
The best a man can get
The power of yes
Sell from the heart, and the wallet will follow
When you buy, we'll deliver
We are experts
We can help you
Passion is contagious
Don't close the sale, prove them why they should buy
Less is more
The journey of a thousand miles begins with one step
The best things in life are free
The only thing constant is change
Time is money
Be a good listener
Be an expert in your product
Our customers are our family
Learn from our successful team
What you do is up to you
The future is mobile
Because you want it
Know your customer
We are the best
You make the difference
Come to work, have fun and sell!
We know you'll be happy with our services
Enthusiasm sells
If you buy from us, you will save time and money
You can always count on us to deliver all your business needs
Catch with your eyes
The road to happiness is paved with good intentions
I'll tell you what I'm going to tell you, and I'll tell you no more
Funny Sales Slogans
These are some funny sales slogans that you might find interesting:
From sunrise to sunset
If you don't have a budget, you can't afford our products
Price is what you pay, value is what you get
I can sleep when I am dead
If you can't beat them, join them
The only thing better than a good sale is a good sale price
We don't make money selling things, we make money selling deals
We love to see you smile
Say yes to the dress
One happy customer
Pay me now or pay me later
You need to know the numbers before you can improve them
We don't think you should give away stuff for free
We're not just a company, we're your friends
We've got a system that can help you
Our products make it easy to do your job
Here at <…>, we're committed to excellence
We're the industry leader
We have a wide range of products
We're only going to sell you products that we're really proud of
Sell it once, sell it twice
Sales is simple: ask, listen, then close
It's all about relationships
Have fun at work
It's the real deal
Where do you want to go today
We will help you
It's not me, it's we
we make buying easy
The best salespeople here are the ones who are always smiling
They don't call me honey for nothing
The only easy day was yesterday!
Sales is always about people
A single grain can tip the scale
You can't live with 'em, you can't live without 'em
We deliver smiles
Our customers are always right
The customer is always right
I'm lovin' it
We don't sell, we facilitate
We sell anything
I'll put my money where my mouth is
Our prices are guaranteed
If we sell, you will succeed
We sell happiness
No traffic jams or parking problems
Our customers are our priority
Get your moonshine buzz on
We sell solutions
Fast delivery
The future is friendly
Trust me, I'm a salesman
We'll be there to make you happy
Our product is cheaper than others
A sense of achievement
We have a better future together
Our product is the best
We help you to make your business more productive
A sale is a sale, right?
Use time wisely
Catchy Sales Phrases and Taglines
Below are the catchy sales phrases and taglines you can use to attract more customers:
We sell brand new stuff
Think out of the box
We care about you, not about the sale
Cheapest prices and services
You are on my mind
Selling is not convincing people to buy. Selling is inspiring people to believe
Go the extra mile
We have the best service
We can do anything
Let the world know how good your product is
Good to the last drop
Better equipment, lower prices, better service
We'll make you famous
We sell anything you want at the best price
Doing better by doing simple
We hire the best
Have a look!
We can make more sales
The best way to a customers heart is through…
You deserve a break today
King of the hill: salesman for the month
Plenty of discounts
I don't want to sell, I want to help
It's not what you sell, it's what you bring
We are the leaders in the market
We provide you with the tools you need to succeed
It's our world
Buy from us and you won't be disappointed
We sell cheap and quick
We bring good things to life
Listen before you sell
The easiest sale is the next one
Don't sell the product, sell the result
We don't sell products, we sell solutions
We are always at your service, call us!
A sense of security
I'll try anything once
A rising tide lifts all boats
Sales is not a numbers game
A good business is built on a solid foundation
100% Satisfaction Guaranteed
All you can eat
We are the future
SIX SIGMA – The Next Level in Quality Assurance
Something you cannot miss
Try it, you'll like it
You are a team; work as a team
It's not what you know, but who you know
Let's do it
Our goal is to exceed your expectations
The size of the sale doesn't matter
We are the best at what we do
We give you the best service
Nothing is impossible
You've come a long way, baby
I have never missed a sale because I was too busy helping my customer
Our quality is guaranteed
The best is yet to come
A free gift for you
The best part of wakin' up is Folgers in your cup
Slogans for Discount Offers
The following are the best slogans for discount offers to attract more potential customers:
You can give free samples of your product
We sell discount offers
We offer the best deals on everything
We provide the best discount offers
Sales is about getting people to buy goods and services
A new customer can become a member for free
Deal of the day
Special discount offer for today only
Buy two and get one free
Don't buy until you checked our offers
We have the best discounts
Buy now and get a Free gift
Lowest price in the web
You have never seen the likes of our deals before
We provide exclusive discount offers
People need to buy it
Discount offers for everybody
We are the leading provider of discount offers
2 for 1 special offers
10 % discount for every next purchase
Get a free gift with every purchase
Every order comes with a free gift
Free shipping on all purchases
Receive a free gift on every order
Use our coupon code to receive a discount
Receive a free gift with every purchase
Get a free gift with every purchase
Use our discount vouchers to save money
Enjoy savings with our discount vouchers
Don't miss this chance to save money on your purchase
Enjoy this amazing discount offer on a wide range of products
Use our latest discount voucher to get a discount on your purchase
Don't miss out on these amazing discount offers
Let us help you save money
Don't forget to use your discount voucher
Buy now, pay later
50% off for today only
20% off for a limited time only
Buy one, get one free
Buy one, get one half price
Up to 50% off
New collection at up to 80% off
Summer Sale Slogans
These are some cool and catchy summer sale slogans for you:
The best price-quality ratio
Don't leave home without it
If your aim isn't smiling, you are not selling!
We want to make you happy
Welcome to summer with 30% OFF
There is nothing like a summer sale
The summer sale is on
Get more done in less time
Here's looking at you kid
What we do is important
Speak to our customers
There is always room for the exceptional one
We sell anything you want at the lowest price
Win the game – hit the sales target!
Be the player, make the deal!
The client will always find a reason not to buy
Our future is clear
We bring out the best in your business
We can do it
We can do that
In sales, you win some and you lose some
Good things come to those who wait
Work like a dog, sell like a horse!
We believe in solutions
Work smart, not hard
You're in good hands with us
We have a new motto "Win, win or draw"
Advantage over others
Everyone has to sell
Easy to carry
We are the experts
Sell the best, sell it twice
Go to the top
It's not the job, it's an adventure
"I've never felt better, don't you feel great?"
When you buy, we'll sell
We help you achieve your goals
Who you are is more important than what you do
I'm the other guy.
We are the world's leading manufacturer of air conditioners
We will get it for you
We are the best in our business
We spend money we don't have to buy things we don't need
Think outside the box
Our product is really good
Honesty is the best policy
A hungry dog hunts best
Sales is about helping your customers grow
Be a team player
Ask for more
We give you the competitive edge
Make a difference
It's a time to make money
It's a new day
The future is now
The one who wins is the one who understands the client
Worth buying
You can trust us with your business
You're in good hands with Allstate
Get more leads
Have it your way
Sales Team Slogans
Below is the list of some creative sales team slogans to inspire you:
Good salespeople always know what they want
Culture of sales champions
We're not just a company, we're a group of people who share your values
We try harder
You can't push water uphill
The more the better
Sales can be a contact sport
The quicker picker upper
Don't just sell, solve the problem
The best time for planning a sale is while you are still in bed
You can be anything
You can't sell it if you don't have it
I don't sell the product, I sell the benefit
The future is bright
We sell cheap and fast
Be all that you can be
We are your one stop shop
Focus on the client
Just throw us a line
A sale is a relationship
Be the solution to the problem
We are reliable
Cultural development
We live to help
If you buy this product, you will save money
Wining more than one customer at a time
We are just a phone call away
Free streaming music
Sales is about helping people
The art of persuasion is a lost art
We give you a trial period
The sale is just the beginning
The best part of wakin' up is Folger's in your cup
When you're a hammer, all problems look like nails
No one can sell the future as well as the present
Don't let your talent get into a rut
The future is female
Don't wait to be told
We are the answer to all your needs
Have you tasted our ice cream?
Never stop selling
We are the first choice of our customers
The best way to sell something
Smart leads
The first impression is the last impression
The perfect sales pitch is the one that sells the product in the shortest amount of time

How to Come up With a Catchy Sales Slogan
Below are some simple steps for choosing a catchy sale slogan and tagline:
Think about the audience, that you want to attract with your slogan
Every business wants to find the best slogan for their business, but oftentimes they fail to find something that will grab their audience and tell them exactly what they do.
When you think about your own sale slogan, you should first think about your target audience and their interest. It will help you attract more customers and also helps your business stand out.
Brainstorm a list of some good sales slogan ideas
Once you know your target audience, the next step is to brainstorm some catchy sales slogans with your friends, team members, or family members.
Think about the words and phrases that will best define your business and its product. In this step, your goal should be to come up with a list of some good slogans.
When brainstorming, these are a few important things to keep in mind:
Choose a slogan that is short and simple
Make sure your slogan is easy to remember
Don't choose an offensive or negative slogan
It should reflect the personality of your team
Avoid using numbers or hyphens in your slogan
Shortlist your favorites
After brainstorming, you will need to select some of the best sales slogans from your list. For example, if your list contains 20 slogans you should pick 5 that you like the most.
While shortlisting, the best idea is to sit with friends and make this process fun and easy.
Get some feedback and decide on one
The next important step is to get feedback on your favorite shortlisted slogans. The feedback can be from your relatives, friends, team members, or you can easily do it on social media.
Decide on one that has more positive feedback.
Check to make sure it is unique and not already taken
Before making a final decision, the last and most important step is to make sure your sales slogan is not already taken. Simply, search your selected slogan on Google to make sure it's available.
If you find your selected slogan already taken, simply choose another slogan from your favorite slogans list.
Top Brand Companies Slogans
These are the world top brand slogans to help your get inspiration and create your own:
Fortune Slogan – For the men in charge of change.
Red Lobster Slogan – Seafood Differently.
Kodak Slogan – Share moments. Share life.
Marathon Petroleum Slogan – Fueling the American Spirit
Jaguar Slogan – Own a Jaguar at a price of a car.
Burger King Slogan – Have it your way.
Walmart Slogan – Save Money. Live Better.
McDonalds Slogan – I'm loving it.
Nikon Slogan – At the heart of the image.
EA Slogan – Challenge everything.
Canon Slogan – See what we mean.
Starbucks Slogan – Coffee that inspires.
Sony Slogan – Make Believe.
Disneyland Slogan – The happiest place on earth.
Vodafone Slogan – Make the most of now.
Reebok Slogan – I am what I am.
Nike Slogan – Just do it.
Aston Martin Slogan – Power, beauty and soul.
Hallmark – When you care enough to send the very best.
Holiday Inn Slogan – Pleasing people the world over.
KFC Slogan – Finger lickin' good.
Nokia Slogan – Connecting people.
Blogger Slogan – Push button publishing.
Olympus Slogan – Your vision. Our future.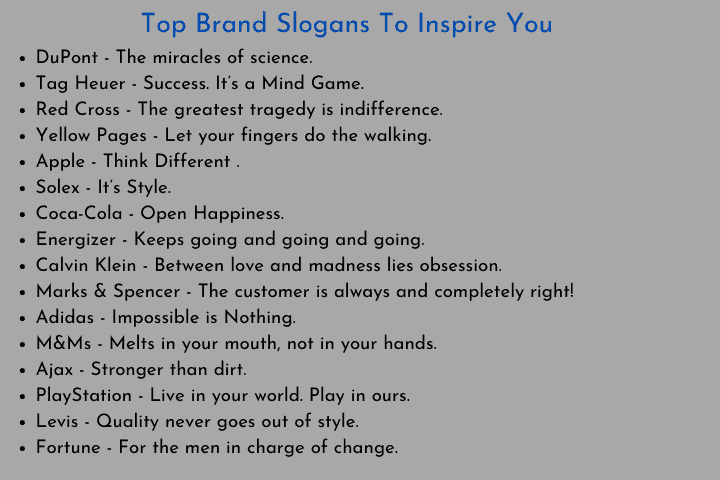 More Related Posts:
Catchy Jewelry Slogans and Taglines