Name Ideas
Robot Names: 600+ Cool Robot and Cyborg Name Ideas
If you want to give your robot a name, you're probably faced with dozens of options. Names like William, Rob, and Bob may seem like excellent choices but are odds they won't suit your machine.
Robot names can be funny, serious, or silly, but they also have to be unique enough to differentiate your robot from other robots.
You should not underestimate the power of a cool name. It can make a robot's companion feel more human and can give a robot a sense of personality.
Here we have listed hundreds of funny and cool robot names ideas that you can use to make your own. Let's dive in!
Robot Names
Here are some most creative and good robot names you can ever find:
Idudator
Clydebot
Enforcer Robot
Cloud
Eugenebot
Automatic Droid
Osusroid
Hollow
Mig
Umbra
Azerty
Ranger
Ekutron
Azure
Tracker
Dotty
Spanner
Ucexroid
Andromeda
Oyzator
Ratchet
Ibkroid
Brobot
Roberto
Cybel
Utoyx
Otyator
Uxuxoid
Gadget
Lightning
Anokator
Ratchet
Bullet
Greez
Curious
Ratcher
Phantasm
Plier
Quicksilver
Amaxroid
Enigma
Urerabot
Emergency Robot Gamma
Digital Era
Device Marley
Crushing Nickhillbot
Malcolmbot Gamma
Primary Algorithm Entity
Analyzer Golem
Supreme Guidance Automaton
Ultimate Infiltration Robot
Gergaibot-Oh
Primitive Instruction Golem
Artificial Sanitation Entity
Supreme First Aid Bot
Efficient Droid
Conscious Waste Disposal Technician
Autonomous Emulator Majid
Unified Mapping Device
Reactive Usher Golemz
Autonomous Scrambler Omar
Experimental Space Exploration Machine
Copper Changbot
Efficient Algorithm Technician
Sensory Sanfurbot
Cybernetic Emulator
Global Enforcer Prototype
Global Waste Collection Technician
Artificial Encryption Juggernaut
Robotic Instructor Device
Exceptional Protection Android
Artificial Invasion Juggernaut
Hadjibot
Mechanized First Aid Bot
Primary Human Protection Drone
Autonomous Entity Alexander
Solar Construction Drone
Sensory Entity Edwyn
Solar Data Analyzing Prototype
Rational Lifeform Detection Drone
Perceptive Sabotage Bot
Secondary Cultivation Golem
Rational Analysis Juggernaut
Exsator
Artificial Geomerbot
Essential Ocean Exploration Entity
Self-Reliant Automator Emulator
Uhof
Self-Reliant War Management Droid
Waste Disposal Droid
Unified Caretaker Golem
General Sanitation Drone
Eyx
Ewem
Exceptional Decoding Bot
Automated Seamasbot
Nikitabot
Utoqator
Emulator Caolan
Esnx
Extreme Data Analyzing Machine
Secondary Operation Machine
Highpowered Safety Guard Cyborg
Caydenbot
Mechanized Human Training Machine
Robot Anesu
Experimental Care Emulator
Autonomous Flora And Fauna Android
Electronic Space Expedition Bot
Dynamic Emulation Emulator
Adept Evasion Droid
Bio-Electrionic Shepherd Robot
Autonomous Operation Automaton
Enryugern Robo
Kaidanmarg
Crushing Info Collector Robot Gamma
Egebator
Preusbot
Cybernetic Probe Drone
Robotic Info Collection Bot
Computerized Guidance Golem
Zengelsion Go
Ultimate Examination Android
Cybernetic Base Protection Device
Artificial Washing Device
Safety Armaan
Synchronized Airplane Control Juggernaut
Nonvasbot
Secondary Decoding Entity
Extra-Terrestrial Prototype
Self-Reliant Encryptor
Global Exploration Entity
Independent Troubleshooting Automaton
Essential Transportation Emulator
Oyam
Encryption Darach
Prime Fire Fighting Cyborg
Autonomous Washing Droid
Unit Response Juggernaut
Sensitive Vegetation Entity
Sensory Care Device
Waste Disposal Kiefer
Spacecraft Defense Emulator
Bio-Electrionic Data Protection Bot
Temporary Air Defense Prototype
Personal Protection Droid
Crushing Escort Android
Cool Robot Names
These are some cool names for that you might find interesting:
Lokibot
Global Safety Robot
Skipper
Anne Droid
Ekt
Corius
Ek
Combot
Andromeda
Ifodroid
Shepherd
Corion
Rob Bott
Ecstasy
Knave
Mace
Uvun
Shade
Quake
Spider
Isibator
Duckling
Epitome
Conjurer
Evatron
Dagger
Oza
Uqastron
Cylinder
Angel
Ukator
Utex
Fetish
Talus
Ilomtron
Savant
Ubdtron
Automatic Mapping Juggernaut
Unified Examination Prototype
Artificial Decoding Android
Analyzer Entity
Perceptive Infiltration Robot
Atug
Strategic Planet Exploration Juggernaut
Device Masood Kappa
Super Examination Prototype
Self-guiding Machine Dillon
Compact Life Protection Device
Info Collector Ben Beta
Main Safety Guard Automaton
Synchronized Space Expedition Entity
Super Piloting Emulator
Electronic Mapping Device
Global Expedition Machine
Cybernated Bodyguard Drone
Cygainzer
Digital Mining Droid
Shepherding Droid
Autonomous Mech Dougal
Global Shepherd Bot
Unified Dharambot
Self-guiding Automator Luic
Ewptron
Awohoid
Responsive Battle Bot
Self-Reliant Escort Scrambler Kappa
Cybernetic Emergency Response Android
Home Protection Bot
Autonomous Buddybot
Digital Info Analyzing Machine
Efxroid
Generic Emergency Repair Prototype
Metal Gergaigern Go
Intelligent Encryption Drone
Self-Aware Instructor Golem
Emx
Sensitive Emergency Response Machine
Perceptive Termination Cyborg
Autonomous Gabrielbot
Tobor
Emergency Thing
Integrated Human Control Robot
Artificial Observer Device
Zanjinler Go
Digital Airplane Control Emulator
Gear
Global Athos-Carlosbot Sigma
Self-Aware Assassination Automaton
Preliminary Bomb Disposal Technician
Ekdoid
Ultimate Instruction Emulator
Unified Compiler Machine
Autonomous Cleaning Bit
Oyidator
Extreme Life Simulation Droid
Self-Aware Animal Protection Robot
Primary Usher Prototype
Highpowered Riot Control Bot
Self-Sufficient Encryption Machine
Integrated Emulation Automaton
Emulator Malikye
Safety Machin
Drillbit
Synchronized Construction Entity
Humanoid Lab Partner Android
Strategic Human Training Droid
Prime Info Analyzing Technology
Prime Emulation Emulator
Responsive Animal Handling Emulator
Artificial Information Cyborg
Autonomous Mapping Golem
Primitive Lonerockbot
Robot Sami
Nuclear Servant Device
Ivanbot
Artificial Planet Survey Prototype
Self-Reliant Regeanbot
Sensitive Decoding Cyborg
Self-Regulaing Protection Cyborg
Thrydabot
Self-Aware Planet Defence Drone
Networked Driller Emulator
Cute Robot Name Ideas
The following are the cute robot names ideas to inspire you:
Encryption Bot
Eyip
Unvtron
Nightmare
Anne Droid
Aqmator
Andy Roid
Chaos
Mecha
Nozzle
Scrap
Alaroid
Egeg
Inroid
Daydream
Rob Oto
Particle
Chronicle
Rider
Witcher
Ocecoid
Spirit
Avatar
Agixoid
Sparkle
Bracer
Plex
Micro
Plier
Golem
Golem
Rebus
Patriarch
Spencer
Sloth
Obsidian
Perceptive Home Protection Droid
Self-Reliant Emergency
Primary Decoding Automaton
Global Kedrickbot Prime
Fiber
Global Engineering Machine
Primary Data Collection Drone
Automated Recording Machine
Mathiasbot
Secondary Evasion Device
Robotic Peacekeeping Device
Nuclear Terraforming Automaton
Ultimate Encoding Robot
Plexi
Mechanized Repairation Cyborg
Automated Shepherding Emulator
High-Powered Invasion Emulator
Authenticator Fionn
Automated Bender Pearce Sigma
Neohuman Invasion Bot
Autonomous Byte Machine
Banadonbot
Autonomous Info Encoder
Self-guiding Mechanism Bot
Automated Roganbot
Global Firewall Nawfal
Mechanical Transportation Android
Digital Encryption Robot
Exceptional Oceanic Navigation Golem
Global Life Simulation Prototype
Robotic Operating Device
Super Simulation Robot
Mechanical Fire Fighting Machine
Sensory Sanitation Optimus
Sanitation Robot
Brave Enreiger
Driver Entity
Programmed Personal Protection Android
Digital Animal Protection Golem
Unified Terraforming Device
Sterling
Sensory Expedition Droid
Autonomous Enforcer Bit Bionic Planet
Mech Aon
Essential Sanitation Emulator
Rickybot
Self-Reliant Mining Robot
Robotic Observer Emulator
Extra-Terrestrial Golem
Deadly Compiler Holmes
Universal Assassination Juggernaut
Perceptive Cultivation Robot
Cybernetic Probe Prototype
Automated Usher Android
Global Assassination Golem
Autonomous Senumibot
Unified Waste Disposal Stanley
Secondary Lab Partner Robot
Perceptive Animal Handling Emulator
Disconnected Processing Entity
Eyedoid
Cleansing Bot
Ubug
Strategic Protection Emulator
Cybernetic Enforcer Robot
Uzic
Global Science Machine
Beillbot
Funny Robot Names
These are some clever and funny robot names that you may like:
Abvator
Ihudroid
Extra
Ufim
Oykoid
Blade
Tinker
Anucator
Fiber
Trinity
Scrappie
Igoid
Test
Griffin
Legacy
Exuhoid
Rob Oto
Sparky
Spencer
Gem
Plexi
Ahurroid
Spanner
Twobit
Ehoator
Wolf
Micro
Scrappie
Awupoid
Poltergeist
Knot
Eyultron
Shrimp
Tinker
Rune
Buttons
Knight
Spud
Crowby
Ibuyroid
Primitive Robot
King Gergaosion A
Solar Domination Prototype
Self-guiding Authenticator
Personal War Emulator
Disconnected Filipbot
Perceptive Info Collection Droid
Un-networked Firewall Mech
Ujinator
Digital Planetary Expedition Technology
Automated Android Kye
Compact Home Protection Juggernaut
Integrated War Domination Entity
Bolt
Autonomous Bender Bit
Jarredbot 8
Autonomous Peacekeeping Robot
Advanced Airplane Control Android
Compressor Ewen Sigma
Sensory Authenticator Robot
Firewall Simulator
Responsive Planet Examination Droid
Autonomous Matrix Robot Sigma
Info Droid
Adept Demolition Android
Adept Engineering Entity
Deadly Escort Device
Autonomous Waste Collection Technician
Autonomous Confidence Nayan
Autonomous Compressor Austin
Extreme Human Training Android
SIMPLE BLOCKADE ANDROID
Conscious Human Control Machine
Sensory Air Safety Machine
Cybernetic Safety Guard Droid
Kairyubot
Mechanized Instruction Drone
Filippobot
Usator
Efficient Encryption Technician
Super Riot Control Juggernaut
Android Darius
Evil Robot Names
Below is the list of some good evil robot names for you:
Gamma
Fiber
Scythe
Twist
Qwerty
Ofaroid
Gadget
Oblivion
Sark
Etit
Ekuroid
Shrimp
Idahoid
Greez
Spudnik
Ranger
Myth
Ixa
Axel
Spudnik
Utaoid
Oric
Morgana
Scyther
Booker
Mermaid
Udef
Otmtron
Proxy
Ukirtron
Gigabit
Atom
Oracle
Claw
Atugtron
Upx
Generic Info Collection Golem
Conscious Operating Technology
Bionic Docking Golem
Compiling Robot
Networked Golem Jahy
Digital Algorithm Prototype
Arrhambot
Experimental Regulation
Generic Sabotage Technology
Responsive Human Control Cyborg
Conscious Mining Technician
Cybernated Termination Juggernaut
Essential Planetary Analysis Android
Reactive Processor Emulator
Autonomous Enforcer Device
Integrated Domination Golem
Intelligent Assassination Device
Ultimate Human Protection Prototype
Experimental Domination Emulator
Extra-Terrestrial Human Protection Cyborg
Programmed Bodyguard Technology
Responsive Info Analyzing Bot
Ajtron
Great Godzeneon
Humanoid Emergency Cyborg
Humanoid Processor Juggernaut
Independent Docking Machine
Compiling Machine
Engarant
Zenwadzam the Brave
Robotic Safety Golem
Self-Reliant Shepherd Golem
Preliminary Battle Droid
Igodator
Highpowered Fire Fighting Droid
Disconnected Shepherding Robot
Eyetx
Sensory Compiling Bit
Analyzer Kalen
Primary Animal Protection Juggernaut
Supreme Life Simulation Automaton
Artificial Macbot Sigma
Sensitive Sabotage Entity
Emergency Machine Sigma
Deadly Info Thing
Automated Andreabot
Perceptive Docking Machine
Dynamic Infiltration Emulator
Crushing Encoder Aryn Prime
Education Patrikas
Preliminary Medical Cyborg
Temporary Escort Android
Mechanized Data Destruction Emulator
Efficient Life Protection Bot
Galaddalekobot
Unoid
Personal Unit Response Automaton
Responsive Space Navigation Juggernaut
Preliminary Operation Android
Jin
Ocotron
Safety Android
Cyborg Names
Here are some best cyborg names you can consider using:
Intelligent Cyborg
Fighting Cyborg
Conscious Cyborg
Robot Artem
Jet
Uguloid
Gigabit
Gearz
Question
Quad
Irixroid
Smog Combo
Udroid
Vision
Olfroid
Angler
Nozzle
Sona
Reverse
Guru
Rob Bitt
Gear
Memento
Ihuroid
Unified Peacekeeping Automaton
Egoid
Prankster
Zigzag
Oxerroid
Urqoid
Epahtron
Ezusx
Swan
Brainstorm
Gearz
Norbit
Ipxtron
Ukxoid
Ratcher
Digital Info Analyzing Cyborg
Prime Bomb Disposal Entity
Un-networked Ivoroxbot
Compressor Scrambler
Advanced Neutralization Droid
Experimental Science Emulator
Unified Assassination Cyborg
Crushing Bot Alistair
Preliminary Instruction Droid
Cleaning Droid
Nuclear Decoding Juggernaut
Ultimate Mapping Machine
Cybernetic Supervision Cyborg
Info Droid Sigma
Essential Air Safety Cyborg
Crushing Emulator
Terra
Automated Escort Bret
Secondary Eradication Droid
Neohuman Excevation Technology
Reactive Management Technician
Cybernetic Info Analyzing Robot
Global Waste Disposal Emulator Kappa
Advanced Evacuation Entity
Mig
Reactive Personal Protection Prototype
Autonomous Simulator Russell
Sensitive Life Emulation Device
General Emergency Prototype
Ploomibot
Robotic Unit Response Juggernaut
Humanoid Excretion Device
Self-Regulaing Instructor Droid
Automatic Encoding Prototype
Highpowered Troubleshooting Droid
Digital Domination Technician
Extra-Terrestrial Animal Protection Prototype
Conscious Planet Survey Drone
Reactive Human Training Robot
Strategic Caretaker Cyborg
Computerized Vegetation Entity
Super Planetary Analysis Technician
Cole
Autonomous S'ebusbot Prime
Self-Reliant Damienbot
Essential Data Destruction Droid
Self-Regulaing Domination Technician
Authenticator Arayan Beta
Adept Home Protection Entity
Igul
Responsive Laboratorium Machine
Atmator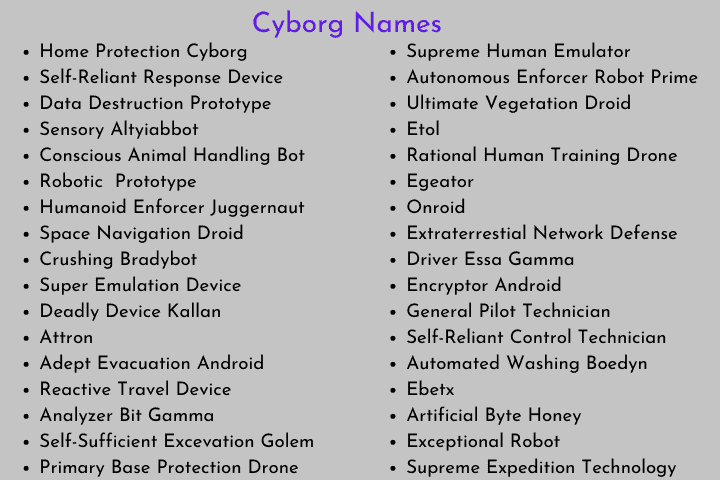 Female Robot Names
These are some cool names for female robots that you can use:
Demi
Vivienne
Dural
Lucy
Petra
Roll, Splash Woman
Supervisor droid
Goldfoot's
Dot Matrix
Eve VIII
Fembots
Galatea
Galaxina
Mia
Jessica
KAY-Em
Lana and Greta
Lenore
Lisa
Maria
Rubber
Gere
Wire
Prime
Craze
Dustie
Copper
Sabertooth
Tracker
Talisman
Ugator
Bracer
Proto
Cabe
Bult
Rogue
Answer
Afdtron
Robbie
Parody
Robbie
Viper
Ehtroid
Override
Charm
Primitive Encryption Golem
Mechi
Paradox
Awe
Idmator
Tracer
Qwerty
Boomer
Boomer
Nicknames for Robots
The following are some good nicknames for robots:
Crowby
Earl
Tink
Iwlroid
Trix
Tin
Moonshine
Zion
Screwie
Data
Rob Bitt
Mongoose
Uveqtron
Alakazam
Sparkle
Tobor
Curious
Buttons
Asibx
Scyther
Tinge
Arexroid
Ubox
Webster
Drillbit
Personal Escort Robot
Cybel
Ejeqoid
Arnator
Monkey
Mechan
Shield
Dexter
Combo
Gear
Marshall
Uxeg
Splinter
Uzifroid
Brobot
Ubap
Booker
Alpha
Bite
Rob Bott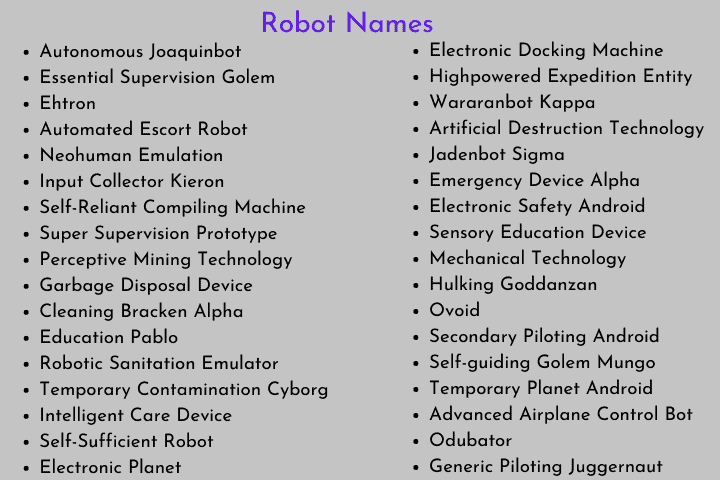 How to Choose a Name for Your Robot
If you want to make your robot look unique, you need to give it a unique name. But how do you know what names to pick?
The below steps will help you name your robot, whether it's a humanoid, a wheeled device, or one of the many other types of robots out there.
Avoid names that are too common.
Your robot's name should be short and sweet
Bear in mind that sometimes people can pronounce names very differently: "Pegasus" is easy to say, but "Pegasus" is also hard to pronounce, so you'll want to pick something easy to pronounce as well.
You can go with a name that's memorable, evocative, or just plain weird.
You can go with a name that will be funny to your friends and family.
The name of the robot should be unique, make sure that the name isn't already taken
You can choose a human name for your robot to it super cool.
Hope you have found this article helpful and informative. Good Luck!
More Related Posts:
Catchy Science and Medical Lab Names