Name Ideas
900+ Classy & Elegant Business Name Ideas You Can Use
Elegant business names are important for creating a professional image for your company. They can make your company seem more credible and trustworthy, which can attract more customers and clients.
But how do you go about choosing an elegant business name?
Well, this blog post can help you in choosing an elegant name for your business. Here we've collected some elegant business name ideas and tips to help you get inspiration and make a good choice.
Let's get started!
Elegant Business Name Ideas
Here are some elegant business names you can use to get started your new venture:
Stunning & Glitzy
Platinum Sunroom
The Classy Suite
Above and Beyond Classy
Carriage In Style
Dazzling Touch Up
Sapphire Sculpture
Luxury Life Estates
Sunsational Stunning
Reflect Luxury Spa
Fancy Foundation
Oasis & Exquisite
Vesta L'Autres
The Glitzy Lady
Sugarbooth Boutique
Sleek Loopholes
Academy of Show
Armitage A-Shopping
Golden Snail Spa
Fantastic Finery
Vibe Suites
The Royal VIP
Plumes of Bliss
Upholstery
Epicentre Luxe
Luxury on Shea
Hannam's Couture
Elaine's Villa
Intricate Innovation
Fiercely Fringe
Crystal Blue Luxe
Lavish and Delish
Charming In Style
The Lavendar Gallery
Anise Esthetics
Gite à Luxury
Gothic Exquisite
Sparkel Collection
Stetson Aesthetics
Sunset Beautique
Spacecar Luxury
Courted Beauty
Hollywood Stunning
Premier Eco Spa
Beaubien-Maison
Eliteprecht
Crown Custom Styling
Hazel's Fine Cuisine
Nadu & Company
Posh & Plebe
Elite One Boutique
Life Saver Suites
Pixys Parisian
The Last Temptation
Fancy Bling
Urban Cuts Vintage
Karin's Lounge
Avenue of Emporium
Exquisit Boutique
Diamonds & Flutter
Sisters of Chivalry
Camelback Tan
Amore Fine Fashion
Teatime Boutique
Estate Enlist
Exquisite Starz
Jolene Dolle
Diamonds of Luxury
Enchanting Exquettes
Nile Sky & Mirror
The Luxe Dining Room
Emielsson
Sedona By Megan
The Gilded Queen
The Elegant Company
Sassy Class Group
Lacasse de Grace
Soho Flaunt
Rooftop Style
Elegance by Abigail
Suzanne Villanueva
Wicked Satin
The Lavender Flower
Café L'Artiche
Luxury On Liberty
Vanity in a Tux
Serenity Busters
Swing and Sake
Skyland Lake
Holy Fancies!
Santan Fashion Salon
Shine Realty
In Touch By Lynn
Essen Palace
Dali's Closet
Lapels Collection
Upscale & Bold
The Gold Leaf Garden
Vanguard's Exquisite
Fancy Food Factory
Lacos Rochas
Rin's Hallmark Shop
Baked Luxury
Sefalucia
Diamond Moon Tanning
Dianna's Esthetics
Glossy Glazed
Alegria Vividura
The Upscale Expert
Avenue au Coop
Flawless Style Salon
Le Tigre Boutique
Bravura Luxe
Appealing Appetizers
The Kilt Palace
Serene Bride House
Le' Bella Bath & Spa
Pam's Charming Style
The Exquisite Design
Luxe & Stunning
Fashionable Charm
Elegant One Nails
Stunning
Luxurious Touch Up
GlossyGlitzy
Lavish Serenity
Halo Fluttering
The Lavish Elixir
LaVida Etc
Business Fancies
Espression Intimate
Elegant D'Lish
The Fine Pearl
Chocolaine & Clover
The French Consulate
Gorgeous & Sleek
Jewels for the Rich
Elegance in Paris
Elegance of Elegance
Lavish & Luxurious
The Seductress Call
Sweetest Escape
The Exquisite Court
Chateau Ménage
Soundlook
Exquisite Luxe
Roxean Nails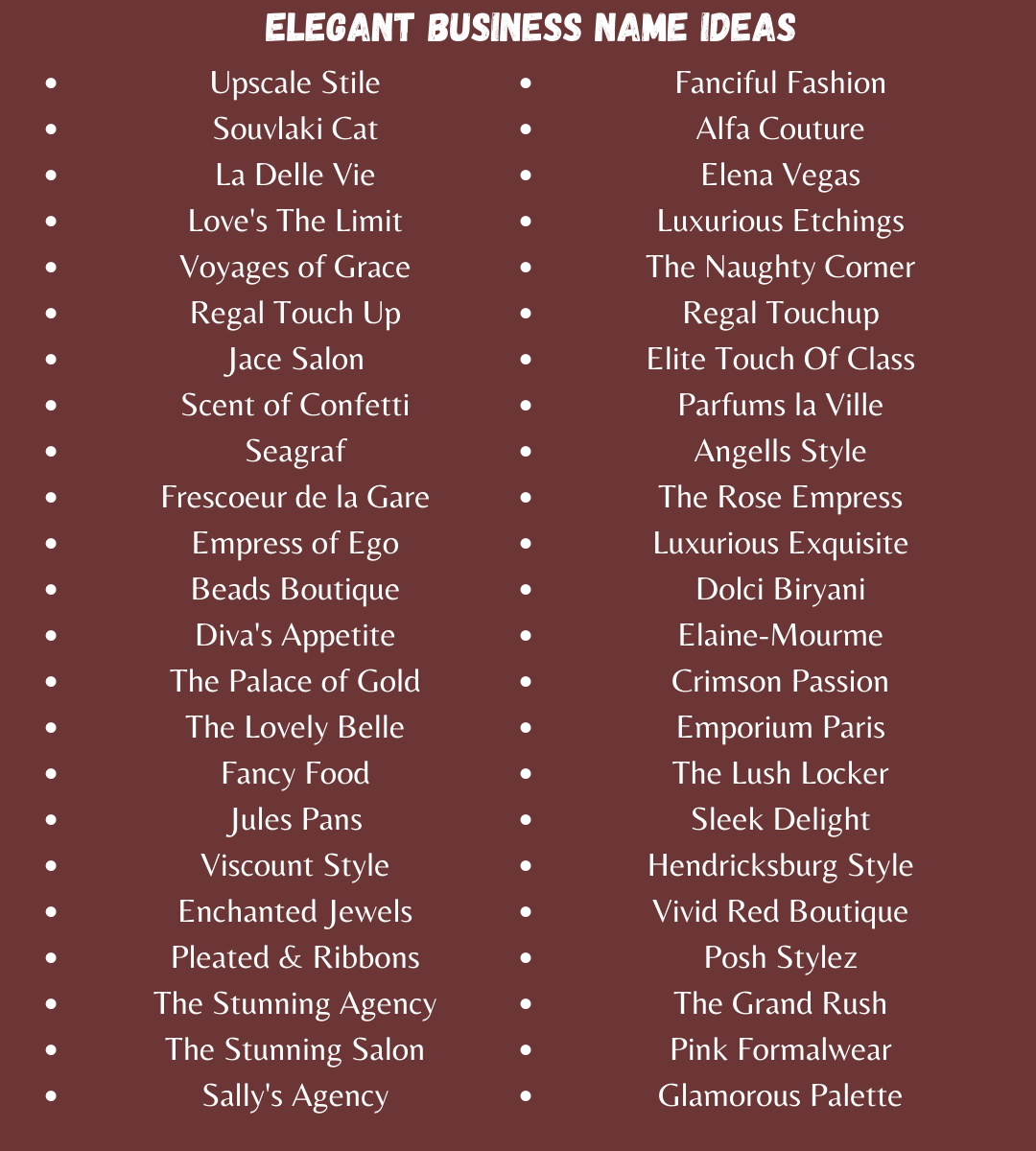 Classy Names for a Business
Golden Lily Couture
Fashionalicious
Modern & Spacious
Elegance in Fashion
Tess's Boutique
Pinnacle Couture
Aesthetic Esthetics
Hamburger Bathurst
Turbulent Moon
Antiques Colony
Road to Celebrity
Excelury Brows
Lucky's On Bloor
Gorgeous and Sleek
Rocks & Amethyst
Baron of the Falls
The Villa at Marly
The Eney Paris
Serene Deluxe
Armin Galante
The Belle & Blue
Intricate Form
Fiori Galleria
The Lifetime Collection
Reflections of Work
Elegance in the Sky
Opinion Universel
Kaleidoscope Kafe
The Luxurious Glow
Stylish In Style
The Pink Gowns
Top Notch In Luxury
The Black Tie Affair
Elegant Life
A Fancy Affair
Venice de'Ven
Eglades Outpost
Amante Villa
A Stylish TouchUp
The Deluxe Luxe
Temptress Nails
The Amethyst Dynasty
Aladdin's Room
Pearl Amethyst
Elegant's Place
Grand Lifestyles
Artis Nail & Wax Bar
Chiapas Palace
Style & Grace Company
Elegant Belle Paris
Lawns & Thorns
Happy Coney's.
Elegant Ambition
Le Tigre Group
Queen and Ivy
Bounce Club Monaco
Exquisite Cresses
Lofts and Sofa
Pie in the Sky Kitchen
Cakes Premiums
Coastline Palace
Luxury of the Falls
The Little Frenchie
Annelies Skirtley
Le Vieux Canal
Lavish and Luxurious
Diamond Debate
Cove Serenity
Vivid Enchantments
Enchanting Leaning
Glimpse of Pleasure
Liberty Luxury Spa
Lisbon Salon
Top Floor Goods
Avenue de Versailles
Coral Sky Couture
The Premium Suite
Alcatraz Paradise
Fancy Antique Style
L'Express Aesthetic
Berena & Company
Sassy Style Boutique
The Twinkle Toes
Paltry Luxury
The Upscale Studio
Flawless Parisian
The Elite Express
Luxurious Serenity
Lavender Dreams
Elysian Fine Leather
Palace Seduction
Fashion Ambiance
The Gourmet Group
Vignonne Adele
Place In Beautiful
Desert Gold's
Diamond In The Rust
Thrilling Touch Up
Top Notch Lifestyle
Stunning Elegance
Glossy Delights
Ardolee Boutique
Empire of Perfumes
Elegantly Blue
Alive & Unsettling
Elegance Touchup
Glossy & Artful
Levin Place
Perfection of Color
Glossy Elegance
Elegant & Golden
Elegance by Alisson
The Nosh Pit
The Upscale
Beverly Moments
Epic Upholstery
Empressage
Chantilly Suite
Sunset Luxury Spa
The Luxurious Vault
Life of Luxury
Shimmery Sash
Style By Liya
Sorbet Boutique
Seussier Palace
Gourmet All Day
Artistic Touchup
Nina's Luxury
Roses & Thistles
Plush & Pretty
Coury City Stylist
The Platinum Bunch
Nostalgic & Stylish
Umbria Oasis Spa
Aqua Aromatherapy
Found and Fancy
Alarm and Oasis
Crowning Divine
The Luxurious Touch
Bendelton
The Regal Buttercup
The Vanity Suite
Progress Pros
Clairvoyant Empress
Amelia Journee
The Luxuriously TOPS
The Hive Lady
The Classy Lifestyle
Chiara Buell
The Palace Of Posh
The Luxurious House
Sensuous Luxury
Glittering Bracelets
Blooms & Beyond
Lemontology
Exquisite Touch Up
Minted City Studio
Emilie Boudoir
Stylisticy & Luxury
Ethereal Eyez
Charming Escapism
The Fancy Square
Stylized Addités
Crowning Glory
I Smile Finely
New Imagee Spa
Luxe de l'Arles
Royal Exposition
Parade Luxury
Mining Vespers
The Pretty Swan
Sisters of the Pearl
Elegant & In Style
Prestige of Kings
Nail Tint & More
The Marigold Lady
Balzac Collection
Stunning & Stylish
The Fancy Pigeon
Elegant Brand Names
Belladonna
Sugar Crumble
High Luxury Estate
Dior Classy
Prestige Style Salon
My Paradise Wreath
The Luxurious Method
Ready Rides
Spiral Stylz
Crombie's Canada
Elite Clothiers
Mission Possible
Stony Vista Boutique
Château Excalibur
Camelbakal
Stunning with Style
Extinctive & Sleek
Foam Nails & Spa
Noble Clothing
Dovetide House
Run This Town
The Flavor Foundry
The Luxury of Charm
Stella Vintners
A In Style Salon
Famous Fifty-One
Enthèse Escapade
Rococo Palace
The Art of Touchup
Glossy Diamonds
Museo Galerias
The Grandest Show
Luscious Pearl
Dolled Up Gorgeous
Espace Arclate
Gemstone Collective
Elite Attitudes
Gourmet Garden
Sisters and Siblings
Mystery Couture
The Delightful Thistle
The Lark Spa
Sorrelle De Luxe
La Mejor Maristole
Aromatherapy-H2O
Vivified By Anna
Trendy Treats
Siren's Bride
Celuxe Ambiance
Coiffure Parlour
The Luxurious Life
The Golden Gurl
Violets & Twigs
Extem Group
Delicate Chic
Zest & Grace
Arrive Attractions
Le Delux Salon
Luxury Boutique
Steidel Realty
The French Option
Reflections Elegance
Herbstach
Vegas Venetian
Crownsville
Fameux & de Milane
The Stunning Place
Justine's Luxury
Elegant Chic Couture
The Fancy Firehouse
Tailor Chic Boutique
Stygian Stonewall
Kubena Vashti
Pliessentials
Maricini Gallery
Headmasters
Golden Pearl Salon
Boutique Vaudreuil
Galerie Stamboulie
Beeswaxed Silk
Silpiglass Stornoway
Allegheny Venetian
Art's Formal Outfit
Elegance Is Back
Thrilling Grace
The Exquisite Agency
The Echo Chamber
An Exquisite Evening
Loft 2 Style
Aura de Cheveux
The Lush Veneer
The Glitz Club
The Versa Versa Show
Spa Nail Bar
Elegantly Luxe
The opulent owner
Style Sense
Galerie Lavender
Truly a Classic Day
Le Palace & the Moon
Elegance at York
Mint House Spa
Happy Gobble
The Classic Place
Espresso Ambassadors
Lavish & Squalor
Plateau Luxe
Dashing Dreamers
Exquisite Sunburst
The Sweet Frog
Isekai Sotheby's
Cranston Sedgwick
Silver Lane
Beautiful Touch Up
Stylish And Upscale
Ecole des Pêtes
ElegantElegantes
Serene Starlit
The Fierce Tiger
Cloisters Palace
The Stunning Company
A Delightful Escape
Hedonia Boutique
Beauty Society
Keen Eye Bridal
Allure By Nature
Beaches at Night
Mysticism Paris
Arsoli Versa
Avenues In Style
Natura Elegata
Sunnyside Boutique
Vineyard Stylez
Copper Firefly
Mariscos And Caramba
Luxe Luxe Luxury
The Decorating Loft
Klutta Boutique
Fanciful Flamingo
Spenco Art Gallery
Diamond Drop
Werner Hauser
Terracotta
Fanciful Falcon
The Royal Enclosures
Vivaldi Luxury Touch
Blissful Bites
Fancy Fiesta
Pride and Prejudice
Everest & Beyond
Dolle & Steinmeir
Diamond Sky Salon
Galleria of the Arts
Glamour & Opulence
VIPE Beauty Group
Sunnycrest Lounge
Nouvelle Ivor
Spectrum Fancy
Gourmet Goose
Aurelio Armani
Sleek Luxe Couture
Crowning Formal Wear
Classic Nails & Spa
Marquisi Consiglio
Bertolucci Palm
Amuse Beauty Bar
Silver Princesses
Luxurious Touch-Up
The Accentuated
Sun City Luxe
Edinburgh Opulence
Glenrothes Emerald
Sensational Style
Flair & Gloss
The Star Venetian
Lavish & Sleek
Regency Exquisite
The Lotus of Joy
Aromatherapy
Divine Image Studio
Mamma Mia Oasis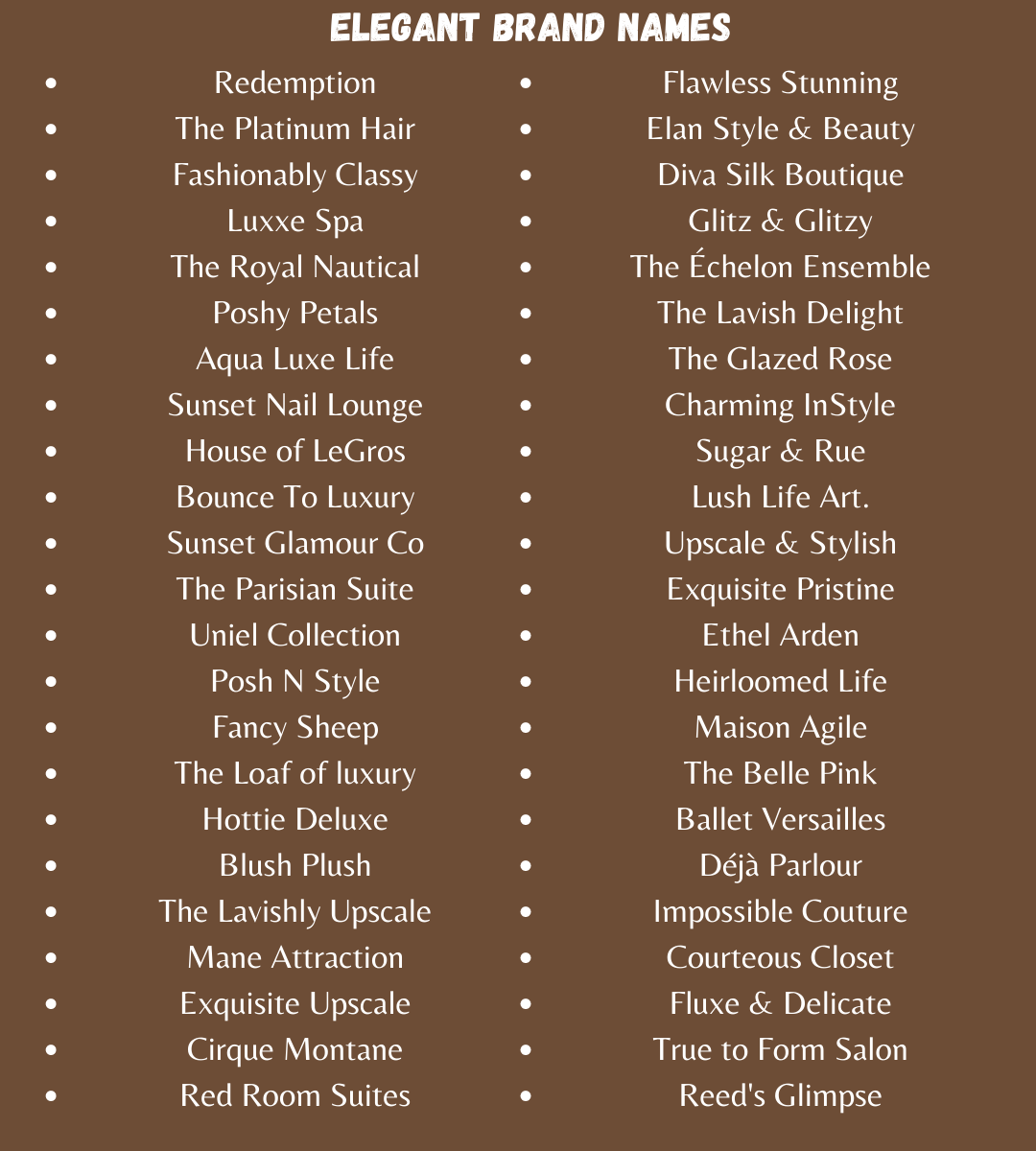 Elegant Company Names
GlitzyGlossy
Hull & Bailey
Glamour Addicted
Fantastic Ferret
Plaine de la Forme
Diamonds Deluxe
Chrysalis Atwater
Nathalia Fleischer
L'Art Moderne
Liliana's Boutique
Peach Bakery
Vivacity Luxe Center
Editions Elle
The Luxuriously Rive
Diamond and Ivy
Etienne Cartier
Delicate & Sleek
Lizarosa Boutique
The Ballarinese
Beauty Belize
Air of Mystery
Vegas Valley Style
Next Level Living
Fancy Foodie
Butterfly Beauty
Beaux-Arts Boutique
The Old Paris
Art of the Form
Violeta Intimate
La Folière Fouchon
Mysticism by Jamey
House of en Ville
Aromatic Dream
Red Star on Eighth
Steady Satin
Hottie's Supper Club
The Lofted Gold
Sugar Plum Glam
Lea Lush Life Envy
The Attatch Art
Olivia's Palace
Exquisite Store
Mozarte De Luxe
Glossierie
The Lining Room
Creamy Blush
Le Ligne
The Pearl Grade
The Beverly Coaching
Mast & Stucco
Tribal Charm
Glamour Bronze
Vegas Beauty Style
Dove Brows
Sally's Nail Bar
Jasmine Manor
Exquisite Closet
Spanella
Extravagance
Carol Rossetti
Exquisite Exquisite
Yum Gourmet
IntelliElegance
Noble Touch Up
Sugared Grace
Exquisitely Nails
Fancy Fiends
Art On Madisonther on Back
Vendetta's Dessert
Silk Nail & Day Spa
Luxe Touch of Luxury
X-tremely Fancy
An Elegant Window
The Lavish Manor
Fancy Everything!
Seduction Room
Rise Up Luxury
Sunset Beauty Place
Lia and Maxi Paris
Warm Olive
The Luxual Life
Suede Queen
Full-Fledged Fancy
The Luxurious Mind
The Parisian Garden
Golden Sunburst
The Champagne Cellar
Fancy Bazaar
Elegance Man
Beverly Palms
Violet's Wreaths
Get Fancy
Grande Éternel
Embers Lounge
Stunning & Elegant
VIP Luxury Class
Lavishly Exquisite
The Fancy Project
Elegantes Elegant
Sapphire Life
Painted Ivory
The Place in Emerald
The Platinum Studio
Glorious Narwhal
Creative Crafters
Designer Diva
Le Fine Estate
Sartor-Louis
Chilean Delight
Divinely Etched
The Champagne Nest
Sleek & Classy
Sweetest Ruby
The Angelique Suite
Cirque Luxury
The Art of Hide
The Venetian
Phoenix Bambi
LaVida Bellezza
Envy of Style
Fashion Exquisite
Crown Fine Cakes
The Luxurious Agency
Luniq Studio Salon
Crackled Kream
Sunny In style
The Glitzy Palace
Glamour Lovely
Gold Falcon
Ragdoll Adorse
Luxury Life by Liana
Elegance By Humber
Gracefully Squish
Ritz-Carlton
Coco Sartorial
Gallerie et Luxe
Regal Rabbit
The Posh Couloir
Glamour & Posh Club
Aluxury Uptown
Mountain Lion Park
The Luxurious Lane
Diamonds on Top
Fashion To Toes
Amsterdam Intimate
The Pasticcerium
Piercing the Walls
Velvet Classy
Elie Saakashvili
Coup Royale
Parisian Serenity
Fancy Food Force
Gusto Italiano
Elegance by Nina
The Elegance Charm
Maurices Exquisit
Elie Provost
Elegance of Grace
Honeydew Dreams
Venus Stunning
Vip Parisien
Wooly Paradise
Bella Bella's Villa
Sweet Luxe Palace
Carbonara Lina
Le Fine Family
The Art Class Biz
The Gatsby Agency
Courtship Seductive
Ducasse Luxury
Saguaro's & Co
Décor Planet
Push To Start
Fabulous Fairy'S
Elle Rose Du Jour
Elegant on the Move
Leo's Organization
Avenue of Exquisite
Exquisite Wreaths
Elegant Store Name Ideas
Absolute perfection
Anenome
The Unique Leaf
Classic Starling
Leaf Boutique
Triton Xpress
Agency Of Elegance
The Classy Empress
Bella Nail Designs
Angelic
Avant-garde
Belle Epoque
Blessings
Blue Heaven
Butterflies
Charm
Classy
Couture
Divine
Enchanting
Ethereal
Siren Serenity
The Color of Place
The Kook Blushing
Saffran Luxury
Alpina Enoteca
Diva Beauty Boutique
Cora Bella Salon
Fashion Mofique
The Arahova
Clothe Luxe
Vibrant Wolf
The Lavish Suite
Icing On My Cake
Dainty & Upscale
The Lovely Lifestyle
Pawsitively Lovely
Glory Stix
Angell Style
Upscale Chicks
Artful Touch Up!
Paparazzi Luxury
Asquith & Partners
Threads and Tweeds
Empire Style Agency
Exquisit Stunning
Elegant Touch Up
Vanity Boutique
The Upscale Court
Fiorio Paris
Sophia Louise's
Eliza's On Top
Aqua Villa Decor
The Estate Of Ethel
Gloss Parlor
Aesthetics By Alo
Aura Touch of Class
Kievsky Power
Ace Of Flowers
My Modern Unicorn
Grandeur de Luneau
Parlor of Exquisite
Crown Boutique
Elegance Place
Vida Estetica
The Olive Garden
Chica de Bella
The Pinkest Posh
Anaïs Amélie
Bella Loves You
Leona deEunice
The Seductive Plum
Glamour of Luxury
The Versa Villa
Petite Elegance
Olivia's Luxury
The Art of KTV
Altes L'essentiel
Dash Of Daring
I'm So Fancy
Fuego by Posh
Aesthetics By Gina
Venturaire Esthetics
Aesthetics by Hanna
Platinum Shoppe
Glamorous Giraffe
Arnold Luxe & Design
The Glitter Dealers
Dhaka Posh
Paragon Fancy
Crown Spa and Salon
Elevate Paris A
Posh Artistry
Pure Exquisite
The Luxarian Spa
The Abell
Elegance & Charm
Empress Kustom
Fine Elegance
Coiffure de Paris
Shiny Things
Carolous
The Venus Luxe
The Seductive City
The Attic By Design
Aglossy & Luxury
Le Grand Place
House of elegant
Gently Feed
The Glamorous Gurl
Truly Parisian
Vanity on Shea
Petit Duke
Kiss Me Lush
Fancy Dreams
Enrico Mozzarella
Maui Moderna
The Pearl of Minerva
Green Gems
The Purse Palace
The Grand Mariner
Penthouse Style
The Court of Fashion
Amauvais d'Ivers
Posh Suede
Anish's Couture
Drake Grooms
The Whisperer
Stella's Palace
Sweetest Glooms
Allegro Palazzo
Peculiarly Couture
Lavish Vanity
The Lifestyle by Avi
Oxi Lounge
Elegance Envy
Elegia On Broadway
Clove Luxury Center
Posh Style Lab
Nancy Lee Agency
Enchant My Eyes
Dress Room Attire
Nectar Salon
The Bella Loera
The Lush Delights
The Fashion Envy
Scoopable Goodness
Deluxe Luxe Lounge
A Luxury House
Umbra Luxury
The Luxurious Lion
Viage Salon
The Waxy Fluff
The Dramatic Purveyor
Prayers of Mercy
Velvet Delight
The One Eyed Phoenix
Mimosa Rooftop
Acme Animate
Swanky Shoppe
The Stunning Lady
A Luxury Suites
Elegant On the Go
Oasis of Wonders
Nathalia Couture
Purest Seduction
Edgardo Collection
The Dress Code
Arista's Boutique
The Luxe Life Cafe
Snappy Nibbles
Exotic Fruity
Glam Lounge Boutique
EliteVilla Estilo
Amped Ambition
The Pretty Temple
Beauty Is in The Eye
The Luxe Institution
Naked & Fabulous
Nature's Fancy
Oasis Sedona
Sultan's Classroom
Treasure Chest
Queen City Decor
Peach Piazzetta
The Edible Elite
Elegant Touchup
Lustre Closet
Luxembourgish Luxe
Lilac Palette
Posh & Glamour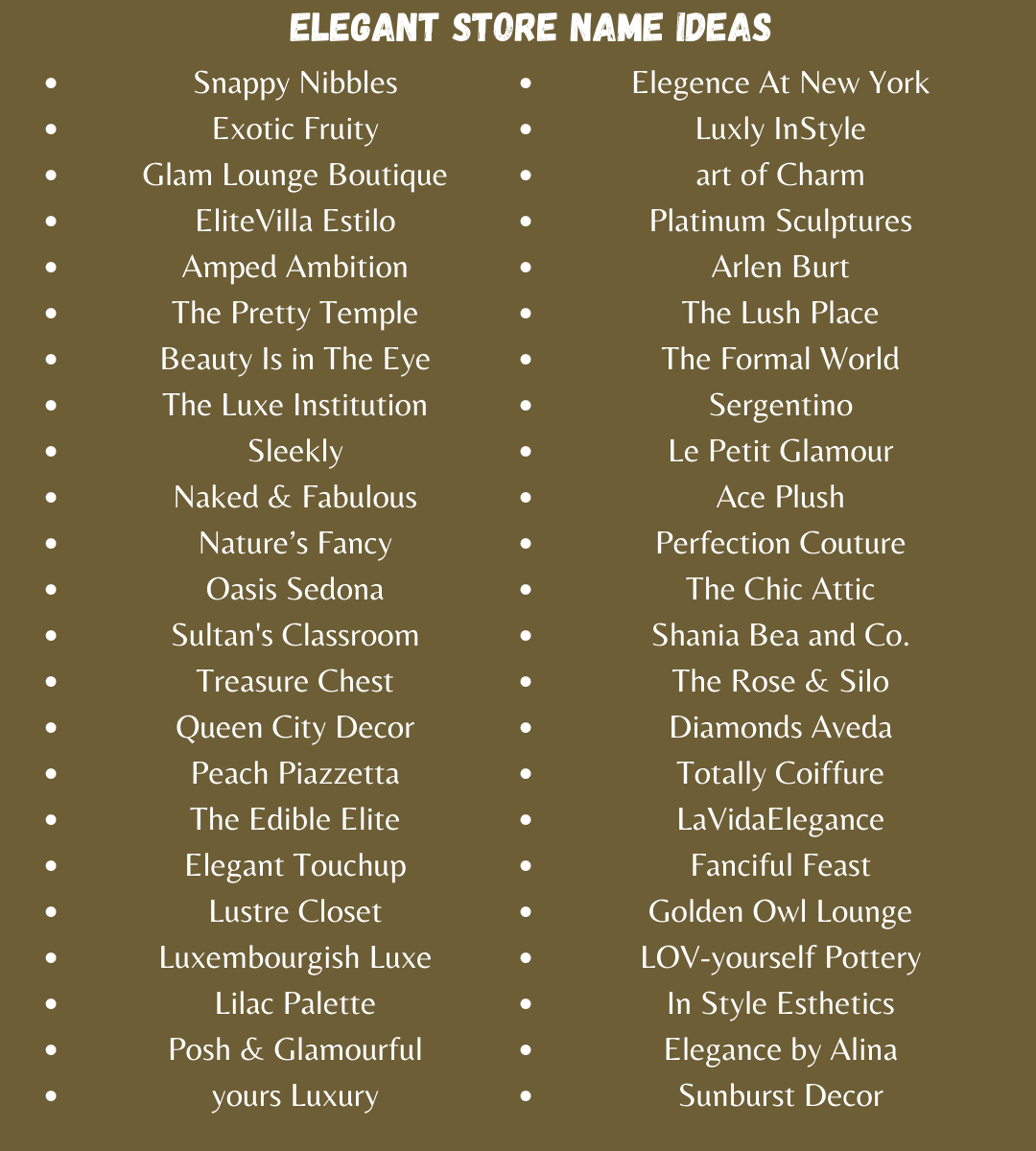 How to Create an Elegant Name for Your Business
There are a few things to keep in mind when choosing a name for your business. First, it should be easy to pronounce and spell. Second, it should be short and to the point. Third, it should be memorable.
Here are a few tips to help you come up with an elegant name for your business:
1. Use alliteration.
Alliteration is the repetition of the same sound at the beginning of multiple words. It's a powerful tool for creating catchy, memorable names. For example, some alliterative business names could be "The Posh Pooch" or "The Glamorous Gourmet."
2. Make it relevant.
Your business name should be relevant to what you do. If you're a web design company, for example, your name should have something to do with web design or the internet. This will help people understand what your business is about at a glance.
3. Use your initials.
If you can't seem to find the perfect name, try using your initials. This can be a great way to create a unique and elegant name for your business. For example, if your name is Mary Smith, you could call your business "MS Luxuries" or "MS Gourmet."
4. Use a foreign word.
If you want your business to have an air of sophistication, try using a foreign word in your name. Just make sure that it's a word that can be easily pronounced and spelled. For example, a business that sells high-end fashion could be called "Boutique du Luxe" or a business that specializes in fine wine could be called "Vinoteca."
5. Keep it simple.
Sometimes the best names are the simplest ones. If you can't seem to find anything else that works, try keeping it short and sweet. For example, a business that sells luxury home goods could be called "Luxe Home" or a business that provides upscale services could be called "Elite Services."
6. Use wordplay.
Wordplay can be a great way to create an elegant name for your business. You can use puns, rhymes, or even create a new word altogether. For example, a business that sells luxury pet products could be called "Pampered Pets" or a business that specializes in gourmet food could be called "Delicious Delights."
7. Make it unique.
There are millions of businesses out there, so it's important to make your business name unique. Avoid using generic words or phrases in your business name. Be creative and come up with something that will make your business stand out from the rest.
8. Get feedback.
Before settling on a business name, it's a good idea to get feedback from friends, family, and potential customers. See what they think of your business name ideas and get their input on which ones are the best.
Creating an elegant business name is an important part of building a strong brand. By following the tips above, you can create a business name that will make a good impression on potential customers and help your business stand out from the crowd.
Related Posts:
Catchy Handmade Jewelry Business Names You Can Use