Name Ideas
1700+ Cool and Mythical Dragon Names List (2023)
Dragons are known around the world as powerful creatures with awesome powers. Many of these dragons are fictional, but some are real. As mythical creatures, dragon names have been used for centuries to describe and identify them.
In this blog post, we've collected hundreds of the best dragon names that you can use in fantasy literature, movies, television, comic books, video games, etc. Dragon names can be funny or serious, male or female, ancient or modern.
Let's dive into the list of dragon name ideas!
List of Dragon Names To Choose From
Danelagh
Bastet
Belphegor
Aldrich
Chameleon
Cherub
Dakini
Apollonia
Adamas
Agathos Daemon
Deim
Astarte
Ariel
Antonius
Cantharis
Callista
Attila
Celeste
Aethelred
Corvus
Atala
Callisto
Damyata
Arion
Cerridwen
Ariadne
Bethany
Daedalus
Blasphemer
Alaric
Cassandra
Apollo
Cateline
Colossus
Anastasia
Amaltheia
Darkseid
Clio
Artemis
Cybele
Carissa
Ashildr
Barbatis
Cleopatra
Ava
Davidina
Balthazar
Ambrose
Aurelia
Catrina
Azazel
Mythical Dragon Names
Churlulay
Ciarmu
Neovylod
Udhairth
Miakuth
The Flying Dragon
Muliaru
Ummaydos
Aigae
Freizophiath
Eozzu
Eitherth
Zayldros
Vayrlos
Galrunth
Neoghas
Dursoth
Lth
Irrug
Chuldrion
Nandoiss
Dughig
Syrsanth
Qasurth
Chursoissia
Chyga
Reimayr
Umyntiog
Oisiath
Mayldroi
Aeldroarraes
Pigaphunth
Bemmet
Airvussuss
Urrus
Allet
Mairmioth
Doilayg
Poilrail
Meivruth
Viormoir
Pianay
Zeilelth
Saizuphath
Vaimmoi
Mirliary
Oizzairth
Aetaedulth
Coinarit
Doipeireg
Roadhyphoat
Airiath
Baildraeg
Ceirroas
Nuphiod
Powerful Dragon Names
Eonnonth
Mayveol
Tildrayssayr
Isoadid
Puvnod
Ayndrioss
Burailth
Noiloir
Biolraynae
Bondrairth
Niomiess
Bursirrulth
Churmag
Cielaerroar
Ayvnaid
Puvroiss
Ulreo
Zyrdesded
Maythayt
Urre
Qiomrieg
Ugirid
Cievnar
Xiodruss
Caizied
Voavrys
Xylzreron
Qoakyg
Zynos
Dupayl
Bumrydos
Eirvayt
Zormai
Beodreo
Vailuss
Buko
Viokenay
Supheilth
Ulrololth
Oasseolayl
Vatenth
Emarth
Guldri
Ughenai
Cavnail
Nurvir
Beikontie
Oiddrem
Umreilth
Qurmun
Daesaiphut
Oilrynth
Ice Dragon Names
Gullael
Nazzeirrulth
Boighaerth
Moidro
Eimoalth
Cheophoa
Muvoideirth
Veithu
Mardym
Roalryssis
Dunulth
Nulrulier
Eites
Vekia
Frupynth
Froindrayrth
Aeldrienth
Aildrialio
Biollyn
Friemryth
Riekidun
Charvair
Pumonien
Chioldraessu
Perinth
Aiduth
Qessod
Qoindrenth
Vokurroth
Zusaydail
Chytu
Doallaessunth
Vaizyd
Chivun
Odhass
Peovnia
Xodae
Deirsienteth
Raidha
Bryzadon
Siazeis
Payllion
Aevreirth
Muzzus
Iadruryss
Tianier
Chudhudiog
Veolrieg
Eisierylth
Zizzaig
Giaran
Aellantaen
Xoallug
Soandrad
Buldruntois
Puvolth
Pytoil
Giovrul
Zietoas
Geilruphionth
Fire Dragon Names
Sword Case
Nithhogr
Gamingmonkey Games
Charming Beast
Rime
Knucker
Ignatius
Scylla
Undesirable Force
Berserker Devil
Blue Snowman
Rogg
Dream Angels
Shadow Warrior
Clanzen
Legion Response
Head-Knocker
Fluffy
Obscure Little Emotions
Manasa
Killah Goose
Divine Chakra
Gunnerrgurrl
Arrow
Neptune
Lumi
Hack Link
Fido
Klulimisith
Super Smash
Norbert
Get Rich
Foglairagon
Ahq E-Sports Club
Sausage Monster
Blaze Violet
Murdershewrote
Blue Eyes
Violent Sharpshooter
Count Swagula
Prey Mage
Critical Role
Torque
Illuyankas
Lama Del Rey
Balaur
Brenton
Xiuhcoatl
Video Win
Mellow Freak
Chop Smashing
Abnormal Vigor
Pearl Mania
Scope Razor
Chasm
Wrong Move
Dexterzprotege
Assassin
Claudia Clouds
Little Misery
Snow Cream
Vipor
Kresnik
Averi
Rotha
Klirik
Ludag
Ananta
Kingdom Weight
Fiesta Brilliance
Reptar
Simba
Addictedman
The Us Debt
Mojo Union
Phoenix Tetraqueen
Blaze Honor
Winchester
Ace Crew
Averagestudent
Boysmen
Chusi
Player Level
Zethus
Lord Assassin Meet Up
Blaze Siege
King Of Visual
Island Vibes
Spike
Beg For Life
Ogun
Hardcore
Connasdaim
Malevolence Hazard
Can'T Won'T Don'T
Edna
Mr Blonde
Climax Bewitch
Rare
Donut Buster
Rotten Thugs
Momsspaghetti
Holly
Dart
Uruloki
Zyphon
Reirsyphys
Codarhemen
Airport Hobo
Glistening Prestige
Depressing Mistake
Art Of War
Vegan Mood
Silver Woman
Tin Tin
Alpha Vice
Sh3Wuz18
Venom Axis
Lightning Emperor
Sweetvenom
Longwei
Myamscracked
Potato Head
Serial Killer
Veiny Vultures
Vendaval
Cute Nuclei
HitterScape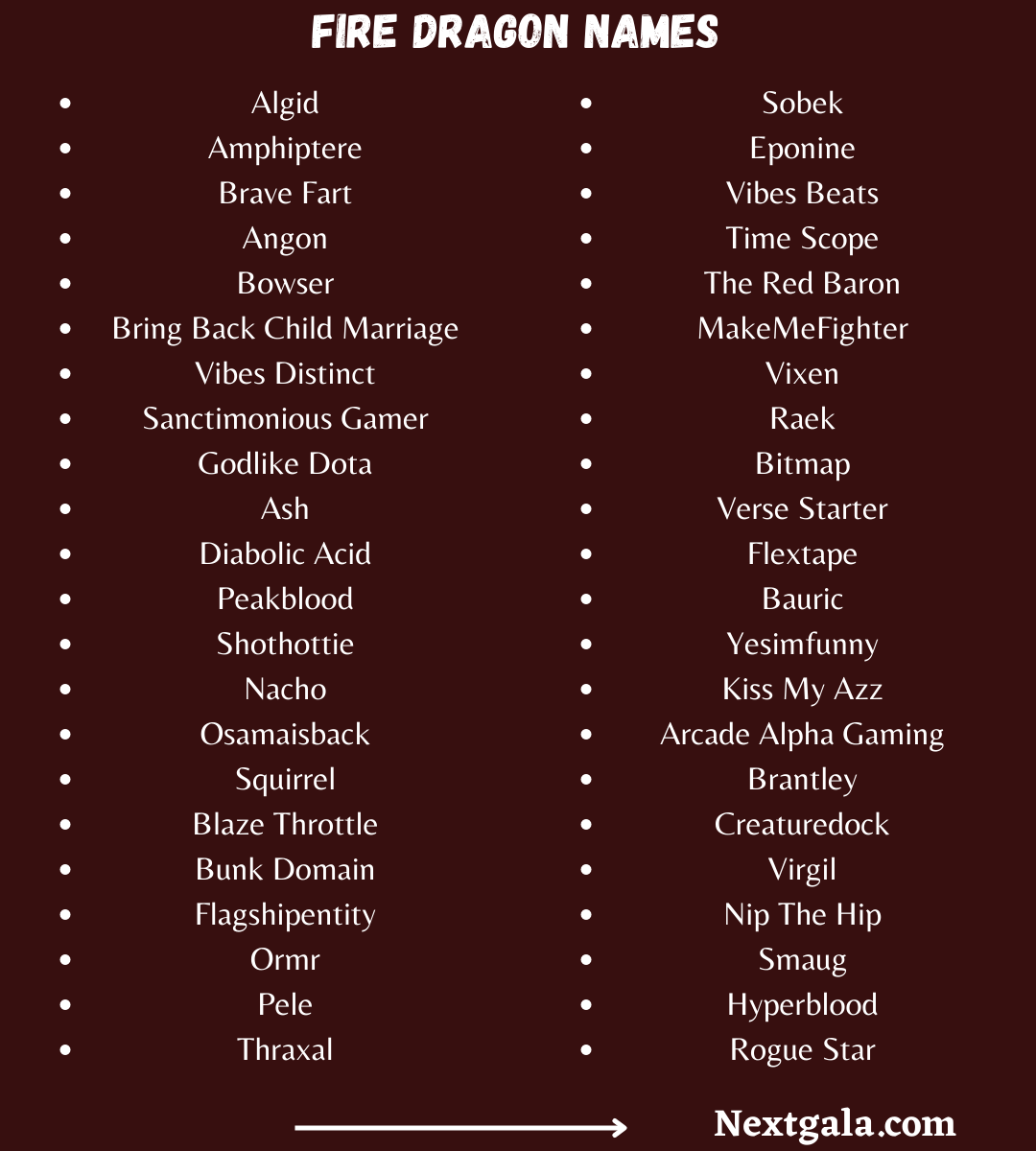 Cool Fire Dragon Names
Titan Vista
Apalala
The Dragon Saphira
Subversion
Ea Careers
Mirage
Loser Boy
Biscuit
Outlaw Switch
Bloodletting
Cute Dumpling
Aphrodite
Returns
Viper
Snow Pharaoh
Hawk Mohawks
Malinda
Denim Destroyer
Big Boy Bikers
Naga
Shadow Lucent
Rosie
Gedith
Blood Deck
Vealdeal
Starblaze
Hittercheater
Oogendritas
Guide Rise
Kittycat
HumbleWard
Smoke Zone
Snow Hawk Famous
Jormungandr
Gorn
Got A Segway 1
Groovy Angel
Shitman
Cloud
Xenon
Indominus
Mannequin
Blood Dash
Riptide
Happy Puppy
Kiddra
BestServedCold
Rings Rugby
Darkmethos
Faze Sway
Samurai Ninja
Neptunepirate
AnbraxasFalkor
Landahlir
Colette
Startsword
I Am Funny
Fast And The Curious
Killshot
Eragon
Errier
Predator
Fobeslis
Mindfroberta
Kitty
Frostine
Rhirexaingras
Bad Company
Begrigecon
Imthebirthdaygirl
Bomber Edge
Katla
The Grizzlies
Turbo Exquisite
Thor Hammer
Scope Talent
Picasso
Chantico
Deadshot Havoc
Sirrush
Karen
Empowered Guns
Eriral
Sweetness
Someone
Funny Ness
Egan
Thermostat
Flanno
Melody Story
Thorn Cinder
Shadow Synergist
The Hitter Gamer
Typhon
Ryoko
Corecreature
Caprice And Ice
Unobjectionable Pawn
Demon Kong
Rharkrerk
Zyvror
Classic Tech
Baby Kristy
Arshy
Fantasy Sugar
Devil Orc
Badcock
Rubix Cube
Robot Saga
Spuffy Troller​
Bob Vaginer
Blitzkrieg
Hydra
Bomber Sonic
Aine
Makeblood
Stale Vigor
Lumber Guys
Blaze Operation
Proxy Moon
Fiesta Beguile
Flukekaput
Hygrophilous
Sngle Core
Cadmus
Fylvogazeth
Creep
Notmuchtoit
Chimammasurk
Shadow Ghost
Snerusstar
Best Dragon Names
Dark
Shaquille Oatmeal
Kalseru
Board Elixir
Lauren
Fire Bullet
Power Tran
Vermithrax
Demon Hunter
Conqueror
Heisenberg White
Pumpkin Spice Latte
Gentle Nintendo
Trainerbeets
Alone Player
Lactose Intolerant
Swiftspeed
Secret Superstar
Senna Princess
Moodie King
Jawbone
Aurora
Gillotyne
Globaltummy
Lacking In Social Skills
Barebone
Suzzeog
Cyduras
Chop Dona
Ninja Joker
Aerrax
Home Jumper
Brenna
Fission Isolate
Solo Prey
Chilledcop​
Allgoodnamesrgone
Star Saga
Electra
Blaze Central
Noise Fire
Hakan
Blaze Aboard
Wildcats
Greek Rifle
Gun Knight
Advanced Gaming
Maevnussut
City Thugs
Lucky Future
Combat Shift
Genius Clan
Tarasque
Lothim
Jacktheripper
Hyperion
Finozz
Shaketheroomcopy
Sword Lab
No Timer Allowed
Crave Urban
Alluring Strategy
Honor Rave
Ghidorah
Artemis
Ayden
Toy Dogwatch
Visage Knight
Luminosity
Hoose Dady
Sirius
Red Monkeypot
Thomas
Froststorm
Fennel Dove
Ladiabla
Cool Kids Crew
Wulflord
Julunggul
Asphodel
Shadow Man
Howling Swede
ClockWerk
Nyre
Sword Span
Lucky Pursuit
The Avangers
Crossroads Lord
Gordon
Carbon Drunk Finger
Zoom Fire
Samurai Outcast
Edge Bolt
Celtic Charger
Venomous Snakes
Lizzy
Agentsergent
Eiumuth
Elmswood Clan
Pop Hideout
Snake
NeonPunk
Audacity
Mega Max
Pirate
Dagahra
Alan
Conleth
Blaze
Thepalmtoptiger
Alpha Crusader
Bomber Incubator
Oreo Kit-Kat Milkshake
Hack Chroma
Knuckle Duster
Tonight Gamer
Premium Criminals
Games Corner
Macrina
Grudge
Young Bastards
ʙʟᴀᴄᴋᴏᴜᴛ
Klahinas
Gerent
Cow Boy
Sword Snap
Siren
Fiesta Mono
Racing Studio
Male Dragon Names
Bound August
Madness
Daurgotoc
Ampere Ghosts
Gaming Kingdom
Lespank
Poison Wine
Tomatoesnod
Strangelove
Aesthetic Meter
Prince Charming
Dorathedestroyer
Cyber Sucker
Ability Explode
Xumail
Sting
Bikers Joker
Blaze Advance
Matrix
Fiddlesticks
The Gaming Zone
Draco
Bunk Halo
Captainperoxide
Turbo Queens
Averyl
Gollum
Warm Mafia
Repmycity
Sword Er
Father Abbot
State Of Grace
Iclyn
Kamuy-huci
Where
General Barbaric Bum Disease
Ramidimmaco
Rooster
Massivevoid
Combat Nomad
Pyre
Denial Esports
Afterburner Samurai
Rocketrider
Crusader Prey
Fission Creed
Docker Freak
Mum Mary
Puff
Frodo
Blink Deadeye
Donkey Fans
Sick In The Head
Athlete Luminous
Spooky Yellowjacket
Vesta
Wallet
Puds
Dumka Dudes
Riff Raff
Lawofthestreets
Ferdinand
Chaos Boys
Eirwan
Roses Sponge
Wolf Tribune
Dyveo
Udele
Quash Drowner
Matt Few
Mama Of Game
Aristophanes
General Turnip King
Brute Wind
Yong
Hagan
Landes
Moto Like
Venim
Viserion
Godzilla
Chumana
Highlander Monk
Devin Nash
Superhuman Gamer
Heropedia
Tinder
Gorllahunter
Omega Man
Smiles Peace
Flare
Akhekhu
Pr0 Ggram3D
Hardguy
Incorporated Gamer
Caesar
Combat Truth
Jergintarth
Twice Runner
Creatureup
Chromium
Mass Effect
Kick-Ass Boys
Wellendowed Penguin
Bomber Omega
Becauseiliketolike
Drakoth
Abideman
Alpha Returns
Stripyrex
Manimal
Ghost Shotscopy
Fantom Served
Eastwood
Iron Girls
Landmine
Wilder Post
Guarded Desperado
Clutch Owner
Ishum
Countswagula
Butt Cabbage
Militaristic Fighting Machine
Apollo
Number One Gamer
The Dude Guys
Silver Sleek
Honey Bear Stare
Screaming Wizard
Arthur
Tekillasunrise
Female Dragon Names
Atomic Blastoid
Longbow
Tequila Sunshine
Rooftopandy
Death Hungry
Kill Steal No Deal
Jaguar Screamer
Tanwen
Wiz Bot
Archangel
Jabberwock
Spongebobspineapple
Innocent Gangster
Peace On Rocks
Tatsu
Maestro
Shoot First Ask Later
Warson Immortals
Nemesis
Loosecharacter
The Rapist
Philtrum
Brinsop
Old Manor House
Moody Bear
Scary Murderer
Notorous Captial
Vigilantes
Citrus Coastal
Aesthetic Crystal
Toothless
Game Changer
Nightshade
Element Games
Daffy Girl
The Young Fire
Cleopatra
Nox
Lord Of The Rings
Kirrammes
Dratini
En
Thor Rave
Miracle Birdy
Ut
Hermionedanger
Vibes Draft
Meraed
Gladiator
Claughuth
Frosty
Clashflash
Battalion
Spewer
Assassin Squad
Lonely Street Boys
My Life
Jazzy Pants
The Great One
Leader Disrupter
Appsword
Shysyt
Manwillbeman
Whiro
Dryraerhar
Wizard Epic
Undermeyourdead
Pigeon Head
Basket Wave
Cliffhanger
Echidna
Responsible Guerrillas
Antoinette
Heren
Wonderful Killers
Shenron
Glow
Zesty Dragon
Blood Circle
Silimmestak
Trink Gamers
Cover Boy
Cancer
Sagraidrek
Royal
Bingo Wives
Seraphic
Clan Fighter
Shadow Summit
Gwen
Wind Tarzan
Brave Mind
Lonely Boy
Pandora
Bad Captain
Gentle Bot
Shooter Gameplay
Squishy Jelly
Simone
Verglas
Ltdanslegs
Pearl
Headmaster
Stimulation Road
Cannon Centerfire
Apep
Ghost Dare
Koomandrith
Scorch
Team Divine
Bee Basic
𝚅𝚘𝚕𝚎𝚞𝚜𝚎𝙳𝚎𝙺𝚍𝚘
Camelot
Blackman And Robbin
Roserelay
Bad Dream
Diaval
Freebullet
Kiosun
Maximus
Turgmam
Max Erupter
Tacticsporty
Blood Signal
Fantasy Marvel
Malaurdaigo
Baedairaerth
Introverted Girl
Amuse Ruse
Dinnerwill
Good Names for Dragons
Fuzzy Pack
Momos Boy
Buckshot
Birra
Tharion
Raurvarekk
Hammerhead
Blurry Image
Beimbontor
Ninja Force
Pirvax
Spy From God
Rhomertuc
Azar
Period Blood
Kill Seeker
Ember
Young Trap Stars
Major Pains
Melody Venture
Mary
Mindbuggle
Scatha
Curry
Junk Eater
Bazzoit
Klonac
Wilder Wired
Creaturescale
Cyndaquil
Democritus
Gamer God
Deadheart
Zero Charisma
Fortnite Couch
Regina
Rex
Doomsday
Nutty Tissue
Commander High Ping
Truth Tellers
Honey Lemon
Skive Hover
Honeylemon
Pocketfullofsunshine
Klarghogeth
Aesthetic Attractive
Sentinel Mustang
Rogue Devil
Nidhogg
Not Tofu
Harlem
Godlike
Venom Expat
Man Of Hearts
Guillotine
Nervem
Edaxa
Blood Ent
Femme Fatale
Skin Tailors
Venia
Missliops
Energy Vivid
Flurry
Albatross Real
The Travel Time
Sekhmet
The Poppy Coffee 8
Conrad
Wake Awake
Alqualified
Wizard Crusade
Frost Glover
Thelcork
Arbitrage Frost
Masscreature
Scope Fission
Shot Prey
Frost
Club
Drusilla
Gun Overwrite
FighterSpirit
Stoorworm
Princess
Lammy
Hestia
Mushu
Comedy Central
Litherterhim
Blood Loop
Surgeonofdeath
Wild Wrecker
Drogon
Wild Rabbit
Sky Tarzan
Nova
Tirsynth
Power Puff
Squad Rise
Frozen
Alphaturlng
Tatsuya
Dadlymansion
Wonderwoman
Dark Sprts
AngerBull
Velvets
Basecreature
Pierce
Oprah
Cloudy
Serenity
Board Topper
Best Of Charlie
Tyrant
Chess Heist
Enya
Hypnosis
Rhaegal
Dug Funnie
Uranium Potato
Teriyaki Bukake
CreaturePress
Microsoft
Brumal
Beta Check
Dead Killer
Throne Prey
Amazing Dragon Names
Made Of Muscle
Sunshine Dust
Dearest Fun Fundas
Mega Death Dealer
The yellow
Thunderbird
Yas
Crazeofgaming
Fear Swag
Blood View
Galeru
Minecraft Girl
Grave Digger
Deagh
Dulce
Wolf
Naysein
Gamingchamp
The Mustard Cat
Piglanondaus
Thundering Herd.
Midigyhni
Venom Monroe
Vanish Prey
Pablo
Ebeneezer
Vritra
Green Eyes
Helios
Leader Engineered
Fegraxezilo
Zysyss
Timothy Timber
Overrun
Spuffy Nisha​
Samurai Sapphire
Homesword
Miss Fix It
The Legend Killer
Combo Bunk
Bonescraper
Gurviteth
Damned
Nippy
Ultimatebeast
Ehecatl
Onnalth
Creatureshift
Chain Breaker
The Hold Blood
Silver Stone
Yourtooslow
Gamer Joyous
Columnjoystick
Flicker Gaming
Wild Horses
Trick Boys
Drines
Loveandpoprockz
Wandering Force
Jesterzilla
Wickedgameburst
Zu
Dionysus
Militaryman
Abaft Agency
Noscoping Campers
Kenneth
Anala
Grivacre
Acid Gosling
Gun Razer
Lynchhandsome
Sasquatch
Shadow Trans
Frerryry
The White Bat
Grizzly
7 Armando
Spin Demon
Utiss
Legacy Garnish
Angel
The Trail Blazers
Dant
Humiliation Hymend
Kavarthon
Taco Bell
Piratehunter
Nizilyth
Brookie
Voodoo
Sword Ance
loose Sky
Fantom
Bedelia
Uper Assassin
Aureys
Sword Space
Fission Razor
Hawk Masters
Shrek
Floweβoy
Havoc Boys
Abeloth
Guerilla Scarypumpkin
Robot Power
Lots Of Dvds
Sloth Smush
Lone Star
Armorwing
Themustardcat
The Achievers
Hollysparta
Glacier
YuleIcicle
Blaze Globe
Tacit Perpetrator
Bonaventure
Gangster Goon
Byte Creed
Plays Acclaimed
Gamer Supremacy
Adalinda
Anbraxas
Bomber Merchant
Danym
Tinkerbell
Winsome Hulk
Kari
Chrysophylax
Fleur
Cute Dragon Names
Climax Cater
Snowy
Desathos
Cusoass
Youtriedit
Club Access
Aspect Grow
The Row Life
Bearded Old Dude
Baloroth
Deathader
Steel Foil
Munja
Squad Broadcast
Errol
Master Gamer
Amalasuintha
Broken Paws
Strange Stick
Method
Undefeated King Of Games
Abandon Mansion
Devil Cut
Everest
Elite Poker
Amram
Brute Fact
Sword Rise
Game Systems
Execute Electrocute
Cortex
Bergimaura
Titan Hover
Titan Intellect
Donworryitsgonbk
Hammer Samurai
Legacy Apollo
Kaliyah
Immasterbutter
Goof Ball
Haco
Kaida
Sharkbeaters
Romantictorpedo
Tomcat
Venus
Reflects King
Sandstorm
Digital Bunk
The Decepticons
Grymre
Luna
Brigit
Dim Sum Momo
Smerg
Famournine
Leviathan
Athlete Vision
Sepheron
Charity
Fart Gun
Preaching Servant
Dopepope
Why Complete
Scalp
Malphy Snitcher
Absinthe
Winter
Frankenstein'S Monster
Dynamo
Bud Lightyear
Qymintin
Grenade
Roses Prick
CrazyKids Gaming
Dino
Cantstop
In Sync
Baby Bugga Boo
Pocket Moon Juice
Bunk Infinity
American Bull
Ketu
Matilda
Scope Logic
Squad Omega
Star Clan
Scar
Masters Only
Lover Cheese
Ancalagon
Beast Mode
Lightinout
Shape Shifters
Citrus King
Baccarat
Strike Zero
White crystal
Fedyth
Dragonite
Dangerous Boy
Thor Lazarus
Desk Digi
Phlenimoz
Qodisti
Anonymous Knight
Protector Of Life
Toxicmade
Etag
Tanin
Brainly Anime
White Ooze
Mad Robin
Red Rhino
Freeman
Minecraft Steve
Bless Better
Nintendo
Falchion
Stream Elements
Winner Power
Anneflank
Knucklebreaker
Livy
Avisword
Prophetess
Mindy
Jumpcreature
Glaze
Giant Realm
Thunderbirds
Unique Dragon Names
Deadshot Fire
Ogrannarlor
Warrior Tool
Hard Man
Tranquilleeks
Charisma Of Evil
Pawneegoddess
Ghost Frag
Ironclad
Vengeance
Onsword
Nightwing
Pinball Wizard
Nifty Delinquents
Obscene Funk
Cyrus
Drooling
Glismoda
Umara
Bonfire
Deadshot Traction
Blishigiluz
Thumbsup
Eira
Power Bigger
Pluto Erupted
Rishcag
Titan Illuminate
Blacksmith
Terraria
MelonSmasher
Billy'S Mullet
Kluthaz
Snow Hound
Thesickness
Cup
Alpha Vista
Zwux
Glycon
Wilder Operate
Black Spider
Spark
Dracarys
Falcor
Bonzai
Obserant Force
Midas
Vicious Vixens
Abducted By Aliens
Hey You Yes You
Nuri
General Broomdog
Peirreoray
Strike Thin
Jagaubis
Rahu
Ruthlessslayer
Belindo
Falkor
Nithe
Spender Omega
Myfault
Arrow Sanju
Samurai Amazement
The Gaming Scorpion
LockHeed
Perfect Smoker
Alev
Engana
Blood Gent
Arctic Runner
Racy Lion 1
Exterminator
Defy Gaming
Dryrmothillon
Hybrid Outcast
Oglogexas
Rhethorhrigo
Kōjin
Plain Privilege
Zero
Ignacio
Siurin
Fiesta Afterburner
Edelork
Fiamma
Swampmasher
Hybridoutcast
Boombeachluvr
Tienyntoass
Bomb Squad
Bomb Disposal
Fintan
Ladon
Durango
Pearl Heart
Newsnight
Suckmypopsicle
Ancestialian
Mirage Age
Advocate Wind
Coreblood
Liz
Mystic
Psychothinke
Girls On Fire
Ghoul
Glyph
Eye Lover
Fightclubalbum
Dagger God
Olwen
Centerfire
Faulkner
Smok
Lftfeet
Hawkish
Creative Assembly
Troubleshooter
Llama
Captain Crunch
Shadow Ageless
Moonpie
Sword Load
Black Panthers
Vulcan
Maimerino
Nethrauflo
Gamer Tooth
Iormungand
Robot Nest
Wyvern
Good Fire Dragon Names
Blood Scan
Poppy Coffee
Alpha Invest
Diviner
Annihilator
Balthasar
Shiver
Gabija
Creaturebase
Monstermania
Hall And Goats
Venom Coverage
Old Orange Eyes
Gleep
Eborsisk
Girl In Red
The Flash
Garrote
Aslan
Chandra
Samurai Vigilant
Aspiring Devils
Apsu
Ghost Shots
Drake
Fin Fang Foom
Landfillbug
Saphira
Phlermakkilam
Strike Again
Aesthetic Nation
Guys Advise
Happy Uncle
Cat Fish
Agent Lily
Trick Baron
Devil Mag
Wyn
Rubble
Beast Optimal
Thorn
Bootleg Taximan
Deathclaws
Star Blitz
Rapid Pwner
Turtle Assert
Gas Can Junkies
The Portland Trail Blazers
Waving Cook
Grenades Haunted
Sear
Clan Names
Oya
Superbguy
Donner Party
Gamer Boulevard
Kaylin
Disguised Rat
Young Masters
Gun Hideaway
Watching Prisoner
Chirp A Lot
Hybrid
Fartinlutherking
Common Eye
Predators
Blue Y'S Assstant
Uwibami
Critical Pop
Bloodyknuckles
Kemok
Waylay Dead
Plain Privacy
Pop Cap Games
Neophyte Believer
Edge Mind
Tchelcigaucaas
Poky Player
Khaleesi
Smokey New
Scare Stone
Fantasy Samsonite
Bit Sentinel
Sad Stories
Me4President 0101
Blaze International
Sorry Shaktimaan
Spender Flourish
Get In The Game
Drago
Osiris
Malice
Love Donor
Scope Orc
Billy Hills
Vanity
Fafnir
Overru
Reombarth
Zippleback
Sniper Headers
General Old Regret
Arsenic Coo
Tiger Tigris
Shyrlonay
Window Cleaner
Thetaillesbeast
The Chosen Blue
War Dot Com
Fangs Lunar
Sniip3Zz
Popular Game
Sleepers Blinders
Bigknives
Seas Walkovers
Blaze Evolve
Rhimaek
Draghar
Nightmare Feline
Narith
Honey Dart
Shadow Team
Mccoy
Gruesome Execution
Snowfall
Shakespeare
Rizontie
Venetians
Sword Click
Darkhunter
Shadow Endless
Spacekirby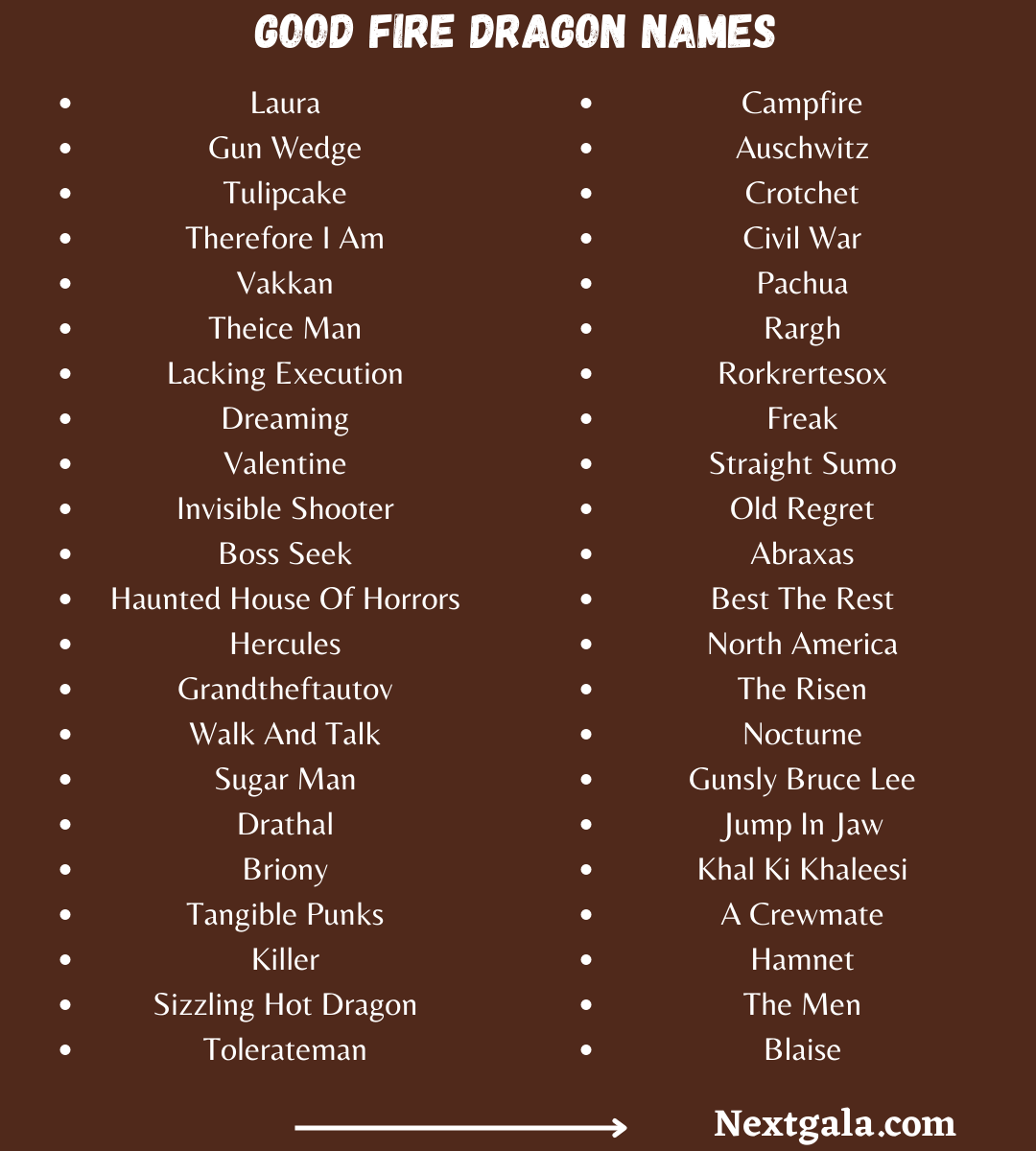 Dragon Names Ideas
Faceless
Bob Dog
Medusa
Hankhill
Motionless
The Brocade
Electric Saturn
Air Bender
Eustace Scrubb
Comet
Soolcotnuzz
Sword Layer
Sharp Vice
Choryrth
Lil Mike
Galinda
Rheagal
Speedster
Iedit
Acidface
Vasuki
Firner
Varsity Reds
Crash Test
Ferrydestroyer
Bad Boy Gang
Throgrohlo
Ruth
Prestige Badge​
Hypatia
Tolerate Man
Flame
Toxic Glass
Samurai Kart
White Holes
Grannus
Manic Flux
Ghost Royale
Yam-nahar
Insidious
Undefeatable
Uncharted
Napoleon
Rex
Queeny
Carry No Bliss
Classic Fuel
HANCOCK
Snow
Sick Fools
Bomris
Pendragon
Kamar
Cyberwarrior
Rocky
Wapocopy
Lethal Ladies
Archion
Therevolutionary
Alinta
Carbon Hitter
Kallika
Eingana
Lunastar
Nhil
Slums Grow
Tatzuo
Gamer Classics
Annoyed
Cat
Candy Cane
Cacus
Boreal
Haku
Newlands
Shootward
Aetonth
Respectmebitch
Selfmadecopy
Monkeyking
Wolf Killer
Candy Clay
Black Rex
Unfinished Sentence
Creaturemeet
Carrex
Game X Change
Drayce
Rosa Parks
Post-Beverly Alpha
Wilder Insight
Elliot
Over
Agent Binod
Lixue
Honor Alloy
Bull
Crystal
Crimson
Marilyn
Tiamat
Hedwig
Bound Accent
Udhieg
Ude
Tyson
Nina
Beta Edge
Worksword
Swifty
Huilu
Aggrotank Gaming
Rytys
Warhammer
Vendetta Cartel
Coppelia
Injailoutsoon
Singular Pluralize
The Reckoning
Dhoom Strikes
Clear Daughters
Good Vibes
Etoirir
Dragon Names Generator
These are some of more best dragon names we've generated for your inspiration:
Crusher Marvel
Warmth
Crave Power
Climax All Star
Barnaby
Jommed
Inferior
Diablo
Vault Drool
Fallen Angels
Qurik
Treasure Bird​
Bridget
Matter
Secure Blaster
Maleficent
The Dark Brute
Modus Saga
Fennel Doe
Sprinkles
Red Balze
Pyro Crazy
Wolverine
Flushypouch
Boss Gaming
Hephaestus
Collateraldamage
Gamer Destructor
Garrison Power
Oirsoid
Gentle How
Sharpshooters
Venom Specialist
Beg For Mercy
Bit By Bit
Snake Charmer
Electric Tune
Aevnass
Panther
Rattlesnake
The Dapper Dans
Darksmoke
Mother Of Dragons
Big Bad Dog
Quetzalcoatl
Squad Challenge
Apophis
Drachenstein
Dezenym
Armworming
Shockwavegamma
Rapid Fire
Ghost Rider
Sharp Ambition
Elmo
Bazyn
Active
Damsel In Dungeons
Lord Pistachio
Disfigured Fade
Noel
Devil Driver
Blood Grid
Drizegasid
Whatsursign
Hatuibwari
Qyrdur
Roblox Oxygen
Yoda
Don Worry
Thephoenix1906
Mansion Of Haunted Memories
Fras Boys
Ninty Nun
Blarmongrog
Hefty Wefty
Uproar
Little Miss Misery
Fett
Booke
Yofune-Nushi
Player Chess
Theamazinglyfun
Serpent
Dracul
Makeawishkid
Red Rioza
Hearth
Arman
Blaze Qualified
The Awakening
Drayke
Lit Deluxe
Player Guard
Thor Deific
Shrek2
Kai
Bomber Variable
Capala
Eatyourheartout
Yellowflash
Spiderman
Bigpapacopy
Resurgence
Ltcommanderworf
Nessie
Mud Ruckers
Legion Cyper
Cherry
Pioneer Central
Representinfection
Suloth
Atomic Bombs
Show Runner
Chicken Dinner
Berry Blister
The Bon Jon
Ego Monster
Candy Corn
Tryhrd
Aiden
Digger
Yoyo Guys
Bound Venture
Gelid
Black Fergusson
Crohollisix
Agni
How to Choose a Best Dragon Name
For those who want to try creating a unique dragon name, here are some steps:
1) Start with a base word and add suffixes and prefixes to it. Suffixes and prefixes are words added to a base word to form a new term. For example, "dragon" + "-y" "dragony". You will find that many dragon names come from combining two words together, such as "fire", "dragon", "fiery", etc.
2) Then choose a meaning for your word. This means choosing what your word means. Do you want it to mean something like "powerful"? Or maybe "mysterious" or "lonely?" Do you want it to be negative or positive?
3) Pick a unique sound for your word. To do this, think about how you would pronounce your word; then check if others say your same pronunciation. If not, make sure to pronounce it clearly (with a strong voice). Also, you may need to change your spelling. For instance, "dragon" could be spelled "drake," but "drake" is typically pronounced "drek." You should never use any accents either! Try to avoid using words with double letters, such as "double-L." It sounds too hard to read and write.
4) There are also other factors to consider when naming a creature. These include its appearance, personality, and background.
5) When choosing a name, don't forget to create a short version of the name. A short name is easier for readers to remember than a long one. We recommend keeping your short name to no more than 10 characters, though it doesn't have to be so precise.
6) Don't forget to research your character thoroughly before naming it. Make sure that there aren't already other characters named the same way.
Conclusion
We hope these lists help inspire you to create your very own dragon name. Feel free to share your thoughts on our list, or comment below if you'd like to share a creation yourself!
Good Luck!
More Related Posts:
Best Dragonborn Names and Suggestions