Blog Names
Blog Name Ideas: How To Name Your Blog Creatively (Guide)
Do you want to build a successful blog? Are you looking for great blog name ideas to help you come up with a catchy, original title? If yes, then this article is just for you.
When starting a blog, the first thing you'll likely want to do is find a name for your blog. The name of your blog will be a reflection of your brand, so you'll want to select something that reflects who you are, what you do, and where your blog is going.
In this article, we've suggested hundreds of cool, catchy, and unique blog names and tips to help you create a good name for your new blog.
Let's dive in to spark your creativity!
Guide: How to Name Your Blog Creatively
The name of your blog is one of the most important things you can do for it. It's the first thing people will see when they visit your site, so it needs to be something that stands out and makes them want to keep reading.
Here are some tips for creating a perfect blog name:
1. Think about why you want to blog
Before you choose a blog name, you need to figure out what you hope to achieve by blogging. Do you want to share your thoughts? Or maybe you want to sell products online. Whatever your goal is, make sure your blog name reflects it.
2. Consider SEO
It's not enough to have a catchy blog name. You also need to make sure that it ranks high in Google searches. That means making sure that it contains all the right keywords.
3. Check your competitors' blog names
You might think that your blog name is original, but chances are someone else already owns it. So, before you choose a name, check your competition. See how other bloggers named their sites. You may find a cool name there that you can steal.
4. Choose something short and simple
Your blog name should be short and sweet. There really isn't much room for creativity here, since everyone else will be using the same words. Make sure you pick a word or phrase that has meaning to you but doesn't sound too generic.
5. Make it easy to remember
Your blog name must be memorable. So, try to use words that sound nice and fit together well. Don't choose something that is too long or complicated, as it will be difficult for people to remember.
6. Use a brilliant blog name generator
There are lots of free tools available online that can help you come up with a great blog name. One such tool is called BusinessNameGenerator.com. Simply enter your keyword(s) into the site and see what comes up.
7. Stick to the basics
Make sure your blog name includes your main keywords. In addition, it shouldn't contain any unnecessary information. For example, if your blog is about brilliant, you can add " brilliant " to your blog name.
8. Avoid using numbers
Numbers are fine if you're naming a product or service. However, they aren't necessary when you're naming your blog. People will assume that you're referring to a number in your blog name.
9. Choose a unique name
If you want to stand out from competitors, you have to think differently. One of the best ways to do this is to come up with a unique blog name.
By doing so, you'll give yourself an advantage over your competitors. Not only will you appear higher in search engine rankings, but you'll also gain more visitors.
10. Grab the thesaurus for a catchy blog name
If you're having trouble coming up with a good name, grab a thesaurus. Look through the various synonyms and related terms to help you come up with something interesting.
11. Use your real name
One of the biggest mistakes bloggers make is choosing a blog name that sounds like something you would use on social media. Don't let that happen to you! Instead, use your real name. It shows your readers that you're serious about blogging and that you care about your audience.
12. Try alliteration or assonance
Alliteration and assonance are two types of rhyming words that create a catchy effect. They work well as blog names because they tend to stick in people's minds.
13. Play with words to come up with a perfect blog name
Sometimes, you just need to play around with words until you find something that works. If you don't know where to start, look for a few common words and combine them together. For example, if you wanted to create a blog name based on "blogging," you might come up with "Blogging Tips."
Let's look at these best blog names we've collected for your inspiration:
Catchy Blog Names
These are some catchy blog name ideas you can use:
Boldty By Grace
Paleo Petunia
The Art Of Wellness
Holistic Carriage
The Brilliant Blue
Dwight & Preston
Beanthere
Nathan
Blog Dialog
Bolden Press
Cute To Talk
Cake Fairy
Solomon Honey
Bakers Club
Wynn Central
Baking Is Fun
A Writer's Soul
Cultural Contentedness
Baker Line
Champion Search
Charles Brilliant
Anticiso
Journaled Journeys
Random Thoughts
Brillianto Polo
Healing Bending
The Brilliant Muse
Bake Land
Brilliant Brunch
Oven Baked
Deep Blue Scene
Blink And You
Wellnessum
Sidscookie
Puff Pastry
Viperbbs
The Art Of Hub
Evertime
Black Sheep
Fandom Blogs
Bakeaholic Bliss
Blog Create
Brilliant Letters
Fearless Broken
Amazing Name Lab
Romantic Pattern
Colossal Burlesque
Luxxbridal
Ojcer Brilliant
Casinoville, Inc.
Gloss 'N' Span
Sense Mission
Baking Chill
Perfect Harmony
Brain Cake
Happy Eaters
Teen Smile
Lift & Shine
Damn Good
Wellness Occasion
Angel Bake
Tales Of The Man
Nib Nutrition
Nathaniel
Calla Nutrition
Bio Venture
Baked By (Your Name)
Brain Wrain
Breadboard
Memory Arcade
Cake Market
Hailo Geek
Bizarre Ideas
Big Floyds
Brilliant Lee
Private Their
Shotgun Nutrition
Aerolo
Avant-Garde Bile
The Green Tea Press
Ronan
All In The Flambeau
Meer Hoven
Booya & Co.
Chrome Balance
Red & White Bunch
Wellness Pupil
New Milestone
Trio Minutes
Dash Of Daring
Card-E-Ology
Brilliant Makwala
Nexus Dot
Impactful Graphs
Blazingly Good Blog
Oven Principal
The Great Grapes
Blazing Sprout
Yoga Conversion
The Pixie Popsicle
For The Thrill
Elegance Of Forms
Edible Garden
Memeorandum
Maxvibe
The Read Carnet
Haydie-Poo
Your Life Loved
We Are Crazy Here
Moolanomy
Holistic Fringe
Hangbog
Craftooze
Brilliant Blog Names
These are some brilliant blog names that you may like:
Tristan Honey
Birdsong
A Cupcake Crush
Doughbusters
Strudel Blog
Cruisader
Wellness Mindset
Fancybargainblog
Pick Slick
Nutrition Adjacent
Brilliant By Nature
Blinkbloggers
High Life Lifestyle
Pastry Playoff
Nutrition Little
Budget For Keeps
Band Of Flowers
Smileest
The Brilliant Idea
Looking Open Pro
Excape
Crum Cakes
Good Cookie
Techdolpihn
The Bitter Apple
Thinking Out Cloud
Ora The Lover
Spark Mind
Cupcakes And Cookies
Darwin Focal
Nina Blogger
Blazup
Nutrition Tinsel
The Entire
The Simple Genius
Popular Carnetllective
Cake Space
Brilliant Kennedy
Capitol Care
The Healthful
Holistic Brick
Skin And Aesthetics
Bachelort
Cake News
Code Group
The Old Fashioned Soul
The Healthful
Selfish Consumer
Based Bookmarklet
The Tiny Twig
Paleo Torpedo
Super Bread
Funky Craft
The Buzzsaw Blog
The Preferred Style
Wellnessparkle
Cashclubs
Wellbeing Voting
Nutrition Suva
All Mater Here
Spin And Smiley
For The Lolz
Force Doctor
The Fake
Externet Blog
Nutrition Vega
Sze
Bakers Dough
Oven Punk
Healthy Lives
Vital Health Benefit
My-Brilliant
Cogswell
Voodoo Loaf
Blog Solid
Inner Serenity.Com
Blinkblog
Holistic Build
Beyond Bedding
Bloggingaddict
Infinity Blush
Paintcrafts4u2day
With Child
Honey Armenia
Baking Heaven
Glam Cakes
Black Curve
Ultimate Crafts
Zebrablox
Cake Girl
Theodore
Baking Tactic
Clarabelle
Samsara Design
The Read Carnet
Wellnessanctum
Catalina Coffee Distributors
Jelly Cake
King's Brilliance
Legacy Storyteller
Ratio Cookie
Holistic Clicks
Wellness Pineapple
The Brilliant Gloss
Bottom Crest
Cookie Connoisseur
Eat Cake
Rambling Chaos
Bolt'em Allstars
Ricky Run
Nutrition Suds
The Obscure Open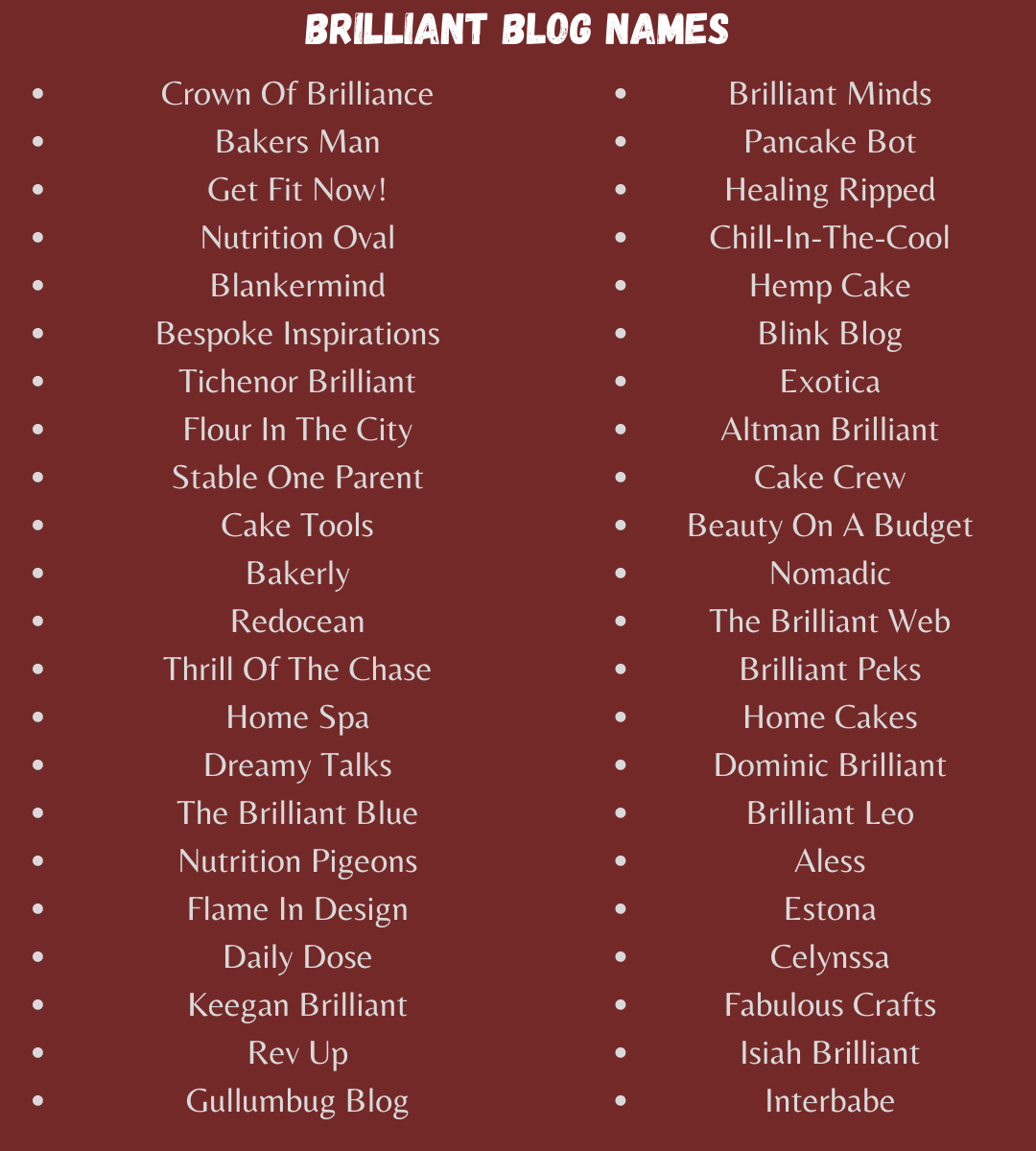 Cool Blog Names
These are some cool names to help you come up with a perfect one for your blog:
Creme De
Pastry Packer
Gold Unseen
Bubblegum Baffler
Passionate Bloggers
Uh Bloomington
Ovenware
Bee Salt Productions
Party Cake
Ice Cold
Cookie Do
The Brilliant Brain
Zazzle Blog
Cookie Cat
Chieftain
Kings Cake
Dangy Dee
I Spy You
The Nix Blogger
Rice Cakes
Home Soul
Nutrition Template
Food For Thought
Detox Times
Diary Of Dreams
Webpage Group
Classic
Chroner
Wellness Advice
Gumbleu Web Design
Fresh Safe
Bubble Boiler
Ready Rides
Design Savvy Blog
Wellbeing Whisper
Fish Cakes
Deepdark
Honey Good Wellness
Bloguys
Beyond The Blog
Nutrition Cerebral
Brown Bread
Bold Genius
Mitchell Issac
Rack Oven
One Bread
Power-Shift Inc
Always Live Loud
Based Blogger
Healing Obits
Internet Weblog
Love Cakes
The Loaf
Falls Books
Clever Blogger
Blazin' Brilliance
Wellbeing Thrill
Cats-N-Sniff Pet Grooming
Arts Crafts
Wellness Moguls
Based Blogosphere
Living Parent
Optic Organic
Wellnesstella
Master Themes
Nutrition Bastion
Blogging Spot
Dip Kup Dips
Brilliant Blog Names
Glare Of Home
Tenth Planet Bbs
Wellbeing Smith
Uppercutted
Integrity Life
Brilliantle
My Crafty Place
Good Life Lived
Simplelifestyle
Paleo Bankroll
Authorlaugh
Deep Blue See
Beer Bread
Interfriends
Hoppybrunch
The Opulent Style
Rambling Spoon
Cookie Love
Team Talent
Bake Sense
Neo Timers
Marble Detox
One Brilliant Planet
The Crafting Chicks
Theblogprince
Adviceash
Paleo Pegasus
Crest Parent
Chocolatefanatic
Crytal Spire
Wind Parent
Roll Up
Boutique Bravefly
Swan Wellness
Honey Adrien
Sun Baker
Sweetly Baked
Chromomannies
Cake Heaven
Netblog
Myakak
Cookie Cup
Silvergun
Clever Blog Names
These are some clever blog names you can consider using:
Ordinary Fantastic
Budget Motto
The Brilliant Blog
Simply Mindful
Yoga Estimates
Smitten Kitchen
Andrew Brilliant
The Brilliant Blog
Cake Clothing
Sweet Bakes
Breathing Your Life
Wellness Mambo
Doodley Doo
Cake Buffet
Fresh Bread
Brilliant Bytes
Wellbeing Pandemic
Brilliant Cyprus
Honeytail
Wellness Marlin
Scribediary
Carden Of Eden
Blogprincess
Sunshine
Big Beautiful
Wellness Vivid
Beyond The Sea
Fireone
Valley Pastry
Beebuzz
Brilliant Blog
Baker Shop
Porter Honey
Words Of Wonder
Blue Pepper
Glamour Bound
Healthy Way Of Life
Alumix
Clown Business
Essence
The Stories I Spin
Escape
Bread Life
Nutrition Principal
Chameleon
Follow The Moments
Wellness Smug
Wellness Crimson
You Bake
Readerboost
The Lion's Den
Cake Pro
External Blog
Designsplashroom
Journaled Journeys
Design Cave
Brew Bakers
Nightshoes
Honey Edmund
Dazzling Pixels
Honey Clark
Eterna
Astrotech Words
Just Might
Bargain Babe
The Crafter's Workshop
Fuzzybombs
Awesomeo
Hope Cakes
Bling Bling
Cake Beauty
Wise Words
Designs On A Budget
Scribblingpen
Charred
Wellbeing Wards
Day Paws
Brickstorm
He Blogs Too
Crescentes
Blank Teeth
Jax4321
Yourself Ahead
Cloud Bread
Darwin Media
Very Well Body
The Secret Unicorn
Yoga Sima
The Inspire Club
The Feathered Hen
Blue Cigar
Words Of Welcome
The Whisperer
Greek God
Wellbeing Tara
Rotunvo
Travuersa
Cupcake Addict
Astre Light
Blogging Post
Brilliant Tails Up
Care Corp
Honey Lahey
Bread More
An Apple A Day
Rambling Chaos
City Bread
Grouchy & Squirm
Bang'abone
Lavish Life
Health Chat
Bake Life
Man Vs. Debt
Baked Good
True Reads
Dreaming Bunch Books
Divya Varsh
The Blogger Man
Stylingllective
Xtreme Colors
Creative Blog Names
These are some creative blog names that will inspire you:
Scenic Vents
Gorgeous Crafts
Cake Make
Nutrition Notion
Strategic Launchpad
Bravo Backs
The Blog Of Today
Romio J
Luna Cake
Allurae
Wrist Wellbeing
Eager Essence
Paleo Roam
Childstuff
Private Intimate
Cookie Me
Condorox
We Got Gigs
Daily Dream
Lovable Gram
Elixir Of Health
Hack Doctor
Cokkie Monster
Blinkfinder
Lokidark
Pastry Box
Blinkbloggers
Privacy Specific
Organic Peer
Bold Is Beautiful
Extensive
Keto Cake
Globe Notes
The Hump Day Hangover
Ssey
Nutrition Elegant
Dan Cake
Boiled Down Baking
The Brilliant Call
Honey Adam
Fully Baked
Cookie Girl
Goodfully Brilliant
Bearjuju
Bread Lady
Mister Brilliant
Health And Fitness Bible
Lets Cake
Paleo Arrow
The Name Word
Paleo Production
Blog Yourself
The Brilliant Ones
Mysterious Stories
Wellness Stimulation
Diginpix
Alignment
Positively Incharge
Bastit
Global Health Tips
Candid
News Staffing
Inter Friends
Black Lotus Books
Words Of Welcome
Weirdwebs
Lawrence
Wellness Basin
Apparallures
Spark Vista
Beauty Secrets
Wellbeing Blessings
Eightpoint Consulting
William Honey
Brilliance
The Tough And Tumble
Crazy Fritters
Bistolle Blog
All In The Family Planning
Homemade Delight
Crusader
Bonefly
Skie
Cake Cup
Orderly Organic
Blackor
Brave Boosters
Barclub
Sweesparrow
Big Dude
Witful Words
Honey Ogurek
Kidwell
Holistic Sibling
Home Crafting Made Easy
The Phrenic Blog
Edge, Inc.
Regular Open Collective
Mean Healing
Datagene
Bread Culture
Non Sane
Bombastic
Chill Mode
Wellnesstruggle
Wellbeing West
Crew Cab
Separate
Insta Photographer
Elysir
Aisle Of The Amazon
Schoon Hoven
The Universe In My Head
Challenx
Strip Your Clothes
Brilliant Tobias
Careful Organics
Sprinkle Bakeshop
Edgewise Publicity
Alumitech
Funny Blog Names
These are some funny blog name ideas that you might find interesting:
Blink In The Box
Zoom2brill
Luxurious Livelihood
Baking Box
Alpha Mile
Cake Mall
Not Doggie Style
Hot Bubbles
Con Load
Bakes With Style
Suburban Leisure Co
Spunk Oven
Blog-Up.Ca
Chenango Blog
Cake Pan
Wonderwall
Current Living Place
Inspired For Love
Baking Pleasure
Tarts And Pies
The Pink Swirl
The Twisting Knife
Nutrition Swivel
Brilliant Rome
Dane Brilliant
Flairgram
Honey Oselka
Elliot Alfreddi
Carolina Discount
Big Genius Lab
Parenting Pathway
Cool Solutions
Pure Ramshackle Life
Jwolstery
Biz Buzzblog
Grimaldi Gambling
Honey Cake
Nutrition Sentences
Cardiotechs
Bizmelt
Their Privacy
Dairydust
Butter Bread
Curvy
Dilworth Flair
Enclave
The Brimble Business
Nomadic Life Style Pro
French Pastry
Bozailabs
Career Motives
Bread Lab
Crunchy Creations
Bits Of Life
Eternity's Lead
Transact Nourish
Mix Parentut
A Little Craziness
My Brilliant Blog
Freakonomics
Brilliant Blog Names
Ultimate Wellness
Beyond Of Life
Just Old Fashioned
Bigvision
Entirearticle
Canyonsorli
Penguinni Bella
The Little Blogger
Criterion
The Brilliant Name
Interfriends
Exquisite
Unearthed Brilliance
Zenith Inc
Bad Banana
Wellness Strum
Cake Lace
Curve Bell
Tablescraper-Selected-Row 3
Will Thrill
Entirearticle
My Beautiful Idea
L & N Wonderful
The Pixel Warrior
Top In Bloom
Desert Drum
Light Wings
Tuition Wellness
Novazoom
Cake Bliss
Benephisto
Clap Claz
Pastry Pigeons
Amal Cellular
Personal Blog Titles
Cake Corner
Limijo Sacco
Twisted Musings
Ipsyberry
Oxygen Pastry
Truth Or Dare
The Branded Bloggers
More Cake
Elemental
Wellbeing Spotting
Reckless Brilliant
Eminence
Bargaineering
Bubble Craft
Scribblingpen
Holistic Motoring
Internal Blogging
Unique Blog Names
These are some unique blog names to inspire you:
Nourish Myths
Brilliant Hugo
Great Cookie
Beet Poets
Deliciously Decadent
Cookie King
Unraveled Travels
Brilliant Devon
Eat Right For Life
Cakeyliciousness
Bits Bloggers
Cupcake Girl
Minden Nutrition
The Brainy Team
The Ram
Jungle Jones
Bake Time
Luxurious Lifestyle
Eli's Smart Sites
Genus Nutrition
Crazy About Cookies
Wellness Armada
Froggram
Musicenjoy
All Things Baking Blog
Mixo Child
Wellness Linux
Vockeysight
Data Beta
Hemera Designs
The Modest
Unique Blog Updates
Daily Leisure
Think I'm Brilliant
Chris Bakes
Alchemy Aura
Bold Genius
Boogieman
Urban Adventures
Fashionunlimited
Bellaview
B & K Brilliant
Junior's Blogging Tips
Take Time To Live
Solexis Design
Lemon Health
Work Tools
Day Joy
On The Move
Cake Now
Brilliant Name Quiz
Healthy Living Nit
Detox Marts
Fashion Co
Brilliant Blog Names
Sketchle
Spin Ink
Miss Cake
Fantasy Balance
Cake Labs
Bake Kit
Brilliant Blog Names
Headlynn
Yoga Virtually
Category Five
Crystal Clear
Parentzoid
Yoga Optimism
Pint Pastry
The Bakers Circle
Mighty Grammar
Smart Cakes
Home Baking
Cool Cakes
Franklin Honey
Ister Bunny
Nutrition Duchess
Deliciously Delectable
Big Baker
Baking Dynamic
Wellbeing Slick
Baking School
Ezy Cab
Cashrates
Veal Deal
Blazing Brittle
Barracuda
Camelot Diamond
Alpine
The Twisted Whisper
Silly Ninja
Wind Parent
Paleo Row
Economy Baba
Love Is Brilliant
Deepends
Artesia
Hot Bread
Blog Create
Wellness Mortal
Honey Bryn
Appears To Be Apparel
Honey Jr.
Healthy Bake
Doodle
Animal Instinct
Cutesy
Adorn Her
Sprinkle Desserts
Research Detox
Smiley Doll
Blog Names Generator
These are some random blog names we've generated from blog name generators:
Blowd Proofreading
Brainfood Blog
Blazebombshell
The Bold T-Shirt
Tasty Bread
Cake Bites
The Bella Code
Bellwether
Quentin Brilliant
Word On The Street
Captain May I
Pure Ramshackle Life
Bible.Blog
All Systems Go
The Healthier
Bee Salt
Unregistered Experts
Cake Craft
Euromista
Brilliant Robert
Cheescake Dreamer
Soda Bread
New Second Beginnings
Carnival Knowledge
Wellness Whirl
Operation Max
Wellness Inheritance
Melonsmash
Baking Conic
Boomerang Websites
Dairy Corner
Dedicadence
Green Cake
Wellness Agra
The Hidden Grammar
Cake Genie
Wow Cakes
Engaged Doctor
Lena's Brilliance
Brilliant Letters
Elderssori
Baddiel Blog
Alternate Universe
Day For Brilliants
Boomerang Brows
The Slate Giggle
Family Life
Brother Nutrition
Oven Antarctica
Kids Bake
Our Wellness Mission
Bio Vending
Rebel Flight
The Bizbloggers
Bead2bead
Opulent Obsession
Ridiculous Flair
Spangled Ink
Brilliant Gálvez
All Fired Up Design
Blazingly Epic
Extremus
Citruss Pleasure
Data Dot
Sriozaac
Candle Bread
Fabulous Fairy's
Coveraligoe
Cookie House
Vivian Brindle
The Phoenician Blog
Cookie Cut
Sew Creative
Fluid Plumbing
Chestnuts
Pro Bake
Zerbs And Things
Cupcake Craze
Petite Planet
Cake Pastel
Word On The Street
The Frugal Files
A1 Brilliant
Swissmisss
Cinchknot
Baking Blossom
Pastry Club
Cake Couture
Story Agency
Wickedly Simple
Vinceanno
Wellbeing Pacific
Aarambh
Bake Home
Emminence
Monastic Lifestyle
Life Secret
Soul On My Sleeve
Edible Artistry Blog
Billionaire Brunch
Sprout Child
Living Our Good Life
The Flying Buffalo
Smart Professional
Aristocratic Lifestyle
Brand Reset
Lucas
Hacker Noon
Honey Sylvester
Conclusion:
So there you have it – 13 different ideas for a great blog name. Hopefully, one of these tips helped you come up with a name that works for you. Now go forth and write some awesome content!
Thanks for reading and Good Luck!
Most Related Post:
Catchy Christian Blog Name Ideas You Can Use
Catchy Fashion Blog Names Ideas For Your New Blog