Name Ideas
App Name Ideas: 2000+ Cool and Catchy Names For Apps
Coming up with a catchy app name is one of the most challenging aspects of starting your own app. After all, you want your app to stand out and differentiate itself from other, similar apps, yet be short, memorable, and relevant. So how do you go about coming up with that perfect app name?
Well, in this article you'll find over 2000 cool and catchy application names and ideas on how to create your own unique name.
So, let's dive in to find a perfect name for your new app!
Application Names
Here are some app names you can use for your next app:
Adept
CuttingEdge
Intuition
Redbird
Grove
Allgood
Excite
Slice
Whispering Kid
Burning Shadow
Junction
Winwin
Provide
Hotspot
Aegis
Countryside
Ateam
Rocksolid
Patrol
One Click
Titanic
Peninsula
Handmade
Terrace
Scarlet
Peacelove
Gib the Gentleman
Animated
Racer
Reinvent
Vigilant
Appalachian
Contrast
Prototype
Reliant
Missed the boat
Fiscal Analytics
Handbook
Winning Widgets
Fatcat
Nautilus
Clockwork
Daybreak
Phantom
Seminole
Blackhat
Tulip
Cogent
Superhero
Riviera Global
LeadingEdge
Offset
Babylon
Velvet
Elemental
App Tray
Present
Garden
Marketplace
Intellectsoft
Nations
Trophy
Welcome Dancer
Upgrade
Arbor
Fareast
Ponder
Polygon
Revere
Frontline
Versatile
Salmon
Genial
Bestway
Tangent
Flipside
Outsource
Green Box
App Fly
Highimpact
Secondchance
Simonnet the Wild
Lifecycle
Residential
Assured
Salvage
Tempest
Prodigy
Conserve
Southcoast
Longview
Highlander
Cirrus
Promotional
Component
Inbound
Roadrunner
Formosa
Veritas
Boardroom
Isolated Walkers
Flowing
Triumph
Silverfox
Reflection
Longhorn
Insightful
Canvas Hats
Sundial
Whitespace
Leadership
Integrate
Variety
Countdown
Accredited
Digitops
Multiple
Ridge
Tool Kit Digital
Humble
Farmeron
Backbone
Resource
Big bad wolf
Allinone
Heron
Cartel
odyssey
Yankee
Neighborhood
CyberCube
Contract
Blackstar
Billing Mobile
Cortex
Crossroad
Wildflower
Champion
Diverse
Doctor in the house
Generate
Skylight
Captive
Chance
Lonewolf
Transport
Mystical
Singular
Gecko
Cinnamon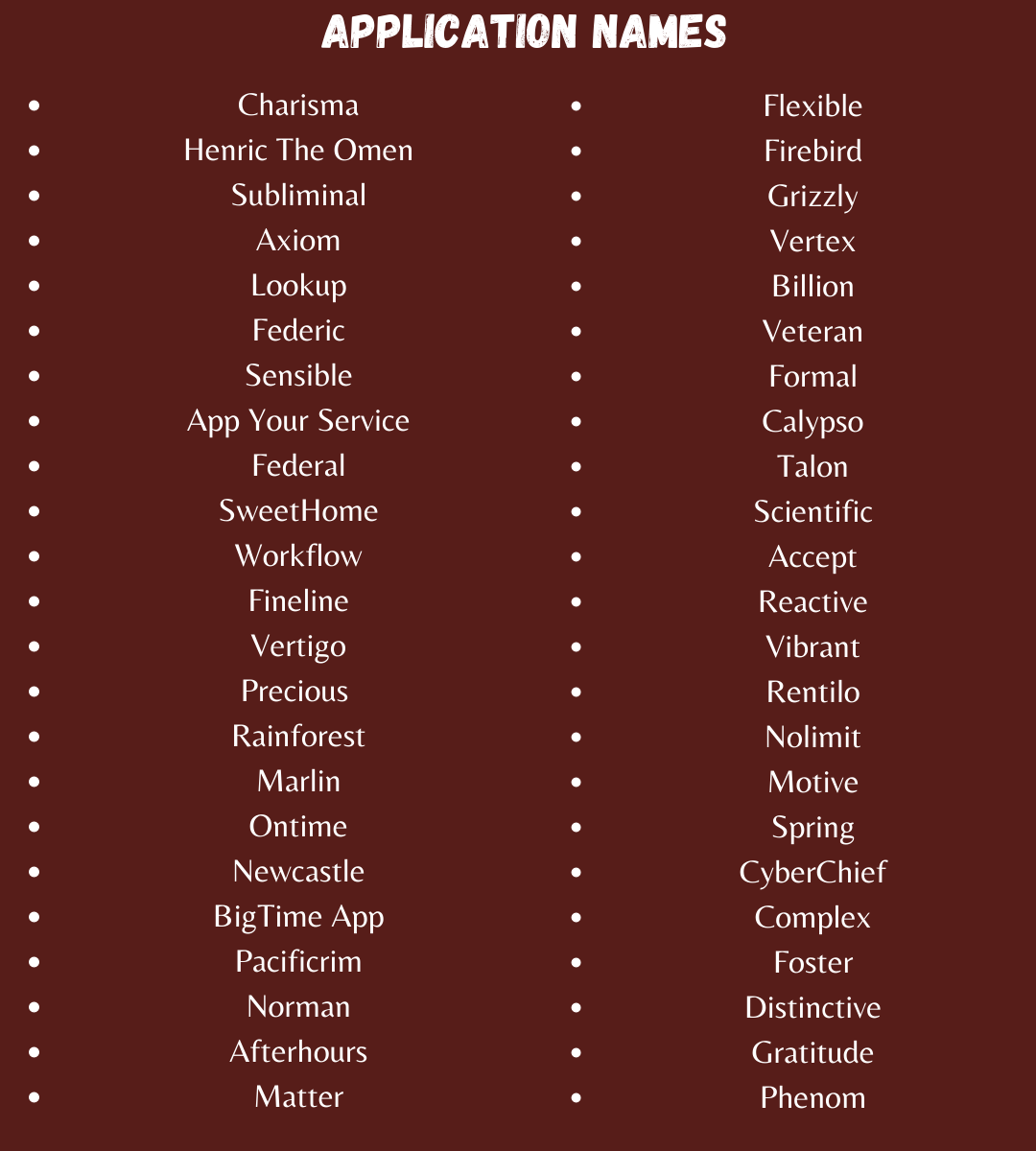 Guide: Tips for Naming Your App
The name of an app is the first thing that we're going to see, hear or think about when we see or interact with it. A name also helps us understand what our product does and how the app can be used. Your app's name should reflect both the nature of your app as well as its intended audience.
Finding an app name that conveys the right feeling and highlights its features is not an easy task. You need to find the right balance between being descriptive, memorable, and concise. Here are some tips to help you get started.
Consider your target audience.
When brainstorming a name for your new app, it's a wise idea to consider your target market. Ask yourself what words or phrases your target customers would use to search for your app online. You may also want to take a look at your competitors and see if you can modify their titles to make them unique to your business.
Make sure you have a relevant name.
Something people will want to search/type in to find in their App Store. The name must not contain any profanity, copyrighted content, trademarked names, or anything else that might lead someone to believe they are entering the wrong app.
Use keywords.
Keywords make it easier for users to find your app. Be thoughtful about choosing keywords. don't use too many different words within the same phrase. If there's more than one word that works, pick the most commonly used keyword (or two), rather than trying to optimize each word separately.
For example, "Calculator Pro" would be better searched via 'calculator' since this is much less specific than "Pro version of Calculator." Keep your name short but descriptive. Don't try to say it all at once.
Tell a story with your app title.
Your app title should tell readers exactly what the app does. It should be catchy enough so that they want to learn more. Make sure that it accurately describes your app's purpose, functionality, and features, while being brief enough so you get noticed on the App Store.
Choose a memorable and pronounceable name.
Choose a name that's easy to recognize, easy to spell, and remember. Try to avoid using non-English characters or special symbols which may look right on paper but won't work properly for apps.
Keep it simple.
Avoid long phrases. Short, succinct, clear titles will allow users to type quickly and easily. Longer words or phrases can cut off some users who accidentally hit return before completing the query.
Cool App Names
These are some cool app names you can use right now:
Upside
Igniter
Reliability
Resident
Stratton
Movement
JustRight
Turnkey
Valor
Serendipity
Emperor
Observer
Corpus
Fingertip Freedom
Abstract
Mulberry
Dog Park
Convention
Visions
Reliance
Alternative
Vibration
Pangea
Fluent
Escrow
Develop Digital
Illusion
Argos
Pick Up
Blueribbon
Cloud
Northfield
Simplify
Carat
FourStar App
Majestic
Curtain fall
Capricorn
Protector
Ranch
Palace
Redhat
Ignition
Sunburst
Sphinx
Blueprint
vudus Technologies
Maroon
Providence
Helix
Combat
Dread Giants
Northcountry
Dancer
Stoke
Mentor
Arena
Rational
Symmetry
Vesta
Presentation
Eldorado
Haven
Worldsbest
Fenpipe
Raptor
Meridian
Pixy Sandmen
Merciful
Solace
Lantern
Valley App
Rockymountain
Stardust
Chimera
Enhance
Reason
Mutual
Sand Corruptions
Lookout
Darwin
Gratis
Zenith
Rockstar
Presence
Halcyon
Commonsense
Summa
App AddTek & Co.
Recognition
Stallion
Neptune
Strength
Ener
Northstar
Torch
Topgear
Pomegranate
Mobile Vibes
Mobile Stick
Savant
Newleaf
Integra
Sunrise
Rosetta
Graduate
Quartz
Cosmos
Independent
Sequence
Jamys the Brilliant
Fidelity
Two-Headed Phantoms
Theta
Epoch
Andes
No justice
Live Box
Thinkbig
Clearchoice
Dignity
Strategic
Axion
Seaside
Locus
Piper
Eastern
Skyblue
Westside
Prominent
Greenpoint
Pronto
Greenway
Vintage
Altus
Endeavor
Neutrino
Cobweb of lies
Uplift
Smartchoice
Puppy Sticker
Podium
Freespirit
Mire Oxbeast
Smallworld
Famous Fabric
Dynamite
Skilled
heaven tech
Influx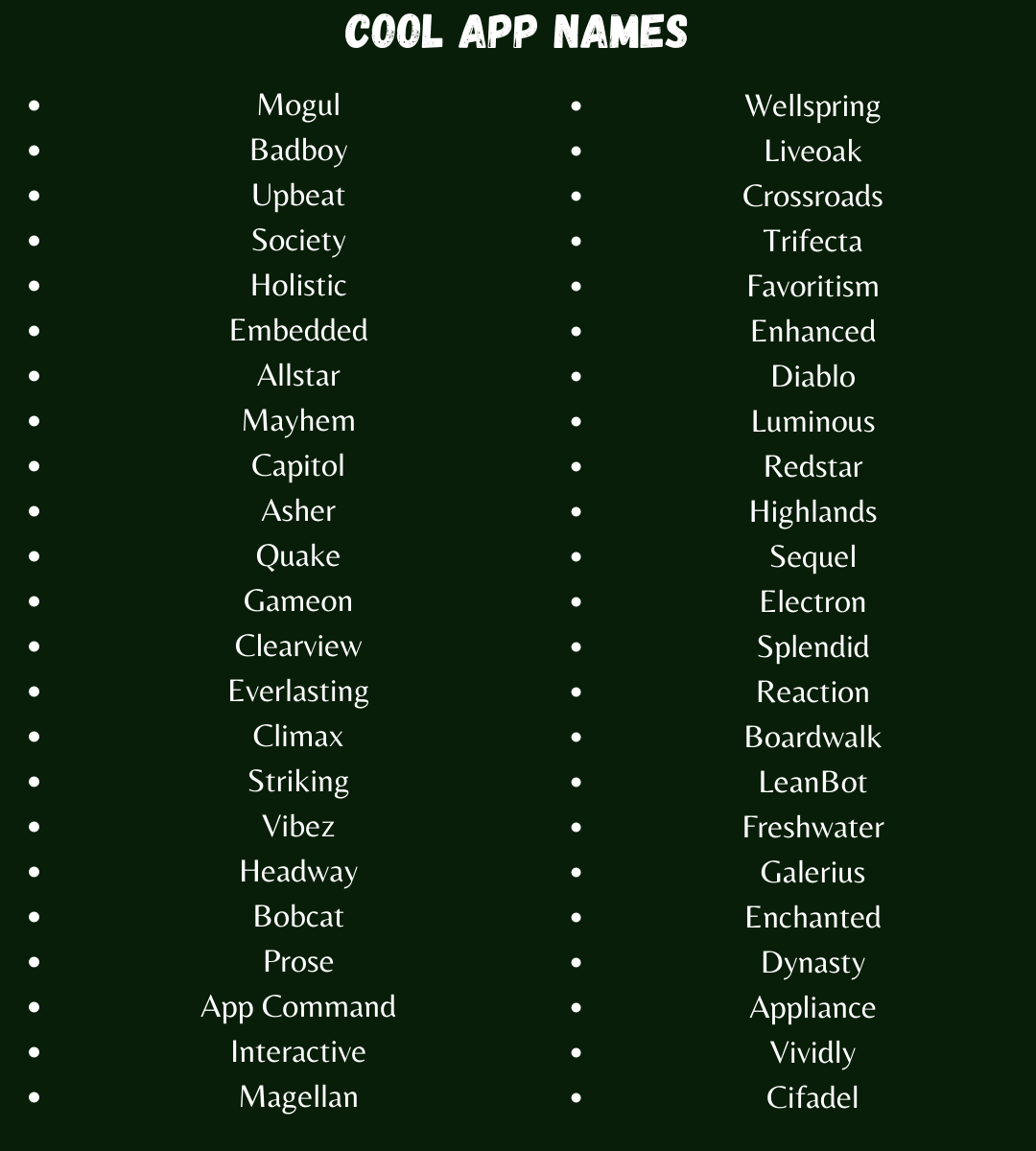 Catchy App Names
These are some catchy app names that you may like:
Mythicsy
Web Influence
NewWay
Baseline
Owners
Marietta
Firehouse
Software Seniority
FantAppstic
Tenacious Turtles
Sienna
Charitable
Fat Patrol
Canyon
Altair
Crypt Ware
Skynet
RedSky
Humane
Upstream
Reserve
Swipe
Payne App
Gamma
Kinetic
Blackguard
Goodwin
Bootstrap
Undine
Abacus
Gazelle
Aztec
Highline
Cats
Britannia
Prophecy
Sunstar
Chaos
Insights
Optimal
Perimeter
Renewable
kitsam Technologies
Evolve
Cinch
Entity
Favorite
Forecast
Sequoia
Matador
Openroad
Hummingbird
Fathom
Abundant
Cyclone
Fundamental
Develop
Redstone
Elementary
Windward
Standout
Notion
Beachside
Mitra
Maxim
Albion
9lmond
Reallife
Stadium
Recruit
Sword
Webdomus
Noble
Handheld Help
Firstrate
Application
Luxurious
Valiant
MeetMore
Laguna
Outreach
Testdrive
Quarterback
Gusto
Treasure
Collision
Jarvis
Arrowhead
Ondemand
Proficient
Proline
Lowprice
Pluto
Highvoltage
Abilogic
Detail
Soft Touch
Safeguard
Scouty
Redapple
Alexandria
Blacksheep
Explorer
Sunvalley
Bangbang
Sentry
Techbuzz
Domino
Wonderland
App Door
Underdog
QptimumApp
Royalty
Planetearth
Innercity
Efficient
Organization
Blackhawk
Opensource
.Strike Apps
Teamwork
Signal
Expedition
Paramount
orion
Betterworld
Firststep
Assure
Imaginary
Super Store
Fractal
Silkroad
Ures
Nightingale
Prosper
Glide
Lucent
Pinnacle
mobile peer
Goldenrule
OffGrid App
Brickhouse
Clubs App
Patriots
Resolve
Runway
Praxis
Osiris
Specialty
Activity
Equinox
Leonardo
Unique App Names
These are some unique app name ideas you can consider using:
Brown
ShortDust
Hawkeye
Viable
Velocity
Pelican
Anglo
Tomorrows
Addicts
Collaboration
Soft Solutions
OneShot
RedFox
Bluegrass
Morningstar
Redrock
Seashore
Pet Care
Saffron
Singularity
Bluesky
Propeller
Battleground
Recall
Fourcorners
Marching
Northland
Invictus
Catapult
Springhill
Milestone
Release
Meet All
Reddog
Moonlight
Bluestone
Olympia
Liberation
Forbidden
Values
Flamingo
Toucan
Booster
Robinhood
Impulse
App Works
Outpost
Reventure
Jupiter
Bookmark
Grandview
Ingenious
Frontrange
Privilege
Advise
Generator
Varsity
Hyperion
Exquisite
Aeren
Convergence
Cybill
Prospect
Boulder
Inbox
Parker
Firstplace
Poetic
Alchemy
Modest
Compound
Prisoner
Strey
Click Sonic
Homeland
Aries
Exposed
Margarita
Circa
Topline
Guerilla
Movie Tracker
Daimon
Redemption
Satori
Icon Inc.
Stealth
Shuffle
Headline
Bigapple
Syndicate
Admiral
Walnut
Speedway
Illuminate
Shepherd
Emotion
Presidential
Payne
Starfish
Monument
Organized
Perform
Harvester
Greenvalley
Bigbang
Canal
Anchor
Mountaintop
Unison
Journal
Ambiance
Aberra
Skylark
Tribute
Plexus
Newton
Purewater
Shadow
Reflect
Turquoise
Lastminute
Character
Production
Mermaid
Incentive
Proweb
Champions
Valve
Fission
Peregrine
Thames
Calibre
Everlasting App
Result
Umbrella
Wilson
Totem
Expedite
Polarbear
Communications
Niagara
Enable
Iridium
Ethereal
Airin
Activate
Bluefire
Priority
9madeus
Informed
Sonata
Funny App Names
The following are some funny app names that you might find interesting:
Piece of the Ice
The Jolly Lover
Blue Chip
Panty
Sugar Pop
Fool Topper
Logistics
Futura
Unlock
Keystone
Shoreline
Navigate
Semantic
Flawless
Inventive
Partner
Approach
About Apps
Athens
Cougar
Avant
Hallmark
Envision
Spire
Overall
Identity
BlueMoon
Aspirion
Breakout
Transit
Uniform
Tarot
Compete
Household
Birthday suit
Commutify
Maven
Apogee
Blueplanet
Sideline
Systems
Surprise
Northcoast
MobiFitness
Guya
App Dream
Responsive
Uniworld Games
Goldman
Arden
Westgate
Jumpstart
Topdog
Continuum
Vantage Point App
Safe Seal Technology
Powerhouse
Bigstar
Sparkle
Hammock
Reputation
Astoria
Offline
PassApp
No foundations
Risingstar
Pet Finder
Bigidea
Vineyard
Nirvanous
New dimension
Pascal
Confidence
Gamester
Accelerate
Snoring
Construct
Bestprice
Moment
Simplified
Blackwell
Analyzer
Tycoon
Pleasant
Crystalclear
Accord
Willelm the Truthful
Reign
Real Apps
Elixir
Marvelous
Continuity
Blossom
Mixed
Respect
Gameday
Mustang
Voltage
Pegasus
Foresight
Bender
Pragma
Nova
Sycamore
Onward
chi cuddles
Phase
Patriotic
Silverlake
Promote
Mobirus Technologies
Hometeam
Defense
Uvossu
Highfive
FinTech Mobile
Corporation
Whip App
Innercircle
Galactic
Intelligent
Commission
Welcome Reaper
Tap Into Apps
Roman
Pixolation
Ensemble
Optimized
Andromeda
Blueberry
Exhibit
Street Smart
Reality
FunFarms
Creativity
Ovockia
Keynote
Bridgewater
Solidrock
Cheetah
Vanilla
Carnival
Write App
Remark
Enigma
Crescent
Influence
Daue the Weak
Overland
Dedicated
Overdrivers
OmniSoft
Montage
Alloy
Hightech
Quicksilver
Zeropoint
Best App Names
These are some best app names for your inspiration:
Paradigm
Gradient
Wolfpack
Remix
Monarch
Ultrasonic Apps
Violet
Poseidon
Meteor
Proximity
Take cover
Pilgrim
Slingshot
FullHouse
Factor
Watershed
Avail
Empowerment
Darkside
Homegrown
BidUp
Stingray
Affluent
Nextday
Golden Age
Magma
Route
Executive Mess
Midatlantic
Safeway
Objective
Greenline
Millennium
Etrabyte
Hairless Bogeymen
SmartApp
Newline
vital Technologies
Economic
Structure
Blackpearl
Cryptical
Movie Ratings
Cemetery of the living
Mosaic
Centurion
Majesty
Celestial
Blacktie
Goodnews
Overnight
BlueMarble
Pragmatic
Adonis
Corridor
Quasar
HelloWeb
Tripod
Analytical
Structural
Sandbox
Violent
Revelation
Develapp
Loyalty
Imprint
Centaur
Topnotch
Catalyst
Wildcard
Concordia
Doomsday
Relic
Locate
Whitehorse
Extend
Resolute
Horizon
Compassion
SkyApp
Digitalic
Prism
Intellect
Thinktank
Avalanche
Highpoint
Vincent
Immediate App
Pharos
Acrylic
Cipher
Welldone
Snowbird
Tsunami
Reflective
Proximity App
Dance Moves
Crawler
Staring
Snowflake
Covert
Wingman
Oldtown
Transition
Recommended
Northbay
Nebula Web
Bluewater
Renaissance
Reunion
Infinite
Redline
Library of liberty
Sunnyside
Benchmark
Reflex
Citizens
Magento
Ring of Fire
Brightside
Helios
Springboard
Papi Mango
Achievement
Japan Technologies
Intelligence
Recon
Simplicity
Neural
Guidance
Blazing
Ringer
Kegush
Crimson
Principal
Monkey Tail
Setup App
Rivervalley
Protect
App Innovation
Upfront
Propel
Sharing App
Paladin
Firstclass
Triad
Rival
Undy
Oneday
Upstart
Depot
Bestdeal
Attractive Names For Apps
These are some attractive names for apps you can use:
Bold App
Defendery
Hammond
Capstoncey
Joker
Optimize you
Cranberry
Riverbend
Acclaim
FiveStar
Upcoming
MiddleEast
Oceanic
Rolling the Grand
App Sure
UpNorth
Package
Whispers app
OneTouch
Babysitter
Nobel
Tutsis
Acuity
Eastside
Newvision
Curves
Forte
Sparrow key
Tomorrow
Cabana
Bluebox
Minority
Sector
Ordinary
Newwave
Legacy
Pineapple
Sentient
Sidewalk
Blackboard
Towers
Particle
Coldfusion
Notable
Pageone
Silverstar
Toplevel
Footprint
Growing
Goddess
Tap to Begin
MoveMore
Location App
Continuous
Fairytale
Enlightened
Standup
Sapient
Greenearth
Praying Mantis
Magenta
Blueline
Sure Apps
Ancient
Freeway
Inferno
Feather Apps
BigBox App
Countrywide
Cognitive
Fastforward
Powerful
Testerix
Apache
Pleasant Orphan
Linear
Prestige
Domestic
Aurthor
Cowgirl
Terrain
Purpose
Interact
Dynamics
Inertia
Revolution
Jasper Succubi
Rainbow Valkyries
Hold the phone
Saturn
Torturer
Regent
Firefly
Analog
Verdant
TriTech
Happylife
Landmark
stardot Technologies
Opportunity
Branch
7th Tower Technologies
Radius
Challenge
Shy EyesRemane
Apocalypse
Creek
Revolt Games
Fabric
Adapt
Produce
Car Needs
Fasttrack
Rivercity
Bigred
Andruebarker Technologies
Excalibur
Significant
Breathe In
Fast Forward
Secondhand
Expansion
Hemsworth
Harth
Fueled
Remedy
Warrior
Extraordinary
Dependable
Angle
Lightning
Measure
Cloudnine
Alias
Carousel
Roadside
Panache
Parkplace
Nine yards
Altitude
Vitality
Oceanside
Kernel
Inception
Acoustify
Checkpoint
Random App Names
These are some random app name ideas for you:
Outback
Pinetree
Tristar
Ironhorse
Gladiator
Whitehat
Hedgehog
Interact Mobile
ShoeString
Nair
Jackpot
Condor
Hotshot
Barracuda
Jumbo Jet
Just a tease
Oversea
Database
Ronin
Senate
Thought
TechSphere
The Mighty Herd
Transparent
Ardent
Kangaroo
Roundtable
Blackdiamond
Immortal
Coic Technologies
Picture
Quill
Verity
App Cafe
Goldengate
Communication
Patagonia
Snipe
Priceless
Symphony
Galileo
Octane
Endurance
Converse
Patchwork
Carpediem
Starwood
Contour
Watcher
Perfection
Advent
Checkmate
Context
Woodlands
Bigfoot
Glamour
Redsea
Highdesert
Movie Times
Castlerock
OneClick
Sand Corrupt
SlyStream
Nirvana
Expand
Laurel
Battlefield
mtax Technologies
Rethink
Cadence
Amicus
Bigtime
Fireside
Reflections
Greenfield
Simulation
Newhorizon
Mainstream
Woven
Vantage
Gifted
Backcountry
Launchpad
Rainbow Doppelgangers
Blackswan
Argon
Bonus
Amplified
Expressive
Consult
Championship
Structured
Sylvan
Ambitious
Interstate
Mechanical
Basecamp
Parkway
Touchdown
Riverside
Composite
Carefree
Aspire Technologies
Majestic Chimeras
Bluegreen
Exceptional
Aurora
Gemini
Brightstar
SpaceFX
Pavilion
Topshelf
Exceed
Brainstorm
Outofthebox
Finesse
Spear
Elevated
Redwood
Offroad
Utopia
Technique
Voyager
Proteus
Pivot
Airian
Passport
Wire Smart
Carriage
Handheld Digital
Orchestra
Crane
Long story short
Command
Bulldog
Origin
Navajo
Goldmine
Maximus
Crunch
Appcentric
Anonymous
Entourage
Spring Unicorns
Waypoint
Cyberspace
Newhouse
Mohawk
Onsite
Eagleeye
Names For Apps That Are Not Taken
These are some new names for apps that are not taken by someone else:
OurTown
Syntax
Whitewater
Stallion Violin
Blackstone
Republic
Torque
OneMan
Fighter
Productive
Know The App
Optimization
Cardinal
Assurance
Confidential
NoteWork
Restore
Titans
Solstice
Balanced
I American
Vault
Centerpoint
Ambassador
Chamber
Defi
Spike
Blissful ignorance
Leading
Empower
Spine
Pioneer
Osprey
Flashpoint
Monumental
Whiteboard
Octopus
Prosperity
Perennial
Imagine
Mindbody
Interface
Guerrilla
Takeaway
Safer
Movie Passes
Bumblebee
Bullseye
Merlin
Batch
Paradox
Milliondollar
Sunbelt
Mastery
Frequency
Chase
Quark
Seismic
Deathlord Cyborgs
Degree
Shamrock
Conquest
Spitfire
Visionary
Connection App
Titanium
Newearth
Elaxux Technologies
Fortis
Oblique
MobiGaming
Powerplay
Vinci
Companion
Patch
Automatic
Surplus
TechnoPark
Realtime
Soft Support
Frontier
Imagination
PurestPlay
Fullthrottle
Symmetry App
Photon
OmniTech App developers
Tech Savvy
Funky Fingers
Medal
Prometheus
Rocket Apps
Orange cube
Arbitrage
Clearance
Embassy
Outer
AddTek
Treehouse
Allure
Blackdog
Tech Giants
Greenstar
Highspeed
Utopian
Levelup
Consolidated
Personalized App
Presto
Hotrod
Associate
Fastlane
Web Group
Exotic
Bertrant the Heroic
Daystar
Strata
For Your Palm
Remarkable
Guitar Jam
Tech Tock Bots
Pointer
Sublime
Swipe App
Automation
Mobileur Technologies
Thunderbolt
Getaway
Cruzing
Element
Managed
Reservoir
Exeter
Outrageous
Northamerican
Empress
Sanctuary
GigaCell
Magnolia
Saber
Freshstart
Extended
Newtown
Bittersweet
Profound
Momentum
Swarm
Capacity
Manor
Blend
Riddle
Sovereign
Creative App Names
The following are some creative app names that might spark your creativity:
Asterisk
Celebration
Wren
Highstreet
Provision
Renovation
Reload
Quest Web
Hillside
Veracity
Standing Appearance
Academic
Agenda
Sustain
FourSeasons
Welcome Prisoner
Presidential Pen
FreeRange
Scenic
Blackbox
Circle of death
Covenant
Toprank
Crossover
Innovative
In Your Palm
Provident
Templar
Pug Pets
Oneminute
Initial
Proton
Stepbystep
Noisy
Collage
Marvel
Recreation
Stratus
Metropolitan
Sunset
Butterfly
TechniQ
Boundless
Davinci
Inspiring
Terrific
Hudd the Shepherd
Pitbull
Ground
Perspective
Newimage
Caliber
Exploration
Avantgarde
Badge of honor
Parachute
Reform
Highclass
Brainwave
Jaguar
Awakening
Action Apps
Proper
Brighter
Appcare
Shy Shadow
Reverse
Deepblue
Exodus Software & Co.
Northeast
Bigblue
Kudos
Exact
Tornado
Aspect
Openair
Blackrock
Mapleleaf
Fellowship
Townsend
Imperial
Mayflower
Customized
Scorpio
Excelsior
Unplugged
Inland
Silverline
Partnership
Gridiron
Robust
Gamepad
Counting
Apricot
Happyhour
Analytic
Renegade
Discreet
Myriad
Shrieking Groom
Scorpion
Southside
Cupcake
Output
Functional
Hexagon
No discounts
Tangerine
Augmented
Backroads
Talisman
Primeroyal App Creations
Mourning
Analysis
Citrus
Orchard
Face Painter
Bluejay
Discovery
Snapshot
Goldrush
SongSelect
Focalpoint
Outstanding
Reinfrid
Newlook
Homerun
Heartland
Magnificent
Heart App
Progressive
Skyway
Software Support
simplex
Nextlevel
Analytics
Productivity
Money
Scion
Known
Revival
Paragon
Emerson
Transform
Seahorse
Resonance
quick jazz Technologies
Primavera
Offshore
Celtic
Dragonfly
Blaze
Mobile App Name Ideas
These are some good mobile app name ideas you can use to get started:
Dark matters
Browney
OnePoint
Legends
Odorant the Merciful
Superfast
Fury Pegasi
SkyHigh
Responsible
Dollar Cooper
Forefront
Annex
Regional
Renewal
Best Baked Goods
Southshore
Surfside
Prudential
Emerald
Focused
Turbine
Material
Matchbox
Natura
Senator
Intent
Wallstreet
App City
Herald
Pinpoint
Bleeding Finger
Advantage
Leverage
Anthem
Progress
Logical
Hunter
Stressfree
Envoy
Points
Salient
Streamline
Import
Ethos
Trinity
Bluedot
Partners
Profitable
Teenager
Workforce
Soaring
Novelty
Homestead
Rental Report
Moon
Roundrock
Windmill
Realdeal
Amity
Concord
Gemstone
Sameday
Ovation
Topsecret
Truenorth
Authority
PowerPhone
Piranha
Bonita
Bottomline
Mantis
Ability
Acur the Demon
Prudent
Supersonic
Align
Chameleon
Handy Harry's
Astute
Mesa
Optimus
Airlines
Nemesis
Bits & Bytes
Carrier
Pillar
Elements
Lifeline
Burning
Protection
Relay
Grasshopper
Sierra
Greenlight
Fit For Fingertips
Generous
Limitless
Newday
Delicate App Technologies
Earlybird
Foundation
sixpack
Deadline
Intrepid
Chirt
Innate
Harbor
Amplify
magma huse Technologies
Sunlight
Worryfree
Masterpiece
Eastbay
Pushing up daisies
Zodiac
Impression
Gametime
Serenity
Chemical
Daydream
Starship
Greek Side
Racecar
Lakeshore
Armada
Tierra
Stonewall
Audrey Software
Quantumleap
Dimension
Northpole
Petra
Threshold
Montecarlo
Mason
Bayview
Pacificcoast
Formula
Competitive
Curiosity
Echelon
Archer
Evolved
Touchpoint
Pentagon
Mindful
Threesixty
Epsilon
Supreme Phoenix
Kicked buckets
Bedrock
Offthegrid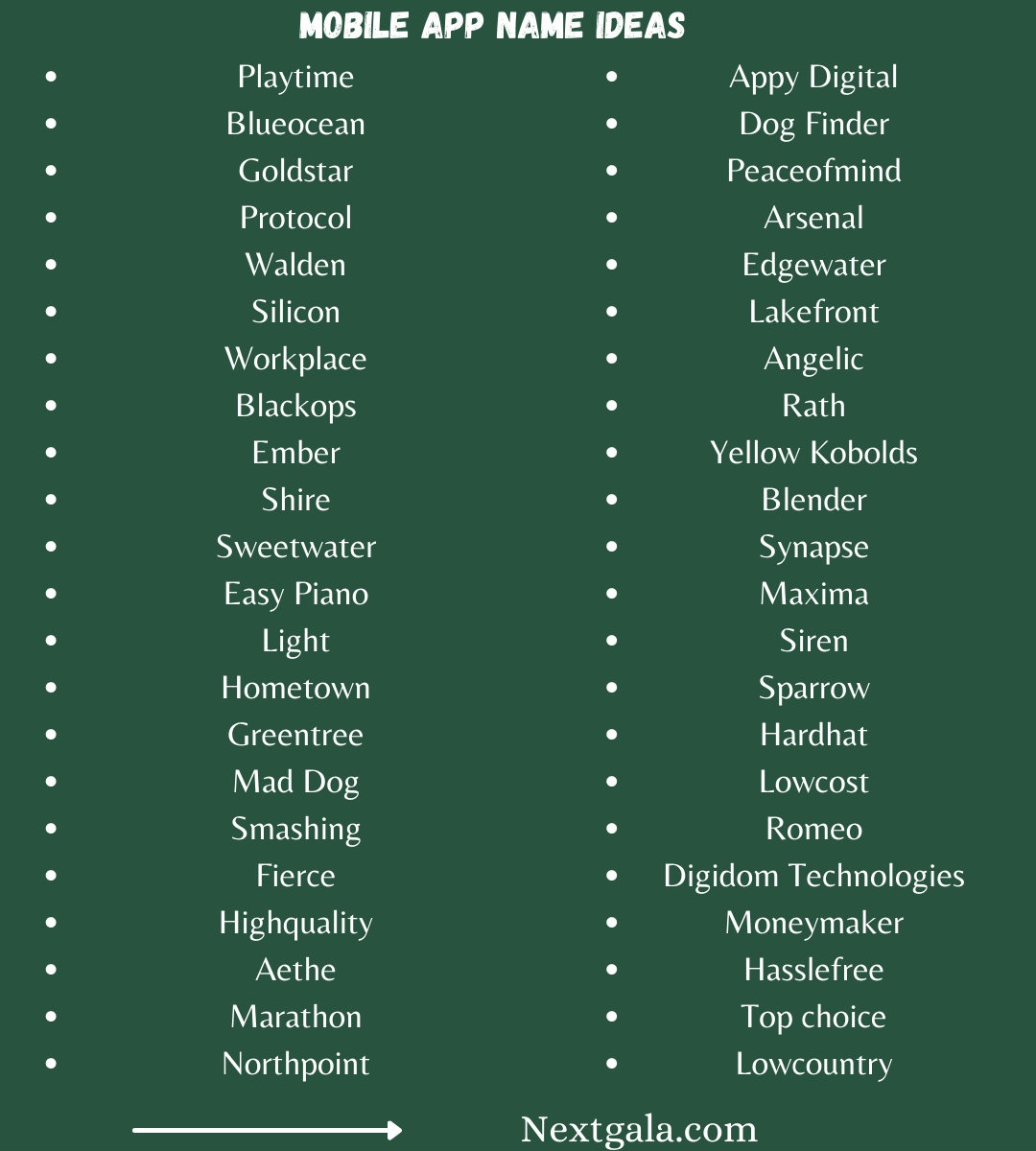 Application Names Generator
These are some application name ideas we've generated for your inspiration:
Tech Happy
Raise
Giant Pumpkin
Imperium
CreativeDesign
StraightUp
Dreamcatcher
Amazing Apps
Angus
Janus
Relationship
Passionate
Valhalla
Mammoth
Revolutionary
BlueLight
Relief
Calvary
Curious
Jubilee
Redeye
Hangout
Deuce
Optimum
Premiere
Redriver
Red Dragon
PlusOne
Basket case
Silverback
Meadow Valley
Rightbrain
A Is For App
Risingsun
Onboard
Frontpage
Conway
Pyramid
Sunflower
Northside
Jasmine Souls
Wilderness
Federic of the Spring
Automated
Fireworks
Butcher
Eastend
Leda
Collaborative
Oracle
Affiliated
Skyline
Abundance
Evolving
Appreciate Apps
Wildlife
9ugust
Delight
Stylus
Crytonix Global Solutions
Ivyleague
Monsoon
Region
Magnum
Virtue
Junkyard
Omega
Messenger
Starter
Link App
Horizons
Zero experience
Sabre-Toothed Bunyips
9head
Amigo
MobileHelp
Trilogy
Legence Technologies
Dusk Ancients
Range
Giant Puppy
Upscale
Newlife
Goldcoast
Eternity
Greenlife
Cheapest
Resolution
Handgun
Nationwide
Decision
Resilient
Redbox
Bed of roses
No guarantees
Pantheon
Inspiration
Corgi Clippings
Emerging
Traverse
Riverview
Micron
Fortress
VitalApp
Dreaming
Lasso
Radiance
Askme
.Fun Apps
Epiphany
Garnotin the Reckless
Click App
Peachtree
Overseas
Cornerstone
Classic Goal
Waterfront
Fetch
Blackbird
Openmind
Cyrus
Anvil
Puppy Stickers
Build a Bobber
Emergent
Viewpoint
Camel
Mainline
Streetwise
Manard the Rich
Forrest
Starboard
Revive
Mommy App
Greenhouse
Axial
Lumina
Skyline App
Vice Violin
Essence
Maximize
Advisor
Timber
Insignia
Blackbelt
Arcadia
Immediate
Northwest
Flashback
Emerge
Incite
Minerva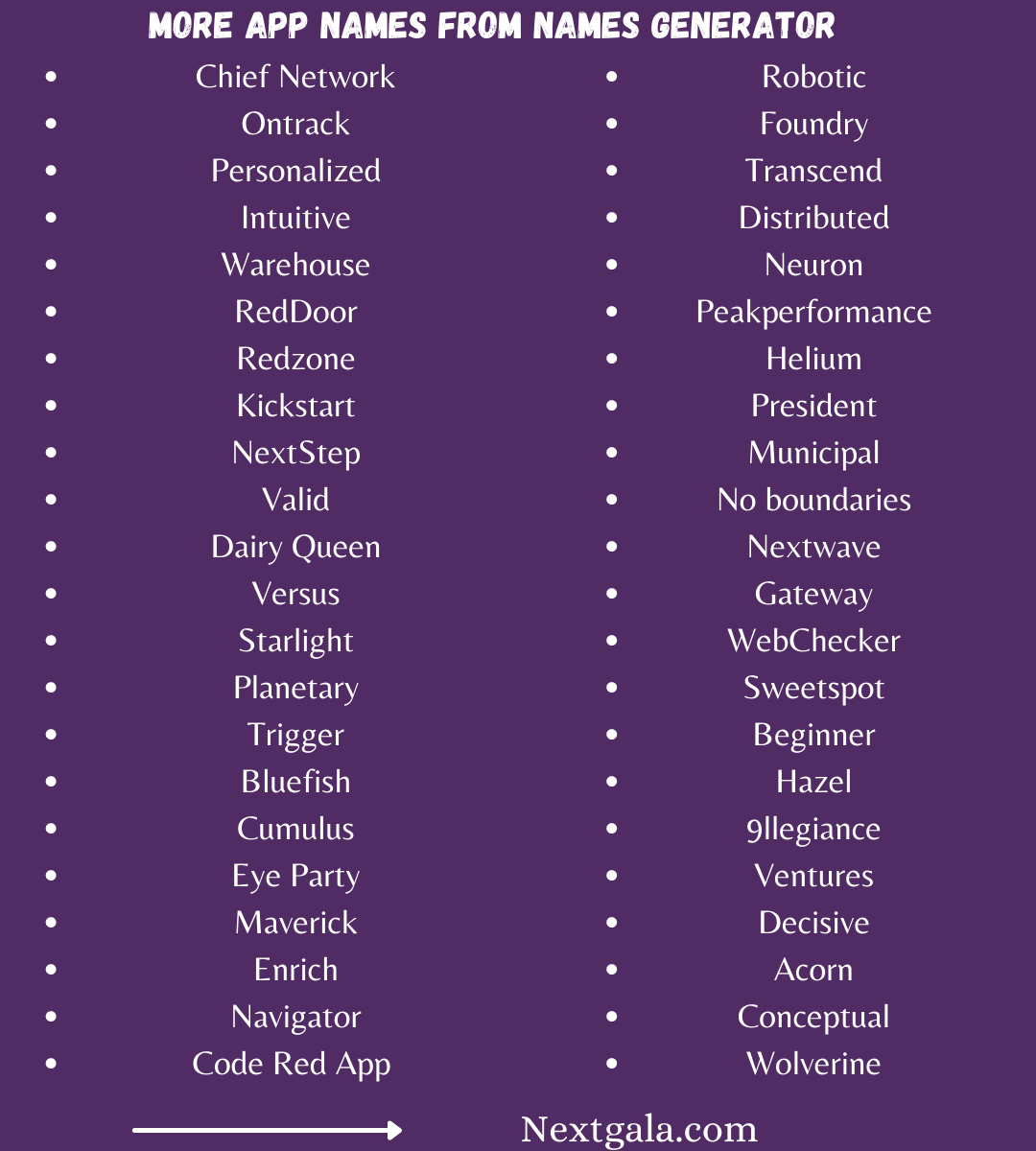 How to Come up With a Perfect Name for Your App
App naming is not as straightforward as many assume. It's actually quite difficult to come up with a name that is both short and catchy. However, there are some guidelines to follow so you don't end up with a boring app name. Let's take a look at how to come up with an app name.
1) Brainstorm some app name ideas. The first thing we need to do is brainstorm some app name ideas. Don't worry about bad names, just focus on creating a list of names.
2) Create a list of your favorite names. Now go through the list of app names you made earlier and find those that you like. Remove all the names that don't make sense. Come with a least 10 of your favorite names.
3) Prioritize the names. Now comes the part of selecting which name will become "the winner". You can either create a list with all the names or prioritize them according to their quality.
If you want to prioritize them, you can assign points to each name using Google Sheets or Excel. For example, 10 points would be given to the best app name, 8 points to the second-best, and so on until 1 point to the worst app name.
4) Select the winners. Once you're ready to choose a single winner, ask people for feedback. Make sure they know what they're talking about before making any decisions.
5) Make sure you are happy with your selected name. Before making a final decision, make sure you love your selected app name. If not, try to find another way. In any case, keep in mind that your app name should accurately describe what it does.
Conclusion:
Your app name should convey the essential information necessary to describe the app. With hundreds of thousands of applications already available in the AppStore, your chances of having your app found by potential customers will depend greatly upon how effectively and persuasively you present yourself.
So, the best way to approach creating your own unique app brand is to create something that uniquely represents ​​you.
We hope you have some inspiration from the above lists of app names and tips. Thanks for reading and Good Luck!
More Related Posts:
Fun and Creative Youtube Channel Names
Catchy Random Company Name Ideas and Suggestions